Walking and Talking for Health
At the North Carolina hospital, the expanded role of RTs results in shorter lengths of stay for ventilator-dependent patients.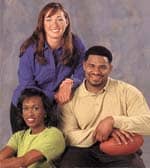 Wendy Malizia and Barry Linhart prepare a ventilator
Most of the diseases that the patients in the pulmonary unit at Forsyth Medical Center in North Carolina are battling reflect a dubious claim to fame for the surrounding area.
"This is Winston-Salem, the smoking capital," says Shelbourn Stevens, MBA, RRT, RCP, director of cardiopulmonary services.
Many of the surrounding counties served by Forsyth are rural communities with a major focus on tobacco farming.
"That's where they got their livelihood from for years, so smoking was their normal way of life," Stevens says.
With such a focus on tobacco farming in the area, the respiratory care staff members at Forsyth come across many tobacco-related cases.
"There is definitely a connection with … the industry that so many people around here depend on," says Wendy Malizia, RRT, RCP.
Forsyth Medical Center is part of the Novant Health system, a nonprofit community hospital system in North Carolina that comprises seven hospitals, two long-term care facilities, and several physician practices. Forsyth is the system's flagship with slightly fewer than 6,000 employees and 847 beds. It recently received approval from the state to add 114 beds in response to the community's needs.
With 46 beds, Forsyth's inpatient pulmonary unit is the largest respiratory floor in North Carolina dedicated to pulmonary patients diagnosed with chronic obstructive pulmonary disease (COPD) and asthma. The unit's eight pulmonologists see about 3,500 COPD admissions a year.
While most hospitals have an outpatient pulmonary rehab program, at Forsyth there was a need for such a program for inpatients as well.
"Anytime you're in the hospital, they tell you to get out of bed and walk and deep breathe. A lot of patients just don't do that unless somebody's there making them do it," Stevens says. "Plus, there are a lot of educational needs, especially with the COPD population and asthma patients."
Walking Laps
As Forsyth's inpatient pulmonary rehab therapist, Barry Linhart, RRT, RCP, fills both of those needs, giving patients guidelines by telling them how many laps around the unit they should walk each day and educating them about their pulmonary disease.
Linhart says the unit's 550-foot circumference is a natural track.
"We have it marked off, so we know how far they can walk," he says. "I have patients who can go four laps and don't feel too short of breath. I have others who can just make it to the hallway out of their room, and that's it. So I have to tailor it for each patient."
Linhart walks with his patients literally and figuratively, encouraging them along the way.
"They love to talk with me while they walk," he says. "It's such a new idea [for patients in the respiratory unit]—walking while they're here in the hospital. On some of the floors, like our orthopedic floor, of course, patients are supposed to be up and walking. For our pulmonary patients who are chronically short of breath, that's a new concept."
The walking helps patients increase their lung capacity and build their endurance.
"For these patients, just a little bit of walking gets them short of breath—and being short of breath scares them—but they've got to keep working at it to build their endurance," Stevens says. "Once they get scared, unless somebody's there to encourage them to do it, they don't do it anymore. Linhart has been very vital for that."
On the pulmonary unit's walls, photographs of wildlife provide a distraction for patients during their stay, especially on their walks.
While his main focus is getting his patients out of bed and walking around, Linhart also discusses the disease process with them, using anatomy charts and literature to explain the medical information. The unit also has an educational library resource room for patients and their families.
After 2 months of Linhart's efforts, Stevens says that hospital administrators noticed a difference in patient satisfaction. They plan to look at readmission rates after 6 months, hoping to see a decrease in those numbers. At the same time, there has been an increase in referral rates to Forsyth's outpatient pulmonary rehabilitation program.
"The physicians know about it and they love it; they're just busy and don't think about ordering it on discharge. There's no connection after their [patient is] discharged to go back and remind them," Stevens says. "We've put that in place, and Linhart identifies [the need] in-house."
In addition to helping patients in the pulmonary unit, staff members in the respiratory care department stay busy throughout the hospital—from the neonatal to the geriatric patients and from the emergency department to the intensive care unit. In the adult ICU, there is a ratio of one RT per eight patients. Outside of that department, the ratio varies.
All RTs insert arterial lines in the ICU and perform 95% of all intubations in the facility. In the neonatal area, they also insert arterial lines, do slightly more intubations, and attend all high-risk deliveries.
There are 67 full-time employees in the adult respiratory department, while the neonatal area has 15. Both areas make high use of therapist-driven protocols for care.
"The therapists are an extension of the physician in making sure patients get everything that they need related to their respiratory care," Stevens says.
With such a large number of patients with lung disease admitted to Forsyth, the RTs play an important role in assisting the physicians and taking care of patients. The hospital has set guidelines and a protocol that allows the RT to make the adjustments needed to get patients off mechanical ventilators as quickly as possible.
Forsyth has used this procedure for slightly more than 1 year. Stevens says that in that time, length of stay for ventilator- dependent patients has dropped by one and a half days. The ICU length of stay for these patients has dropped by 2 days, and the overall hospital length of stay has also dropped by 2 days.
"The respiratory therapists are the experts in respiratory care. They are at the bedside. They know what changes need to be made, and if we're able to make them and decrease the length of stay—especially a decrease in length of stay on a ventilator—that's best for the patients. It's less time for them lying in a hospital bed," Stevens says.
Unlike many hospitals, Forsyth also has high-use ventilator-management protocols in the adult and neonatal areas.
Staff members also participate in respiratory care rounds with the physicians every Wednesday.
"[Physicians] can't be by the bedside as much as we can. They see patients maybe 10 minutes out of a day," says Malizia, who works mostly with adult critical care patients.
The rounds provide an educational opportunity for the therapists to ask the doctors questions about specific cases or issues from that week.
Better Breathing
As part of its outpatient services, Forsyth started its Better Breathers Club several years ago as a support group for patients with COPD and asthma. The club members meet monthly to discuss educational topics, ranging from exercise to healthy eating to taking care of themselves in winter conditions.
While the department does not provide home care services, the staff does act as a liaison with an outside company to arrange patients' respiratory needs at home.
For the third year in a row, Forsyth was named a quality respiratory care provider by the American Association for Respiratory Care, which created criteria for the honor, including that services are provided on a 24-hours-a-day, 7-days-a-week basis, and that the entire staff is credentialed. A facility must apply for consideration each year.
Despite that recognition and all of the services that Forsyth's respiratory department offers on an inpatient and outpatient basis, the role of respiratory therapists remains a mystery to many who come in contact with them.
"I've taken care of patients who are newborns all the way to [those who are] elderly," Malizia says. "A lot of people don't know who we are until they're sick, in the hospital, and come into contact with us."
Danielle Cohen is a staff writer for RT.