RT Interviews Doug Strayer of Merits Health Products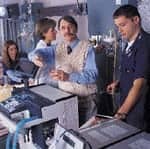 Straight Talk
Taking notice of the growing respiratory industry, many medical device manufacturers are expanding into this prosperous market. RT spoke with Doug Strayer, vice president of sales and general manager, Merits Health Products, Cape Coral, Fla, to get a glimpse of how Merits, a mobility and respiratory products manufacturer, has diversified and how the company plans to successfully introduce new products into the respiratory marketplace.

Q: How did Merits get started, and what is the current company direction?
A: Merits Health Products started as a mobility products manufacturer, initially supplying Rollators and manual wheelchairs manufactured in our Taiwan facility. Shortly thereafter, Merits Health Products entered the power mobility marketplace, and, since that time, we have become one of the largest manufacturers in power mobility products in the world. Over the last 3 years, Merits Health Products has diversified and has begun to produce respiratory products. At this time, the respiratory product line includes concentrators and nebulizers, but we are currently in the development stage of several new concentrators, a home fill system, and CPAPs, which we expect to bring to the market in 2005, pending US Food and Drug Administration approval.

Q: Merits is introducing new products: the Q120 and Q601 concentrators. How do patients benefit from each of these products?
A: The Q120 is one of our newest concentrators, which is expected to be available in 2005, also pending FDA approval. The Q120 is an AC/DC unit that will accommodate the patient who needs to travel. It will come with a battery pack and/or cigarette lighter attachment, and the smaller size and lower weight of the unit were designed to meet patient needs. The unit will also deliver 0-2 lpm of continuous flow and a pulse flow above 2 lpm in half-liter increments up to 6 lpm. We are very excited about this unit as well as another new product we are introducing: the Q601. The Q601 is our new home fill system, which we also expect to bring to the market in 2005, pending FDA approval. This system allows the patient to fill our proprietary portable O2 tank at home.

Q: What feedback have you gotten from people who used these products?
A: Not until this year has Merits Health Products started to aggressively market this product line. Our show attendance in the respiratory marketplace this year has given us a strong, overwhelming, positive response to the product line. We think with our design and the unique features of the concentrators, Merits Health Products will have an impact in this market.

Q: What can our readers expect from Merits in the future?
A: Merits Health Products R&D is continually working on future products. Sometime this year, we plan to also introduce the Q110 Concentrator, a 10 lpm concentrator. Merits Health Products also looks forward to becoming a full-line respiratory manufacturer.