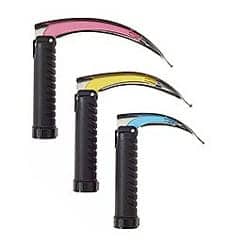 The latest addition to Teleflex's broad single-use anesthesia product portfolio, the Rusch TruLite Laryngoscope System looks to provide a solution for hospitals that are reevaluating the potential risk of patient cross-contamination and the cost of maintaining reusable laryngoscopes.
The TruLite blade is constructed of surgical grade stainless steel with rounded edges and tip and features; the integrated handle is a uniform size for all blade configurations, and combines a high-grade, reinforced plastic with an ergonomic grip to allow for a secure grip during intubation.
The system features LED lighting technology to provide strong, focused, reliable illumination while reducing battery consumption and replacement cost.
"Many customers have found that the hidden costs and patients risks of reprocessing laryngoscope blades for routine surgical procedures are far higher than the cost for adopting single-use laryngoscopes," said Cary Vance, President, Teleflex Anesthesia and Respiratory Division.
"Rusch single-use laryngoscopes inspire confidence in physicians by combining the quality of reusable blades with the convenience of a disposable option, helping hospitals accelerate adoption of single-patient use solutions."