RT looks at the latest ventilators and critical care products on the market from manufacturers like Breas Medical, Philips Healthcare, Zoll Medical, and more.
---

Breas Medical
855-436-8724 x 101
www.breas.us
The Vivo 45 LS, one of the smallest, full-featured life support ventilators on the market, provides invasive and noninvasive continuous or intermittent ventilatory support in home, post-acute, hospital and portable applications for pediatric through adult patients weighing more than 5 kg (11 lbs). Designed to maximize patient independence and mobility with an ultra-small footprint, it also provides the comfortable eSync trigger technology along with ultra-quiet operation. It also provides etCO2, SpO2, FiO2 and PtCO2 monitoring and connection to EveryWare by Breas, a securely hosted cloud-based application, which can help deliver an insightful approach to home care of respiratory patients. (See image above.)
The Vivo 65 is a life support ventilator for pediatric and adult patients 11 lbs and up. It treats a broad range of respiratory diseases and is capable of adjusting treatment through a patient's disease state with invasive dual and single limb, noninvasive and mouthpiece ventilation for hospital, LTACH/SNF and home environments. A full set of modes, SpO2, etCO2, and FiO2 monitoring, unique eSync breath by breath, leak tolerant synchronization and accurate volume delivery potentially help to reduce readmissions. Designed for mobility with 11.5 hours battery life, it is also easy to learn and operate for medical staff and homecare providers.
---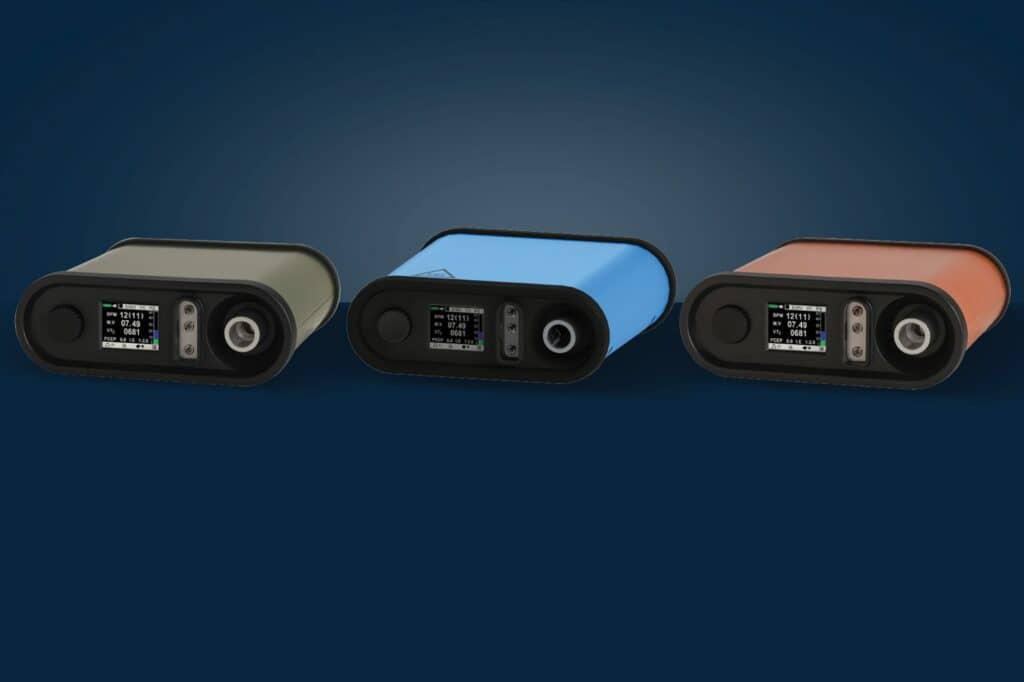 Inovytec's Ventway Sparrow is a portable (~2.2 lbs), affordable and impact-resistant ventilator that delivers continuous, high-quality ventilation with dedicated models for EMS, hospital systems, and medical corps. Designed for high performance and ease of use, the Ventway is MRI compatible and provides all the major ventilation modes, allowing for invasive and noninvasive ventilation..
---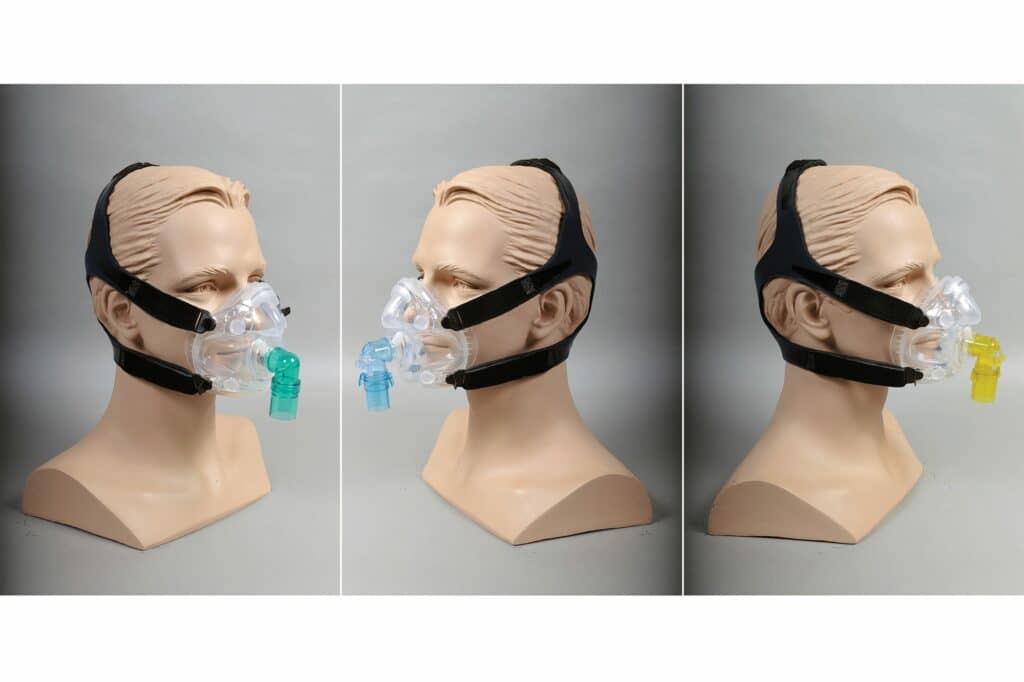 Hans Rudolph Disposable V2 Masks for noninvasive ventilation, BiPAP, and CPAP are able to connect to all hospital acute and subacute care, critical care, and portable bilevel ventilators and bedside CPAP devices. Respiratory therapy products have been the focus of the Rudolph family business since 1960 and these 6500, 6600 and 6700 Series DV2 Masks are proof of the efforts that they have put into designing and manufacturing NIV Masks that surpass expectations for fit, form, and function. All five sizes for each series fit under the patient's chin with a single piece soft mask seal for leak-free effective NIV & respiratory support.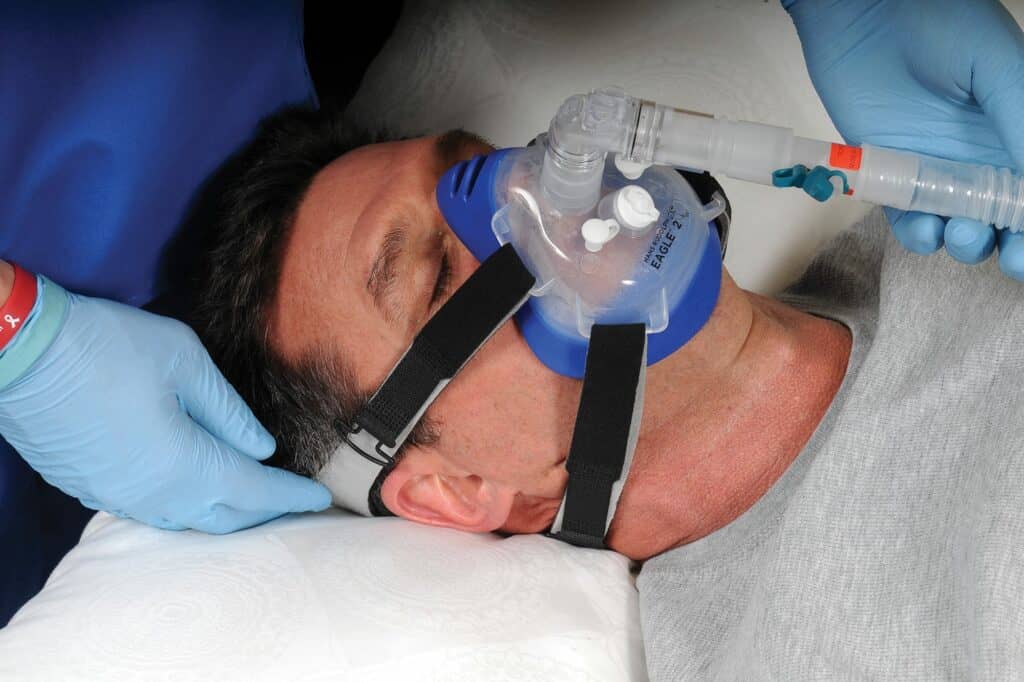 Recently Hans Rudolph inc applied a new manufacturing method that has made it possible to produce a new low-cost, disposable short term, NIV mask that still meets Hans Rudolph's high product standards. A true hybrid mask in the market of short-term noninvasive ventilation manufactured with proprietary methods to deliver a low cost NIV mask needed in the EMS market. The new Eagle Disposable Masks are made out of an extremely soft material that is specifically made to ensure a comfortable fit and leak free seal. The Eagle mask offers extremely low dead space which translates to less work of breathing and comes with four optional swivels: AAV with CO2 Vented Elbow, AAV only Elbow, Non-Vented Elbow and Non-Vented Straight. This multipurpose mask can be used in prehospital settings and from acute to subacute hospital care. 
---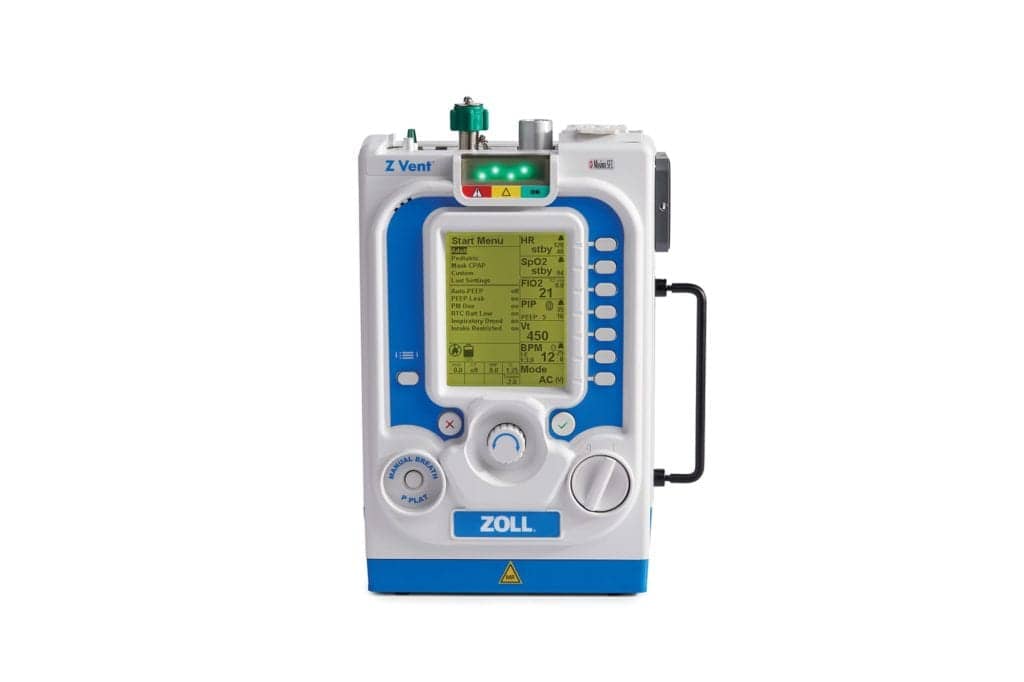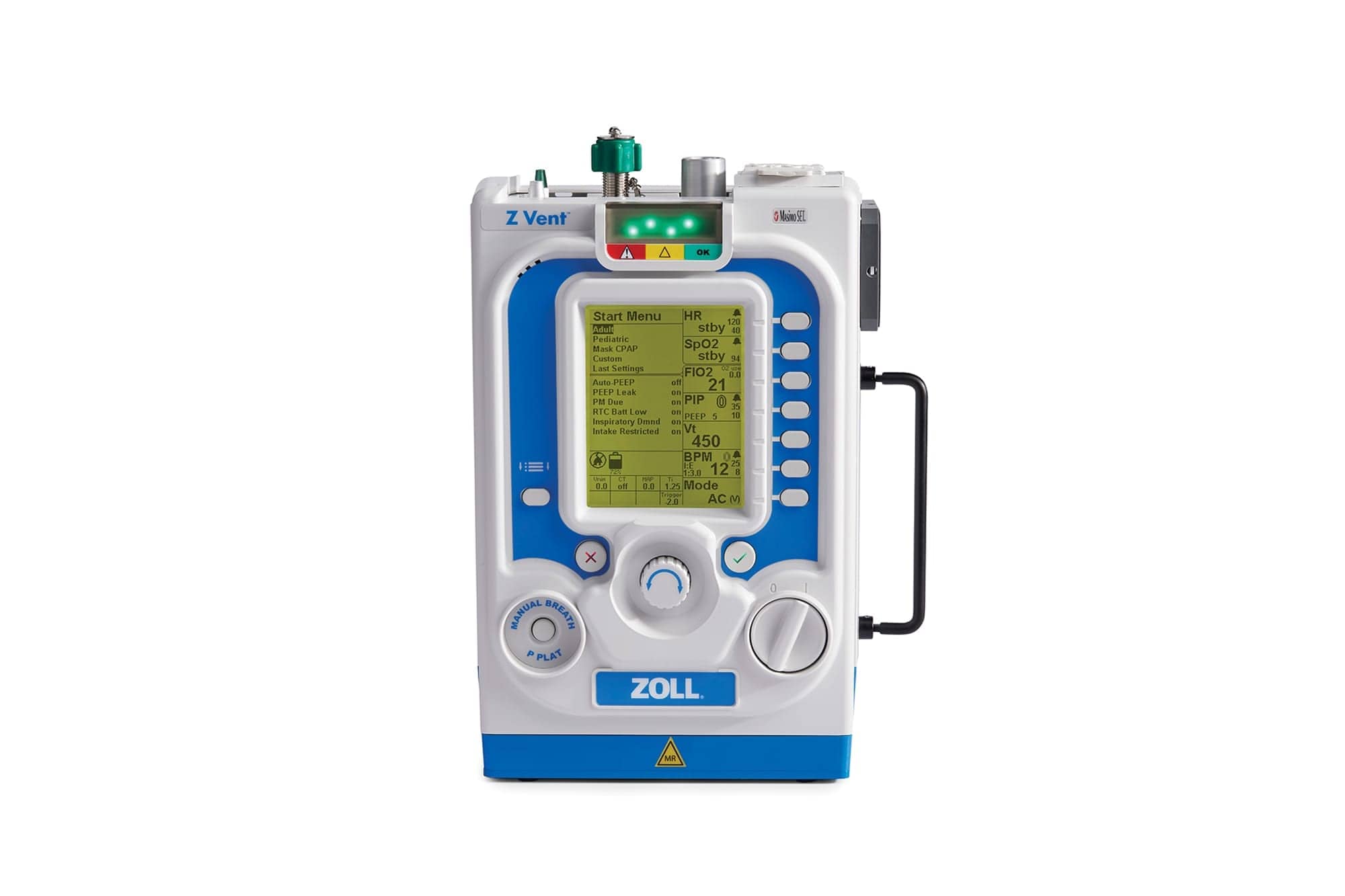 Zoll Medical Corp
800-804-4356
www.zoll.com
Zoll's Z Vent portable ventilator is easy to use, durable, and rugged. Designed to be lightweight and energy-efficient, Z Vent is ideal for all types of transport: ground ambulances, critical care transports, and air transports. Weighing less than 10 pounds, with a battery runtime of 10 hours, Z Vent is the ideal portable ventilator supporting infants through adults.
---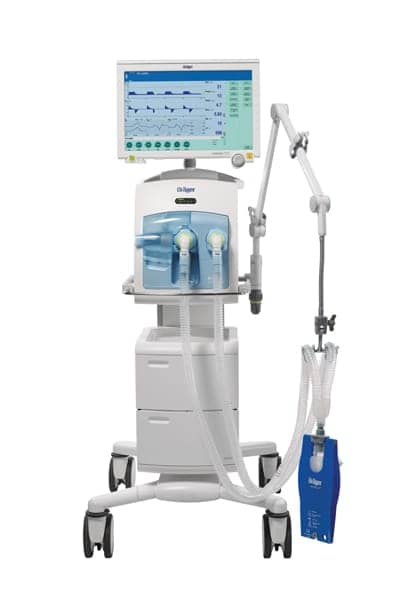 Dräger's Evita Infinity V500 critical care ventilator is suitable for all patient ranges. It offers a comprehensive set of solutions to provide protective ventilation strategies to adjust the complexities of COVID-19 respiratory failure. Its ability to provide invasive, noninvasive, and high-flow O2 therapy improves workflow, streamlines costs, and enhances ICU safety. 
---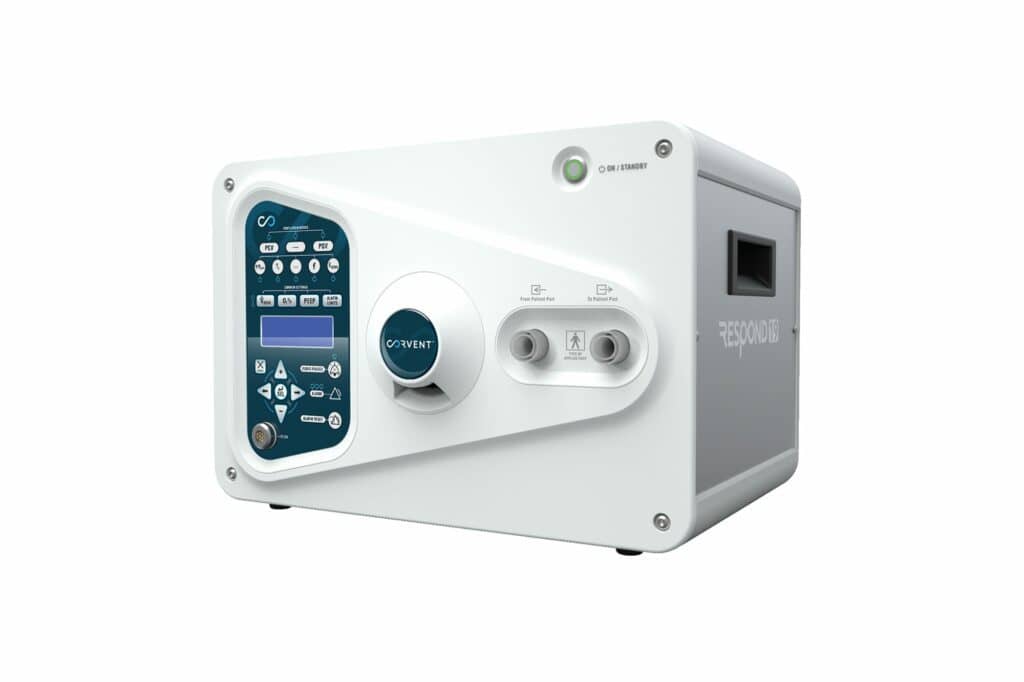 The CorVent Respond-19 ventilator expands critical care capacity for day-to-day clinical use and overflow respiratory support without costly service or maintenance contracts. Developed for out-of-the-box ventilation in under 10 minutes, the Respond-19 is easy-to-use and provides lifesaving, life-sustaining and weaning capabilities with excellent infection control. The lightweight design is compatible with all low-flow O2 sources.
---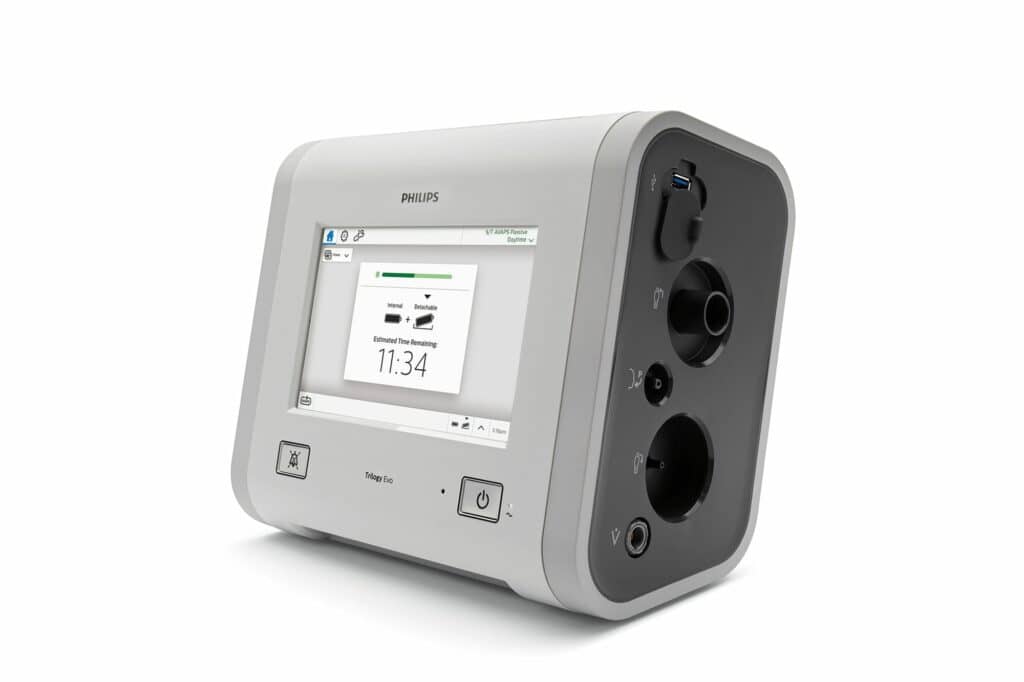 The Philips Trilogy Evo portable hospital-to-home ventilator delivers proven performance in noninvasive (NIV) and invasive (IV) ventilation, and is designed to stay with your patients across changing care environments..
---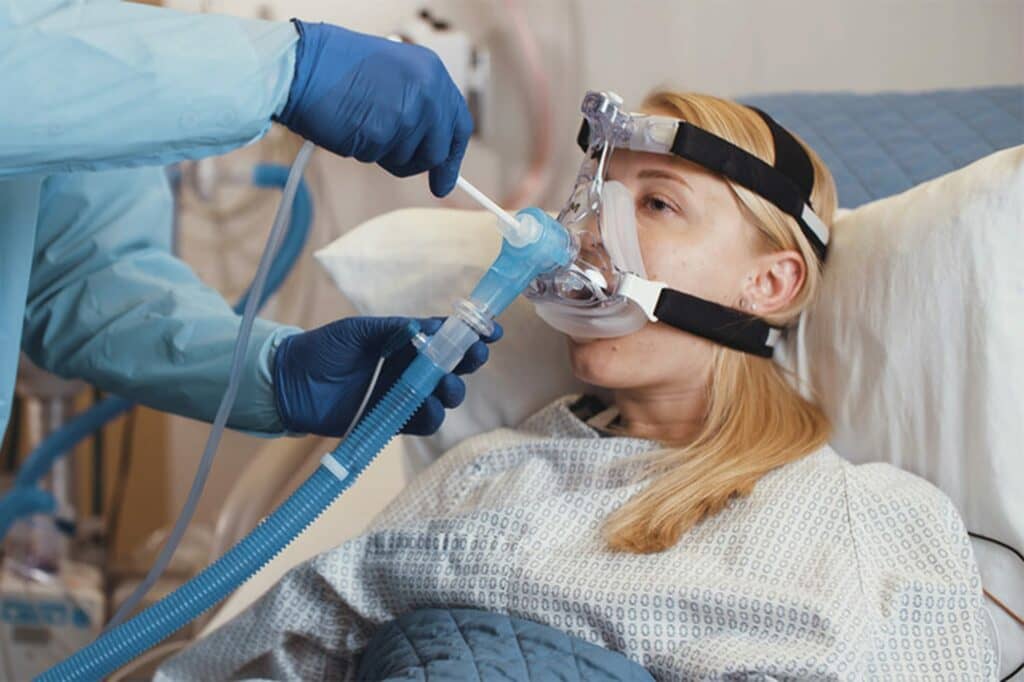 The ReddyPort solution promotes NIV success by providing oral access while maintaining therapeutic pressure without NIV mask removal. ReddyPort Elbow features a self-sealing valve, providing access to the patient's mouth for cleaning and moisturizing in combination with ReddyPort NIV Maintenance Kit. ReddyPort Microphone enables patients to speak up and share their needs.
---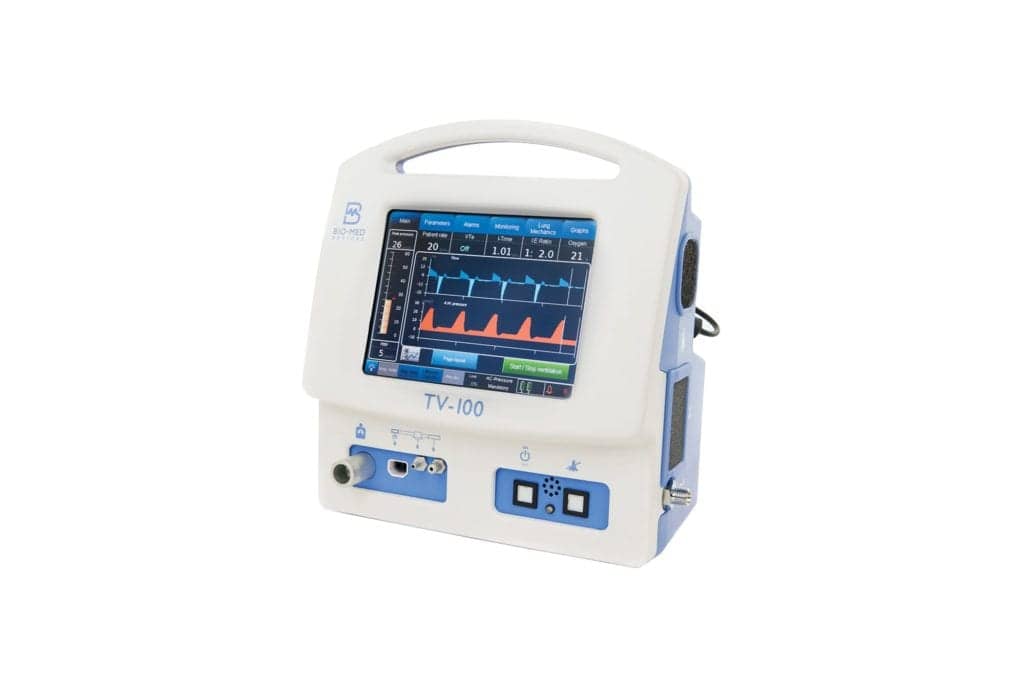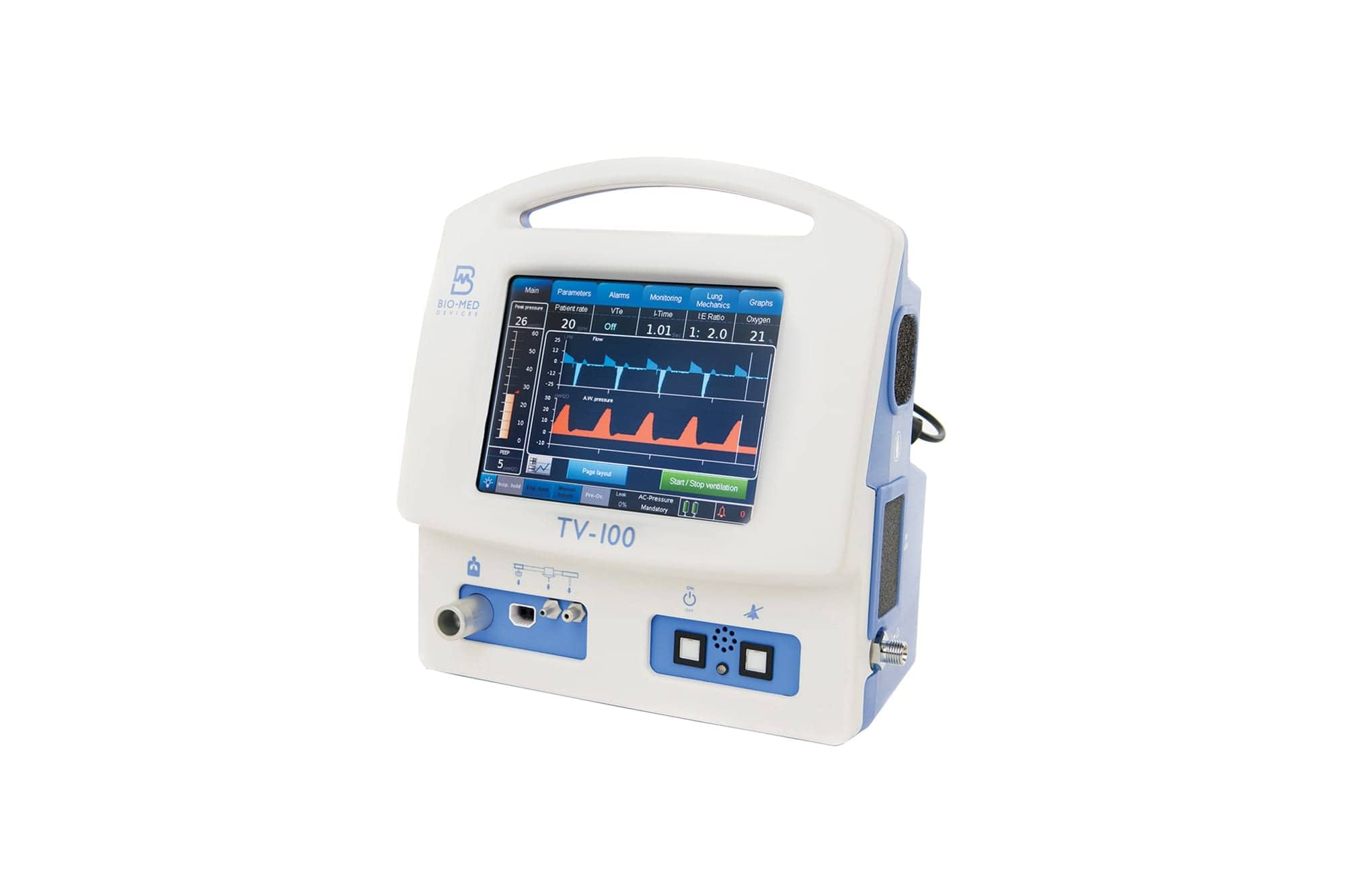 The new transport TV-100 Ventilator from Bio-Med Devices can be used by patients of all ages. The device has a turbine compressor and long battery life with hot-swappable batteries. It features all the traditional modes, plus PRVC and noninvasive ventilation. The device also has the ability to be used with a high-flow nasal cannula.
---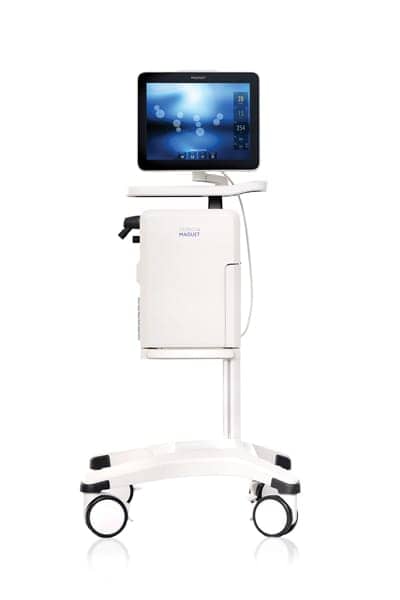 With Servo-u and Servo-n ventilators from Getinge, you have the tools and information needed to provide personalized and protective treatment for your patients. Servo's unique technology includes exclusive NAVA technology, with Edi monitoring, which promotes patient/ventilator synchrony for truly personalized patient support. Our latest software now has the option for high-flow therapy as well as Servo Compass, which allows clinicians to visually assess patients at a glance for low tidal volumes and peak pressures, alerting clinicians to changing conditions and allowing them to intervene with appropriate therapy.
---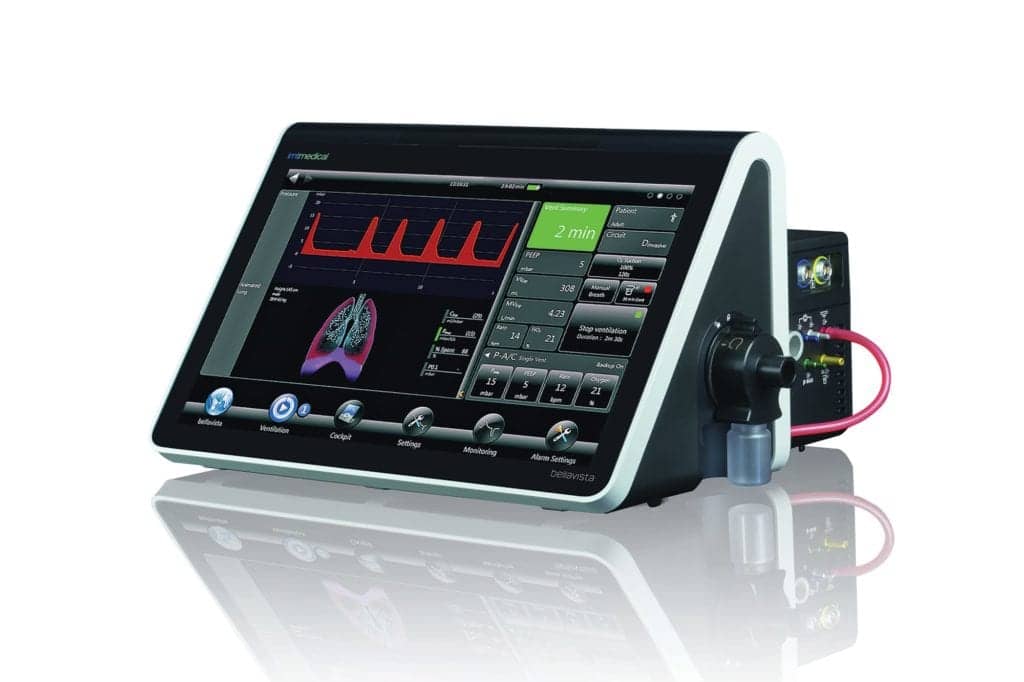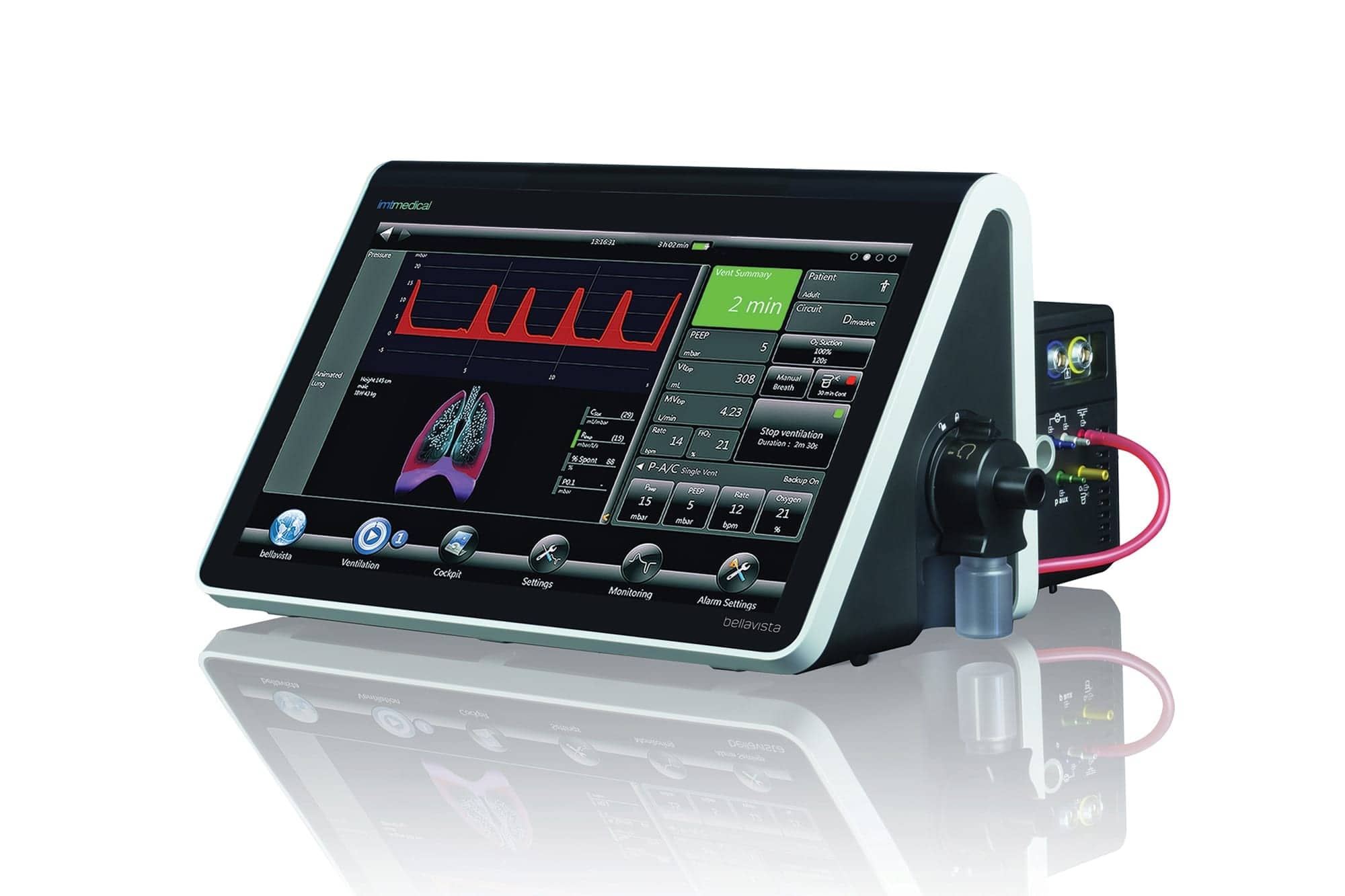 Vyaire Medical Inc
833-327-3284
www.vyaire.com
Vyaire Medical Inc's bellavista 1000e ventilator is the newest addition to Vyaire's high-end ventilation portfolio. The device offers a comprehensive solution for hospitals with the integration of high-flow oxygen therapy and advanced synchrony support for neonatal to adult patients in a single device. With the 1000e, clinicians can rapidly change therapies on a broad range of patients in an effortless way.
---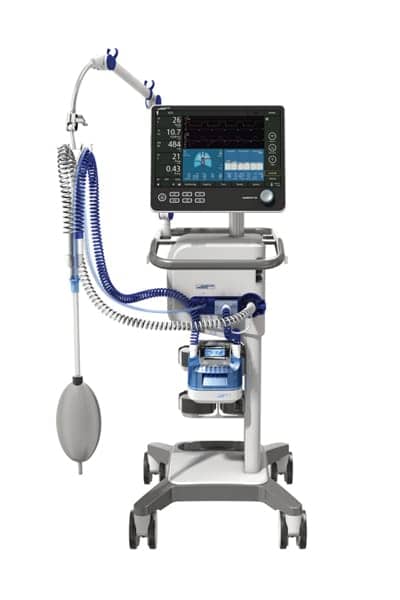 The Hamilton-G5 was designed for the most complex, critically ill patients in all ICU settings where lung protection is of paramount importance. A wide range of additional options and features, such as Heliox, allows you to tailor the Hamilton-G5 to fit the requirements of your ICU and meet the needs of each individual patient.
---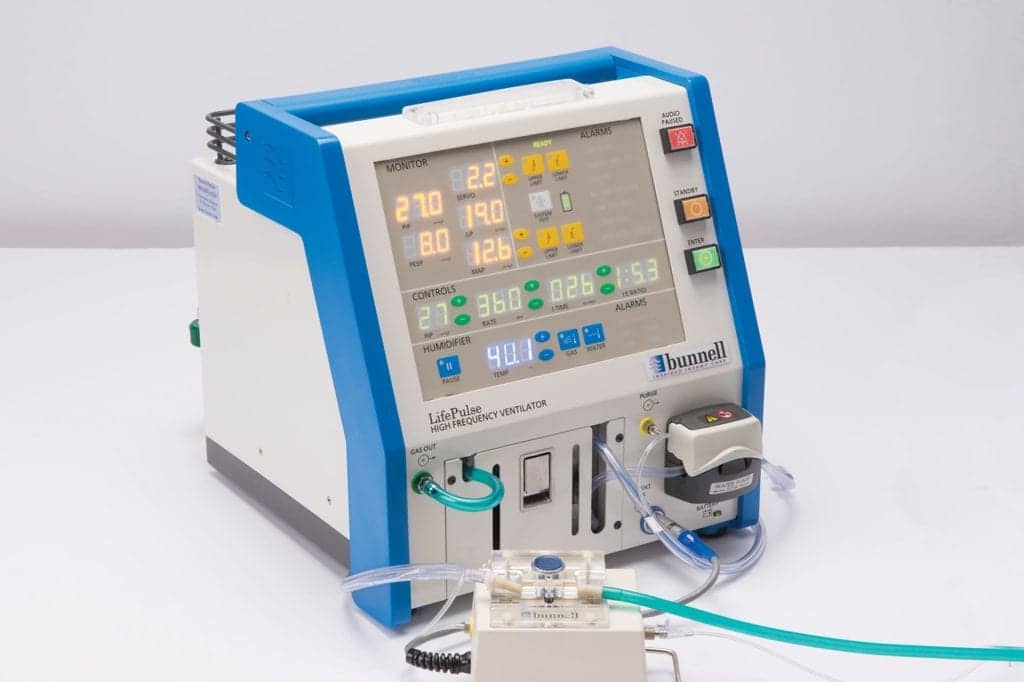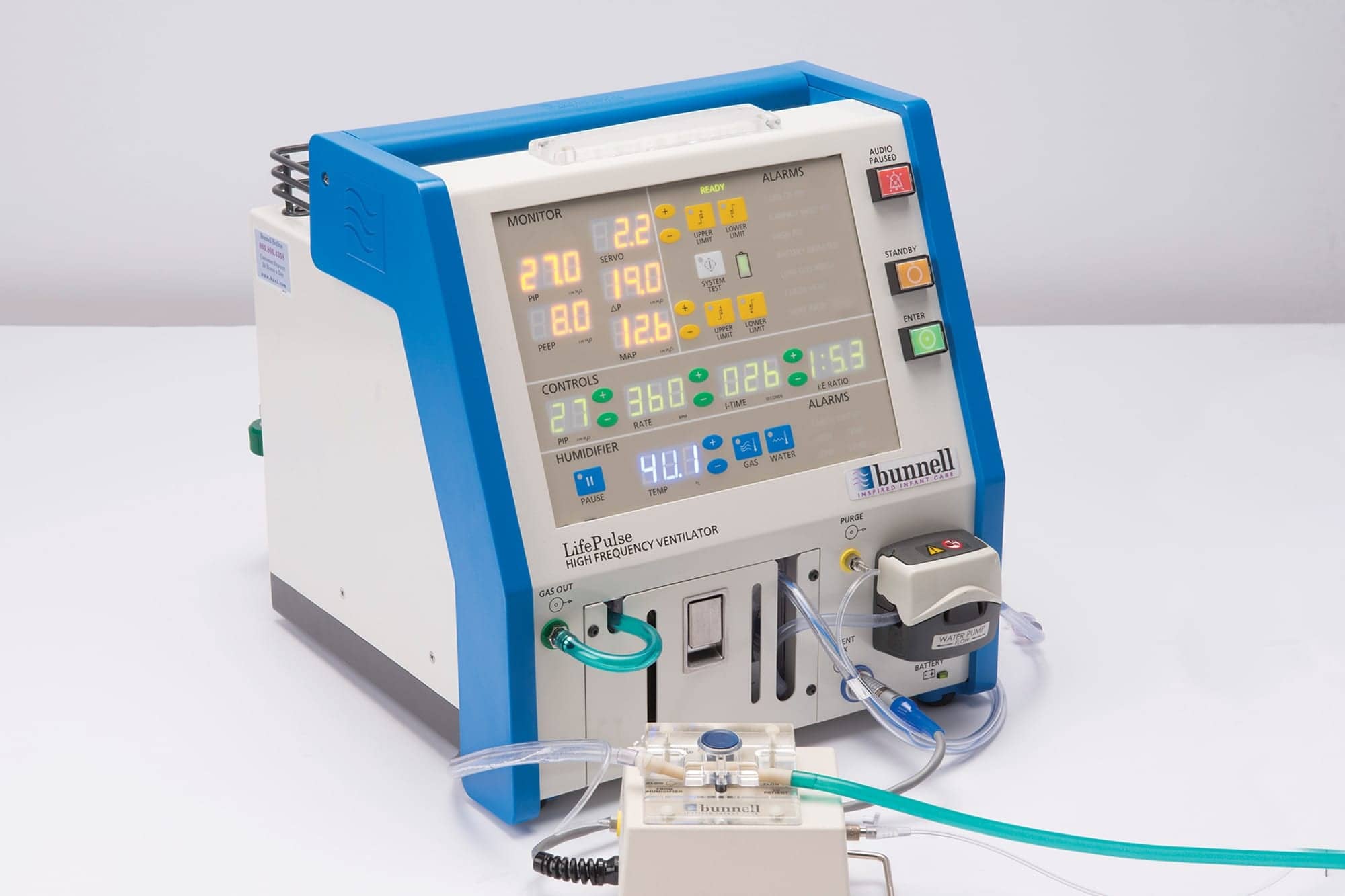 Prevent and treat lung injury with the LifePulse High-Frequency Jet Ventilator by Bunnell Inc. The proven LifePulse HFJV has delivered gentle ventilation in neonates for more than 30 years and features passive exhalation; variable I:E ratios (up to 1:12); oxygen sampling port; battery back-up, and a 24-hour hotline. Free trials available by visiting www.bunl.com or call 800-800-4358 (HFJV).