ndd Medical Technologies

877-904-0090
www.nddmed.com
Providing true portability for spirometry and pulmonary function testing at any location, ndd Medical Technologies offers the EasyOne Plus spirometer. The EasyOne is easy to use, powdered by two AA batteries, and offers fast and reliable results. With ndd's TrueFlow, the EasyOne is not influenced by heat, humidity, barometric pressure, or altitude, and provides extremely high accuracy for low flows. There is no cleaning or maintenance required.
---
ndd Medical Technologies

877-904-0090
www.nddmed.com
Performing PFTs in under 30 minutes all in 1 square foot, ndd Medical Technologies' EasyOne Pro is the first portable, single-breath DLCO device. The device is easy-to-use and automatically calibrates, allowing for fast and accurate point-of-care testing at any time. The EasyOne Pro eliminates expensive service contracts and minimal yearly maintenance.
---
Using 100% digital signal processing to eliminate drift and interference, nSpire Health offers the HDpft 4000 with N2, a high-definition pulmonary function plethysmograph with nitrogen washout testing. iFlow technology provides up to 10 times the accuracy of the previously accepted standard. nSight software simplifies testing processes, shortens procedure times, automates quality assurance, and delivers flexible real-time trending and instant configurable reporting.
---
For hospital information systems (HIS) and electronic medical records (EMR), nSpire Health offers the HDnet customized interfacing solution. HDnet retrieves ADT and Order HL7 messages into the nSight SQL database. Therapists perform tests as the incoming orders appear, optimizing workflow. Once complete, tests can be moved into a physician's inbox for review and finalization. Then the test flows back to the medical record software via a fully configurable outbound HL7 results message. HDnet supports most major image formats as well, including PDF and TIFF.
---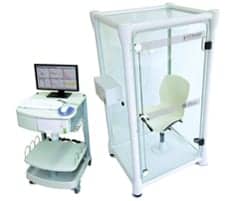 COSMED USA offers the new Q-Box Body Plethysmograph, an all-inclusive system for testing lung volumes, airways resistance, and spirometry. Low-range pressure sensors ensure measurement accuracy, and the large cabin provides a comfortable testing environment for a wide range of populations. The Q-Box is available as a stand-alone unit, or as an integrated module for the Quark PFT. 800-426-3763; www.cosmed.com
---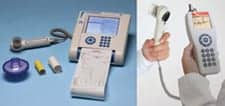 For use in the office or at the bedside, FutureMed's Discovery-2 allows for spirometry testing, review, and printing in virtually any location. Discovery-2 has a high-resolution color screen that displays real-time graphs, allowing the technician to confirm test quality during each maneuver. Reports can be generated immediately through the on-board printer, or stored for batch printing at a later time. FutureMed also offers the Spiropalm, a more compact alternative that also displays real-time spirometry graphs. Both devices meet ATS, ERS, and occupational standards. 800-222-6780; www.futuremed.com
---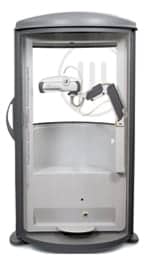 Combining body plethysmography and complete PF testing into one system, MGC Diagnostics offers the Platinum Elite Series Plethysmograph. The Platinum Elite provides ease of accessibility, enhanced patient comfort, and a small footprint with the industry's only zero-clearance door. The device offers a choice of diffusion technologies: RTD Real Time Diffusion MultiGas Technology, or Standard Gas Chromatography. Both technologies meet or exceed current ATS/ERS guidelines. 800-950-5597; www.mgcdiagnostics.com
---

SDI Diagnostics Inc offers its new Pulmoguard family of barrier filters, designed to filter out potentially pathogenic organisms from the patient expirate when performing spirometry tests. The filters are compatible with virtually all spirometers or PFT labs and ensure a safer testing environment for both the clinician and the patient. 800-678- 5782; www.sdidiagnostics.com