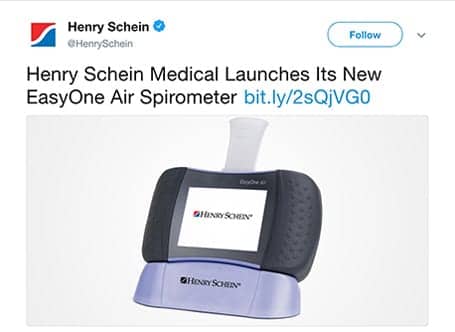 Henry Schein Medical has released the Henry Schein EasyOne Air spirometer, designed by ndd Medical Technologies.
The Easy One Air, an all-in-one solution for pulmonary function testing, can potentially improve recognition and diagnosis of COPD, according to Henry Schein.
The device has a premium touch screen interface so medical professionals can easily navigate and enter data, as well as view real-time curves.
While most spirometers require daily calibration in order to produce precise results, Henry Schein EasyOne Air uses TrueFlow, a resistance and calibration-free measurement technology, to help eliminate potential errors and ensure accuracy.
The device also includes wireless connectivity to a personal computer via Bluetooth, enabling patients to view interactive software displays, such as animated incentive screens and real-time graphs that may encourage children and adults to achieve maximum results when participating in a spirometry test. Additional features of the Henry Schein EasyOne Air Spirometer include data exchange and electronic medical record connectivity.
"We are excited to work with ndd to provide this technology solution that our customers can rely on to diagnose health issues among patients," said Brad Connett, president, US Medical Group, Henry Schein. "With tens of thousands of people being diagnosed with COPD each year, pulmonary function testing has never been more important. This simple device helps medical professionals make a more precise diagnosis, which allows patients to focus on improving their lung health and reducing symptoms before the need for expensive treatments."