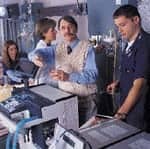 Critical Care Analysis Software
Nova Biomedical, Waltham, Mass, adds new features to the Nova Stat Profile® Critical Care Xpress all-in-one analyzer. Stat Profile Critical Care Xpress offers 19 measured tests, including blood gases, electrolytes, chemistry, and hematology with on-board co-oximetry. Thirteen standard menu choices plus an unlimited number of custom configurations are provided. (800) 458-5813; www.novabiomedical.com.
---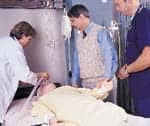 Ventilator/Monitor Software
Respironics Inc, Murrysville, Pa, introduces new software that integrates the Esprit® critical care ventilator and NICO® respiratory monitor. This union will give clinicians and patients a powerful new tool for ventilation management. The Esprit Ventilator will now provide NICO with breath type information, enabling NICO to precisely differentiate mechanical and spontaneous breaths, eliminating the need for a user-entered pressure threshold. Feedback on co2 removal, gas exchange, and cardiac output is immediate, allowing health care professionals to better manage ventilator patients. (800) 345-6443; www.respironics.com.
---

Peak Flow Monitor
Ulster Scientific Inc, New Paltz, NY, introduces the WhistleWatch™ Peak Flow Monitor, which enables parents to monitor their children's asthma at home—even over the phone. The device must first be preset by a clinician to 80% of the patient's best peak respiratory flow. If unable to produce a whistle sound, the patient can prevent an oncoming attack by initiating treatment as recommended by the clinician. WhistleWatch is also available for adults. (845) 255-2200; [removed]www.cvs.com/whistlewatch[/removed].
---

Peak Flow Meter
Micro Direct Inc, Lewiston, Me, introduces the new MicroPeak peak flow meter. The MicroPeak was designed to meet the new standards in performance and quality by including a high visibility scale and built-in color-zone asthma management system. The MicroPeak is lightweight, portable, and accurate and helps patients manage their asthma with its one-size-fits-all design. The durable MicroPeak incorporates an internal valve to protect the integrity of the internal mechanism and reduce cross-contamination concerns. (800) 588-3381; www.micro-direct.com.
---

Respiratory Care Station
GE Healthcare, Chalfont St Giles, United Kingdom, a division of General Electric Company, introduces the Engström Carestation, a critical care respiratory care station offering integration throughout the entire care process. Engström's adaptable design results in a care station that is easy to learn and intuitive to use, enabling the clinician to focus more on patient care. The system includes network and integration capability, patient care documentation, plug-and-play modules, and the ability to provide patient spirometry and metabolic measurement. (800) 558-5102; www.gehealthcare.com.
---

Emergency Airway Access Kit
Smiths Medical Inc, St Paul, Minn, introduces the Portex Cricothyroidotomy Kit (PCK). The kit contains all of the items required to establish emergency airway access and is based on an innovative Veress needle design that confirms entry into the trachea and indicates any subsequent contact with the posterior tracheal wall. Its 6 mm bore cricothyroidotomy tube enables spontaneous breathing, and the Portex Soft Seal cuff secures the airway. (800) 553-8351; www.smiths-medical.com.