Almost Home
Ventilator-dependent children are ready to go home, thanks to HealthBridge's aggressive weaning program and dedicated staff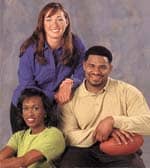 A home away from home: Healthbridge children's Hospital, Orange, Calif
You can count on one hand the number of acute rehabilitation facilities in Southern California willing to accept kids on ventilators. That is because most of that region's rehabilitation hospitals—given the way they are laid out, equipped, and staffed—recognize that they are in for an expensive, uphill battle to wean such patients and that scant rehab progress will be made until those children come off the mechanical breathing apparatus.
It is a different story entirely at HealthBridge Children's Hospital in Orange, Calif, not far from Disneyland. There, long-term ventilator cases are heartily welcomed; indeed, 24-bed HealthBridge, launched in 1998, possesses a remarkable knack for weaning kids.
"We've taken in numerous children whose referring providers insisted would never get off the vent and who warned us we'd only be spinning our wheels if we tried," says Sunnie Ortega, RCP, cardiopulmonary director. "But we take such prognoses as a challenge that we don't turn away from. Time and again, we've proven those prognoses wrong. Today those kids the others were ready to write off are breathing on their own."
Typical of the HealthBridge success stories is the case of an infant with Down syndrome who nearly died on three separate occasions over the span of 4 months in another acute hospital following elective heart surgery. On a ventilator and needing to come off it in order to be returned home, the baby girl failed repeated attempts at weaning. Ultimately, the hospital threw in the towel and transferred the tiny patient to HealthBridge. The staff needed only 3 weeks to free her of the machine.
"She went home soon afterward with no vent and decannulated," says Linda Mortimore, CRTT, RRT, director of admissions and business development.
Vent-Free a Priority
Freestanding HealthBridge is a comprehensive pediatric rehab facility of which respiratory is but one component in a single-site continuum of care that extends from coma stimulation and subacute care, to acute intervention, and, finally, to outpatient services. (Not offered at HealthBridge are surgeries, emergency department services, or trauma care.)
Patients come to HealthBridge mainly from California, but occasionally also from Nevada, Arizona, and other neighboring western states. They range in age from newborn to 21. Lately, most often seen are victims of horrific highway accidents.
"We also admit quite a few bronchopulmonary dysplasia (BPD) babies, and kids with cystic fibrosis, heart problems, and oxygenation problems," says Ortega.
Not every ventilator-dependent child who enters HealthBridge is successfully weaned, but when failure occurs, it is never for lack of trying.
"We take an aggressive approach to vent weaning," Ortega explains. "We don't wean by the book; we wean based on the individual patient's condition. For example, if someone has a long-term lung problem, obviously that patient's co2 baseline is going to be a little different from normal, so that's what we're going to base our weaning plan on."

One of Healthbridge Children's Hospitals tiny patients masters the exercise ball
Nonetheless, the weaning process is fairly straightforward. As Ortega describes it, "We try to knock out the pressures first before decreasing the rate. We get the patient stabilized on that. Then we get the patient down to CPAP mode where they aren't requiring any kind of ventilator breath. After the patient is stabilized on that, we take them off entirely. We've had really good success rates using this approach, especially with babies who have BPD."
Regardless of the condition of the ventilator-dependent patient upon admission, weaning is always the overarching goal of respiratory care, Ortega says.
"Even if the kid's comatose, we're going to be taking steps to get that patient off the vent, if possible" she says.
The equipment employed at HealthBridge is state of the art, and it is one of the reasons for the hospital's track record of success at weaning. The ventilators are for the most part standardized around a single brand; all are portable and provide very precise management of pressure support/pressure control.
"We also use vests and excellent medications to minimize pneumonia risk," says Ortega. "We use good heaters on the vents to help keep trachs moist. As a result, we're finding fewer infections to set back our weaning progress."
Speaking of infections, HealthBridge routinely eases up on its weaning techniques during flu season.
"We don't want our kids to fail, so we don't move too aggressively during the times of year when they're at greater risk of contracting a flu virus," says Ortega.
Even at that, HealthBridge is ever vigilant for opportunities to wean, no matter the season.
"Every quarter, I assess every vent patient," says Ortega. "If any of them have had a positive change in status, you can bet there'll be a weaning plan promptly set up."
Anchors Aweigh
Another factor in HealthBridge's ability to wean when others cannot is the staff: they are energetic, endlessly optimistic, and passionately enthusiastic. Couple that with the relatively small caseload each practitioner carries and you have a situation perfect for lavishing plenty of attention on the patients.
"We develop real relationships with the kids, which helps motivate them to do well with weaning and then with their rehab," says J. J. Gatdula, RCP, staff respiratory therapist.
Interestingly, when it is first suggested that their youngster be admitted to HealthBridge, some parents react with fear. Says Mortimore, "Because they're unfamiliar with the type of care we provide, they think that when their children come here they'll no longer receive the high quality of care they were getting in the acute hospital. The fact is, our physicians are pediatric intensivists and pulmonologists. When needed, neurology, neuropsychology, orthopedics, and gastroenterology specialists are also available to us."
Parents worry, too, that HealthBridge is but a pediatric version of a nursing home for the elderly, "where their child won't be hugged or loved and will just be shut away in a room and forgotten about," says Mortimore.
Those anxieties vanish within minutes of walking through the front door for a preadmission tour of HealthBridge. What parents find is the exact opposite of what they expected. Everywhere they turn, they see children laughing, playing, behaving just as they might at home.
"We have a rich recreation program, we have women who volunteer as 'grandmothers' to come in and nurture the babies; we have teen volunteers who help the older kids with schoolwork and crafts," says Mortimore. "And, most of all, we have family involvement and integration. Our goal is not only to care for them medically, but also to provide as much normalcy as possible."
Happy moments come as well in the form of off-campus adventures. Recently, for example, a couple of patients and their families were treated to a day of sailing. Gatdula accompanied the thrilled kids to make sure their portable ventilators were functioning well at all times and to perform tracheostomy maintenance.
"The biggest challenge was changing the vent batteries while the boat was rocking," he says. "Suctioning of the airways was also a bit of a challenge because we had to rely on portable suction units rather than our more powerful in-wall suction system back at the hospital. But that was all minor compared to the fun everyone had."
Between Hospital And Home
From the start, HealthBridge understood that kids with acute- and subacute-level conditions respond better in a home-like environment. Accordingly, when the 17,000-square-foot facility was built, it was designed to seem more like a suburban residence—from the traditional Southern California ranch-house exterior to the fully carpeted and furnished individual patient rooms.
"We elected to go with private rooms … for several reasons," says Mortimore, who notes that every room is outfitted with a bedside monitor so as to transform the quarters into a mini-ICU, without the disturbing lights and noises of an actual ICU. "First, this gives each child a sense of ownership over their room, just like at home. That's important, especially for the older kids following long acute hospital stays, because it helps them keep their mood up. Second, it promotes more visiting by parents, grandparents, uncles, aunts, cousins, and even young siblings. We wanted the families to have [high] quality time during visits. That's hard to do when you've got three or four patients to a room. We also felt that by encouraging visits from family, it would make for easier and better training so that the child's return home could go more smoothly and be more successful."
Private rooms also sharply reduce risk of patient cross-contamination.
"If several kids share a room and one of them comes down with a bug, they all get it," says Mortimore. "You're trying to wean them from the vent and you have a setback. You have to start over. Then they get sick again and they're set back again. And on and on it goes, and the child never gets off the vent. That's a big part of the problem the typical hospital encounters when they try to wean their kids."
Gaining subacute admission to HealthBridge is, in many instances, harder than winning a discharge. Thanks to the facility's success rate, there is a waiting list for room availability.
"We run full nearly all the time," says Mortimore.
Demand for bed space at HealthBridge has become critical enough to prod the hospital into expansion mode. Eventually, using land on an unused portion of the 3.5-acre campus, the hospital will open a 40-bed add-on.
Still, "no matter how big we become, our mission—to help each child reach their highest potential, while providing the best quality of life possible—won't change," Mortimore promises. "In our view, there's no place like home, but when children are so sick or badly injured that they can't go home, we're going to be here to help."
Rich Smith is a contributing writer for RT.