Asthmatics Celebrate High-Tech Breakthrough
FireLogic Inc, Arlington, Va, announces its new HealthEngage Software, which allows people with asthma to collect, store, and chart vital health information. It can be used on PCs, Macs, handheld devices such as Palm's, and Web-enabled cellular phones. Using this software, asthma sufferers, including children, will be better able to manage their health care and activities by having the ability to enter health information at any time from any place. Medical doctors will also be able to review patient information in a more useful manner in simple charts and records as well as through online access. A free trial version of the HealthEngage Asthma software can be downloaded at www.HealthEngage.com. (925) 209-5048; fax: (775) 667-7786; www.firelogic.com.
---
BusinessWeek Ranks ResMed Number 31
ResMed, San Diego, ranked 31st on the 2001 BusinessWeek Hot Growth Companies list. The list ranks public companies with annual sales between $50 million and $1.5 billion according to their 3-year results in sales growth, earnings growth, and return on invested capital. ResMed is the top-ranked medical products company overall, and the top-ranked company in San Diego County on the list. BusinessWeek also ranked ResMed in the top five companies from its 1999 list in terms of 2-year total return, which was 239%.
"We are delighted by this recognition of ResMed's achievements by BusinessWeek for the third year in a row," says ResMed CEO Peter C. Farrell, PhD. "Awareness of sleep disordered breathing, particularly sleep apnea, and its effects on public health is increasing in the community, and ResMed is making a significant contribution to treating people with these conditions. I wish to thank the ResMed team for enabling the company to again achieve this accolade from BusinessWeek." (800) 424-0737; www.resmed.com.
---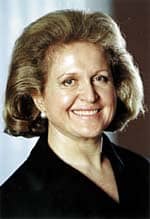 Nellcor's Intouch Remote Oximetry Notification System Now Available for US Hospitals
Nellcor, now part of Tyco Healthcare, Pleasanton, Calif, has made its Intouch™ Remote Oximetry Notification System available to hospitals following successful test results at three beta sites. The Intouch system is designed to enhance pulse oximetry monitoring in non-critical care areas, such as the general care floor.
The Intouch system is the first remote notification paging system dedicated solely to pulse oximetry monitoring. Small radio transmitters are placed on top of each bedside pulse oximeter in order to transmit alarm data to pagers worn by clinical staff members. The pager device transmits an alarm message as well as the patient's bed number, Spo2 value, and pulse rate. The Intouch system provides a convenient way for nursing staff to maintain vigilance in busy floor units where lower nurse-to-patient ratios are common.
A facility can install up to six discrete systems of 24 beds each, providing remote oximetry alarm notification for up to 144 patients. Data Critical Corp, a pioneer in medical paging technology, designed the radio transmitters and software used in the Intouch system.
The Intouch Remote Oximetry Notification System offers maximum benefits when combined with the Nellcor® N-395 Pulse Oximeter, featuring Nellcor's latest technology: Oxismart® XL Advanced Signal Processing and SatSeconds™ Alarm Management. Oxismart XL signal processing delivers accurate pulse tone, pulse rate calculation, and oxygen saturation values even during challenging motion, environmental noise, and low perfusion conditions. SatSeconds technology is a breakthrough in clinician-programmable alarm sensitivity for pulse oximetry that empowers clinicians to manage nuisance alarms caused by transient desaturations.
The Intouch system is designed as a secondary alarm system and is intended to supplement, and not replace, other monitoring and alarm management procedures.
---
Siemens Signs Agreement
Under a 3-year agreement, the Electromedical Division of Siemens Medical Solutions, Danvers, Mass, will provide Servo 300, 300A, and 900 series ventilators and clinical training to HealthTrust Purchasing Group, Nashville, Tenn. HealthTrust Purchasing Group has more than 600 members including hospitals, surgery centers, and clinics. Siemens anticipates the agreement will generate more than $1 million. (978) 907-6300; www.siemensmedical.com.

QRS Diagnostic Receives ISO 9001 Registration
QRS Diagnostic LLC, Plymouth, Minn, has achieved registration for ISO 9001:1994, EN 46001:1996, and CE marking. Products that received clearance to apply the CE marking in the European community include the SpiroCard® spirometer, OxiCard® pulse oximeter, and SpirOxCard® spirometer/pulse oximeter.

QRS specializes in software-based medical devices that are easily integrated with off-the-shelf PCs, handheld computers, and Internet appliances. The company's cost-effective PC Card medical device platform is used worldwide to acquire and communicate physiological data.

"The achievement of ISO certification assists QRS in the delivery of on-time, quality products, increases our overall efficiency, and supports our commitment to building strong customer relationships," states David Lerner, director of engineering and regulatory affairs.

The certification audit was conducted by a team of auditors from BSI Inc, and followed an extensive quality management program undertaken by QRS Diagnostic LLC. www.QRSdiagnostic.com.