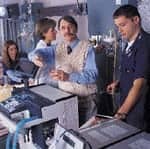 Portable Digital Pulse Oximeter
Nonin Medical Inc, Minneapolis, introduces the Avant® 9700 tabletop/portable digital pulse oximeter, offering easy-to-read displays, flexible alarm management and printing options, 115 hours of memory, color displays, and an 8-hour minimum battery life. Its plethysmographic waveform changes color as patient signal quality changes. All alarm settings are customizable, and the patient security mode prevents accidental changes to critical parameters. Compatible with Nonin's PureLight™ sensors, the 9700 also features PureSAT™ signal processing technology. (800) 356-7807; www.nonin.com.
---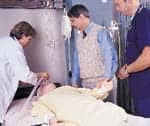 Pulmonary, Cardiopulmonary Stress Testing System
VIASYS Healthcare Inc, Conshohocken, Pa, introduces the VMAX® Encore system for pulmonary function, cardiopulmonary stress, and metabolic assessment testing. Marketed through VIASYS Respiratory Technologies, the system combines all of the key test suites, features, and capabilities of several different testing systems into a single, fully integrated, compact system. The VMAX Encore also offers impulse oscillometry, a VIASYS proprietary technology that allows for effort-independent testing to accommodate the most compromised patients and provides the clinician with both central and peripheral airway resistance measurements. (800) 231-2466; www.viasyshealthcare.com.
---

Blood Clot Catchers
Nova Biomedical, Waltham, Mass, introduces Capillary Clot Catchers, designed to prevent clots present in whole blood samples from entering the flow path of Nova Stat Profile® pHOx® series and Critical Care Xpress analyzers. These disposable, single-use devices are designed for use with all size capillaries and are intended to be used externally to the analyzer. These devices are easily connected to the capillary tube prior to mounting to the analyzer's capillary adapter. Nova Stat Profile pHOx series and Critical Care Xpress are blood gas, electrolyte, and chemistry analyzers for use in critical care, point-of-care, stat, and routine laboratory diagnostic testing in hospitals. (800) 458-5813; www.novabio.com.
---

Vibrating Mesh Nebulizer
Omron Healthcare Inc, Vernon Hills, Ill, introduces the MicroAir vibrating mesh nebulizer, which weighs only six ounces with two AA batteries installed. Featuring Vibrating Mesh Technology (VMT®), this compact and portable nebulizer enables delivery of medication quicker than traditional nebulizers and delivers medication to the last drop. Its portable size and virtually silent operation encourage compliance with medical requirements resulting in greater control over patients' respiratory conditions. And unlike traditional spacer devices, no special coordination of breathing or spacer device is required. The MicroAir comes with a compact carrying case and instruction video. (800) 231-4030; www.omronhealthcare.com.
---

Automated Sleep Stager
Grass-Telefactor Product Group, Astro-Med Inc, West Warwick, RI, introduces the Fully Automated Sleep Stager (FASS™), an add-on analysis module for existing TWin® PSG review software. FASS software identifies standard Rechtschaffen and Kales sleep stages automatically, deriving information from various parameters of the EEG, EOG, and chin EMG. With FASS, a sleep study is completely staged in less than 1 minute. The comprehensive user interface of FASS permits changing some of the staging parameter thresholds and rules, as well as default settings. Amplitude and EEG frequency trends, such as delta and alpha percentage trends and chin EMG amplitude trends, are also computed and can be displayed on the PSG timeline along with the sleep staging hypnogram. FASS creates a fully staged study that can be reviewed, modified, and exported to a standard report. (877) 472-7779; www.grass-telefactor.com.
---

Portable Ventilator
The durable Achieva® portable ventilator from Puritan Bennett, Pleasanton, Calif, has a proven history of reliable operation and is ideal for subacute and home care settings. The Achieva ventilator supports a variety of clinical conditions in pediatric to adult patients. It provides volume and pressure control modes as well as pressure support to enhance patient comfort and synchrony. It also features an internal dial-in PEEP and O2 blending option. The Achieva portable ventilator's extended battery operation and compact design enhance patient quality of life. (800) 635-5267; www.puritanbennett.com.