Despite low recognition, ARDS kills more people each year than either breast cancer or AIDS.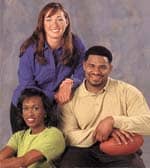 Nearly 2 years ago, physicians at a small hospital in upstate New York told Toni Rockefeller that her 36-year-old brother Mike was in such critical condition that he had a 50% chance of surviving, but they could not tell her what disease he had. This was after Mike was diagnosed with a bacterial pneumonia so severe that he needed emergency surgery to scrape his lungs. Within a day of surgery, Mike became septic and was put on a ventilator.
Incensed that she could get no further information from hospital staff, Rockefeller called the patient advocate, insisting she speak with a doctor. The doctor told her that Mike had acute respiratory distress syndrome (ARDS); neither Rockefeller nor other family members had heard of it. Desperate for information, she combed the Internet, and found the ARDS Foundation and Eileen Rubin Zacharias, president/secretary and cofounder of the foundation and an ARDS survivor.
"She saved me," says Rockefeller. "She gave me the speed educational program." Rockefeller is so grateful for the help she received in the days leading up to Mike's death and the weeks following that today she volunteers with the foundation as a family member willing to pass on her story and information about ARDS.
Rockefeller's experience with the syndrome is common, and that is why education and support are the two main thrusts of the foundation. "It is really simple," Rockefeller notes. "If you don't know the background of the syndrome, you don't know what questions to ask. You are in there blind." Once family members and loved ones are armed with information, they are better positioned to push for optimal care.
ARDS, an acute syndrome or process, rarely makes headline news, yet more people die each year in the United States from ARDS and its complications than die from either AIDS or breast cancer. ARDS (also known as adult respiratory distress syndrome) is a severe inflammatory condition, characterized by the sudden onset of pulmonary edema and respiratory failure. More than 60 different causes of ARDS have been identified, with pneumonia, sepsis, aspiration pneumonia, and trauma some of the more common causes.
The syndrome was first identified during World War II, but it was not until advanced trauma, or MASH, units of the Vietnam War recognized the prevalence of this syndrome that it was given a formal name. Other commonly used names for the syndrome before 1967 include wet lung, shock lung, and Da-nang lung.
How it started
Both Zacharias and Paula Blonski, the other cofounder and vice president/treasurer of the foundation, had experiences similar to Rockefeller's before fate put them in touch with each other.
Blonski's sister Marybeth died in 1998 from ARDS, which was complicated by an underlying leukemia, after undergoing minor surgery. Marybeth's surgical wound would not heal, sepsis set in, and she developed ARDS. "My family and I had not heard of ARDS," Blonski says. "We thought it was a generic term used for everyone who couldn't breathe."
Like Rockefeller, Blonski turned to the Internet for information, but at that time, the ARDS Foundation did not exist. "I did find a few people who had had ARDS, and that's how I eventually found Eileen."
The two started talking about creating a foundation and incorporated in 2000 as the ARDS Foundation of Illinois. "Our purpose was simple: to create a brochure and get it into the hands of people who need it," Zacharias says. "Of course, things have a way of growing."
The first major milestone was passed when the fledgling foundation held its first fund-raiser, a walk for ARDS through Chicago's northern suburbs. They raised $10,000, enough to get the team online and to create the much-needed educational brochure. From there, the foundation grew. "We grew so big so fast that we changed the name to the ARDS Foundation," Blonski says. "We didn't want people to think they had to be from Illinois to make use of it."
Doctors from Northwestern University in Chicago suggested the foundation start a survivor registry. Today, more than 300 survivors have joined it. Names and information are confidential, given to doctors only with the permission of the survivor.
While no studies have yet to be conducted using the registry, Zacharias says that researchers interested in studying ARDS can contact the foundation to request a list of survivors. "If someone were looking to do research on females over a certain age, for example, the foundation would send out a letter to those women to see if they were interested in participating," she explains.
While the ARDS Foundation's initial Web site consisted of only a handful of pages, today the sophisticated site has between 30 and 35 pages, covering everything from the hard facts about ARDS to much-needed resources to 1,001 ways to help those afflicted with ARDS and their families. "Every time I have a lull in my brain I think of another Web page to add," Zacharias says. Adding to the foundation's abundant information, Zacharias and Blonski also publish a semimonthly online newsletter and a semiannual print newsletter.
Complications
Even though ARDS-related deaths exceed those of many other diseases, the condition is not well known. Only half of those afflicted with ARDS survive and many live with complications acquired during extended hospital stays.
One common complication is foot drop, or peripheral neuropathy. Pressure injury, which can be caused by prolonged immobility, is one cause of peripheral neuropathy. Symptoms include pain, sensation loss, and inability to control muscles.
"When my mom began standing and walking after her bout with ARDS, I realized that she had nowhere near the physical therapy that she should have had during her illness," says a participant in one of the foundation's recent online discussion groups on foot drop. "The bottom line is the doctors didn't think she was going to survive (as is the case with most ARDS patients), so they put her PT needs on the bottom of the list."
ICU delirium, the result of organ dysfunction, is another common complication. Every day an ICU patient spends in delirium is associated with a 10% higher risk of death and a decrease in long-term cognitive function for survivors. According to information provided by the foundation, 33% to 80% of survivors have long-term cognitive impairment.
Challenges
While getting information to those who need it has been challenging for the foundation, raising funds is even more difficult. "Are you going to give money to something you don't understand?" asks Zacharias. One of the foundation's goals is to raise at least $50,000 to fund research within the next 2 years.
ARDS-specific studies are uncommon, but some strides are being made. Recent research regarding ventilator care has resulted in fewer complications for ARDS patients, who are now being taken off ventilators earlier.
"Another challenge is that ARDS is acute as opposed to chronic," notes Zacharias. Survivors go into a type of denial once they are released from the hospital, and family members of someone who has died from ARDS just want to move on. As a result, there is a dearth of people to fight for research funding and to offer support to others. "It's so different for someone who is living with his or her disease, COPD or breast cancer, for instance," she says. "Yet survivors of ARDS also have complications that they live with."
Many in the medical field do not fully understand what it means to not be able to breathe, something ARDS survivors are all too aware of. "We want to tell people we're here, that we understand," Zacharias notes. Blonski agrees: "I want to make sure that no one has to go through what my family did—the not knowing." Because of the hard work of the ARDS Foundation, no one has to battle the syndrome alone. For more information, go to www.ardsusa.org.
Fran Howard is a contributing writer for RT.