Medication adherence for chronic lung diseases like asthma and COPD continues to be a major obstacle to improving patient quality of life and reducing exacerbations.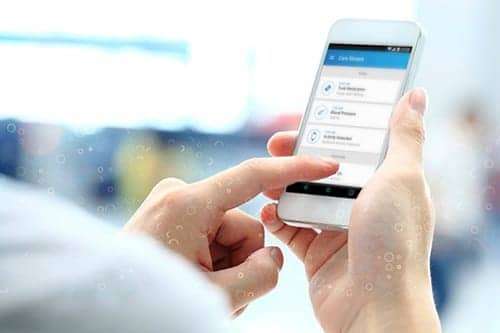 Regardless of medical condition, research has shown a strong association between adherence to medication regimens and health status. A 2014 study out of the Netherlands1 found a link between high adherence rates and a significant decrease in mortality in patients with moderate to severe chronic obstructive pulmonary disease (COPD). The study also found that compliance led to fewer inpatient stays and emergency room visits. Although the results cannot be generalized to the greater COPD population, they present a clearly optimistic picture when it comes to the clinical and economic impact of non-adherence.
Educational Efforts 
Many respiratory care departments have taken steps to educate patients on the intricacies of their COPD diagnosis, the importance of taking medication and how to use their particular aerosol delivery system.
Vanderbilt University Hospital has implemented a rudimentary process for monitoring its COPD patients, according to Jeffery C. Rooks, MMHC, RRT, manager/educator, Respiratory Care. He said, "Vanderbilt currently makes an electronic identification when the acronym "COPD" is noted in a team summary, if there is a history of smoking, or if COPD is selected as an indicator for bronchodilator therapy. If two triggers are met, the patient is placed on an electronic COPD dashboard." A respiratory therapist reviews the dashboard and contacts the covering provider to verify the COPD diagnosis. "Upon confirmation, the RT provides an educational pamphlet and discusses one or two points with each therapy/treatment session," Rooks said. "Pharmacy is also notified to visit the patient and discuss COPD meds specifically. Providers order Pulmonary Rehab referrals and smoking cessation consults, which are provided by a specific team."
According to Rooks, the hospital wide video system shows patient education films, but none currently focus on COPD. "We do not have a standard teaching evaluation and measurement.  We are just happy to be making forward progress at this point," he said.
Multi-faceted Services
The monitoring program at another Tennessee health care system has evolved over time into a multi-faceted portfolio of services. Rhonda S. Bilyeu, RRT, CPFT, Saint Thomas Health, part of Ascension, the country's largest Catholic and non-profit health system, explained that her department initially believed that educating patients would require a simple bedside visit before discharge. "But we found that what [patients] are doing before and after hospitalization has a huge scope to the problem," she said. So the health system ramped up efforts to teach patients about their illness, including the importance of adhering to medication regimens.
Bilyeu noted that many patients have no clear understanding of their disease. So during one-on-one visits the therapist offers simple, detailed explanations of the process. "We talk about air balloons and good and bad air at a low level. When the patient understands mucus and spasm then we talk about medication," Bilyeu added.
Another useful educational resource is an 80-page booklet St. Thomas created that serves as a guide for patients with chronic lung disease. "We use it system-wide and ask skilled nursing facilities to use the same educational booklet," said Bilyeu. Content covers basic information as well as preferences for medication delivery and efficacy of the inhaler or nebulizer.
Bilyeu pointed out that middle Tennessee has the third largest COPD population in the country, but compliance with medication recommendations is only 50 percent, due in part to a lack of financial resources. To address non-compliance, Bilyeu and her team begin the monitoring process by performing spirometry 24 hours before discharge and follow the COPD Gold Standard recommendations for medication. "We give the clinical pharmacist the information and he connects the patient to a program for free or discounted medication," she said. The pharmacy department also monitors compliance by ensuring prescriptions are filled by those who have the resources to do so.
To avoid any gaps in health care delivery the same therapist who worked with the patient in the hospital continues follow up within 24 to 48 hours after discharge and then for the next four weeks to prevent 30-day readmission.
In addition to educational efforts and clinical and pharmaceutical follow up, St. Thomas implemented a successful pulmonary rehabilitation program. "We educate the patient in the hospital and sign them up for pulmonary rehab. The idea is to get to the patient as early as possible so there are no COPD exacerbations. Nothing impacts lives like pulmonary rehab," she said. The national standard for readmission is 21 percent; St. Thomas Health witnessed a decrease in the readmission rate from 21 percent to zero to five percent when patients participate in pulmonary rehab.
COPD Clinical Trials
Temple University Hospital in Philadelphia offers similar education and instruction programs for patients with COPD and is also involved in clinical trials related to the disease. Santosh Dhungana, MD, assistant professor of Thoracic Medicine and Surgery at the Lewis Katz School of Medicine at Temple University, and attending physician at Temple University Hospital, said, "Educational efforts that are employed in our clinic include personal counseling about the nature of the disease and importance of medication adherence, demonstration of inhaler use, and referral to the pulmonary rehabilitation program, also run by Temple, where these same things are reinforced again." He added that the hospital emphasizes the importance of remaining active and being up-to-date with pneumococcal and influenza vaccinations. "In addition, we urge our patients to call us at the Temple Lung Center if they start experiencing early symptoms of a flare-up."
Recognizing the importance of prescribing the most appropriate inhaler delivery system, Temple offers extensive instruction on the different types of inhalers. "Different inhaler delivery systems work the best for different patients, depending on their degree of coordination. We demonstrate inhaler use in the clinic, and then have the patient try the inhaler. If they demonstrate proper hand-mouth coordination and have enough lung reserve to produce a deep inspiration, we prescribe that particular inhaler," said Dhungana. "We sometimes provide spacer devices to help with inhalation. At other times, we might opt for nebulized medications instead, if the patient doesn't have sufficient inspiratory capacity or has poor hand-mouth co-ordination. There are also newer devices like the Pressair device, the Ellipta devices, etcetera, which might be better suited for certain patients who have a problem coordinating the actuation of the devices and deep inhalation."
To further understanding of COPD and the role smart inhalers can play in treating the disease, Temple is conducting some studies. "We are currently utilizing the smart inhalers in clinical trials. We also have many COPD patients enrolled in our COPD CO-PILOT program where we monitor the patient's daily symptoms that they have input in their tablet device," Dhungana said. "If there is a sudden deterioration in their symptomatology, they can be treated sooner for an exacerbation and hence avoid having to be hospitalized."
"Smart" Inhalers
The efficacy of "smart" inhalers – devices that attach to an inhaler or nebulizer, provide patient alerts and reminders, track usage and transmit data wirelessly – has been the subject of ongoing research in recent years. In 2015, Chan et al conducted a study2 to determine if a smart electronic device coupled with an inhaler would lead to better adherence and disease control in school-age children. The study involved 220 patients: the half assigned to the intervention group received an electronic device with audiovisual reminders enabled and the half in the control group had a device with disabled reminder functions. The researchers found adherence for patients in the smart inhaler group was 84 percent and 30 percent in the control group.
Several devices are currently on the market, one of which comes from OPKO Health. OPKO Vice Chairman and Chief Technical Officer Jane Hsiao, PhD, MBA, explained that the sensor in the OPKO Inspiromatic™ is activated every time the patient uses the device. If the patient fails to take medication as prescribed, a prompt will alert the patient. "One can design with an alarm system that if no drug is used within [a certain number of] hours. Or if the doctor is monitoring the patient, a call from the doctor's office can be an option," she said. Real-time feedback guides the patient through the process, helps to ensure proper inhalation technique.
The device stores data when the inhaler is used and the provider can access this information to track compliance. "Data is transmitted to treating physicians by various means wirelessly. This can be done by smart phone or computer. It depends on what devices the patient and the physician prefer as a method of communication," said Hsaio. Providers have found that tracking patient's inhaler usage can help determine if lack of improvement from the treatment is due to noncompliance or an incorrect medication, she noted.  
Hsaio added that unless the device is disposable, no maintenance or calibration is necessary. "Normally the mouthpiece should be cleaned with warm water and dried periodically," she said.
While the Inspiromatic enables providers to track chronic respiratory conditions, it also holds benefits for patients. "The advantage of OPKO's smart inhaler is that it requires very low effort to 'breathe in' in order to trigger the dose release," Hsaio said. "In other words, a patient who has difficulty with inspiration, produces low inspiration volume, should find the device is easy to use."
Muscle Training Device 
Other new technology works to train the respiratory muscle in patients with abnormal breathing function, shortness of breath or speech and swallowing problems due to diminished breath support. According to Nathan Treloar, co-founder and president of Orbita, his company collaborated with PN Medical to create Breather+, a Bluetooth-enabled device that trains respiratory muscles but does not dispense medication. "Rather, it provides a form of resistance training for respiratory muscles by inhaling or exhaling through the device," he said. "Because it's sensor-equipped and Bluetooth connected, data is gathered from the device about frequency of use and patient performance during use."
The future holds great promise for the use of sensors on medical devices of all kinds, including capability to measure, monitor and report on aerosol deliver for COPD patients, according to Treloar. However, data overload from all these devices can be overwhelming. "[Clinicians] are especially concerned about the huge volumes of data that can come from connected medical devices used at home. Some heart rate monitors can sample every second. Even if it's technically possible, it's not always practical to record that level of raw data in the patient's EMR," he said. "Clinicians seek actionable insights in the data, so what we do for partners like PN Medical is establish a meaningful sample interval and include analytics so that the insights – trends, anomalies, patterns, etcetera – are front and center."
---
Phyllis Hanlon is a contributing writer to RT. For further information, contact [email protected].
---
References
van Boven JFM, Chavannes NH, van der Molen T et al. "Clinical and economic impact of non-adherence in COPD: A systematic review." Respir Med January 2014;108(1):103-113
Chan AH, Steward AW, Harrison J et al. "The effect of an electronic monitoring device with audiovisual reminder function on adherence to inhaled corticosteroids and school attendance in children with asthma: a randomized controlled trial." Lancet Respir Med. 2015 Mar; 3(3): 210-9. DOI: 10.1016/S2213-2600(15)00008-9. Epub 2015 Jan 21.