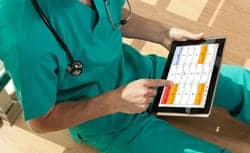 Covidien has launched a new virtual patient monitoring platform (VPMP) called Vital Sync. The Vital Sync VPMP allows clinicians to remotely view patient information from multiple bedside device categories on any Web-enabled device.
The software transmits data to the facility's existing EMR system, making it easily scalable for health facilities of any size to incorporate, according to Covidien.
The platform is designed to enhance patient safety and clinical efficiency by enabling caregivers to view data remotely from patients on the general care floor and intensive care unit. Clinicians receive notification of changes in ventilator settings and oxygenation via audio and visual alerts, which could potentially shorten clinician response time. If a patient requires immediate assistance, clinicians can collaborate virtually with the care team at bedside to intervene promptly.
"In this increasingly demanding hospital environment, the Vital Sync virtual patient monitoring platform provides an essential functionality for clinicians: the ability to stay connected to their patients," said Scott Kelley, MD, chief medical officer, Respiratory and Monitoring Solutions, Covidien. "With this system, clinicians can review critical patient information through a single, mobile platform and quickly assess and prioritize patient care."
The system consolidates patient monitoring and alarm data—physiological parameters, waveforms, trend data and color-coded alarms—from multiple bedside devices on a single screen, providing a breadth of information in a succinct, intuitive format.
The Vital Sync platform was designed to meet the pressing need in medical care for interoperability between medical devices and healthcare IT systems. Vital Sync VPMP reflects Covidien's ongoing commitment to building a more connected, intelligent hospital.
Vital Sync is intended to supplement and not to replace any part of the hospital's device monitoring system, Covidien said.