The latest advancements in blood gas analysis technology are focused on fast, reliable, point-of-care solutions that improve diagnosis times for patients and clinicians.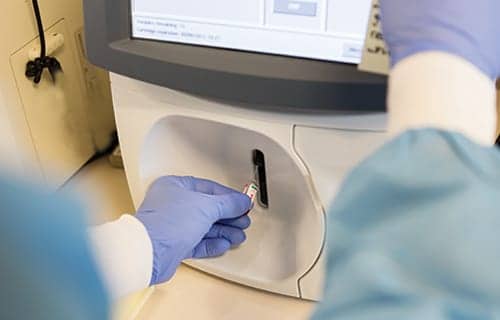 Although blood gas analyzers have been in clinical use for more than 40 years, a new generation of portable and maintenance-free products continue to grow in popularity. "This is due to clinicians needing analyzers closer to the patient where blood gases, pH, CO-oximetry, electrolytes, and metabolites are tested," said Alan Beder, senior product manager, Radiometer America Inc (Westlake, Ohio). Here's a sampling of some of today's most technologically advanced offerings.
Radiometer America Inc – ABL90 FLEX
Comprehensive parameter profiles are a key consideration for clinicians. "Through a unique multilayer sensor design, the sample path for the ABL90 FLEX has been significantly reduced compared to other analyzers," said Beder. "This design allows the full 17 parameter panel to be available on 65 microliter samples for both syringe and capillary samples."
Clinician time at the bedside needs to focus on the patient, rather than waiting for a test result, Beder maintains. At the same time, speed should not compromise accuracy. Radiometer's experience with whole blood sensors dates to the first commercial blood gas analyzers. "For the ABL90 FLEX, this experience has resulted in a sensor system that provides the analytical quality of Radiometer's gold standard benchtop analyzer—the ABL800 series," he said. "While maintaining result quality, the ABL90 FLEX's rapid response sensor system delivers the full test profile in 35 seconds." In addition, when a second sample is needed, the ABL90 FLEX is ready in only 25 seconds following the first result.
The ABL90 FLEX's wireless capability supports full connectivity without wires or cables. "With a footprint similar to the dimensions of a standard sheet of writing paper, the analyzer can conveniently be placed near the patient in the close quarters of an operating room, emergency department, or intensive care unit," Beder said. "An integrated battery allows for full operation when moving between clinical areas."
Ease of use and ease of maintenance are important requirements for a point-of-care (POC) blood gas analyzer, Beder continues. ABL90 FLEX operators are guided by a real-time on-screen video; the analyzer requires only two consumables that are typically replaced monthly. To ensure regulatory compliance, the analyzer includes Radiometer's AQM (Automatic Quality Management) system, which combines quality control solutions with continuous system and analysis checks.
Maintaining sample integrity prior to the measurement is also critical. "Mixing the sample for 1 minute prior to analysis as recommended by the Clinical and Laboratory Standards Institute is essential to preventing clots and inaccurate tHb results," Beder said. The ABL90 FLEX includes an integrated mixing system in which the sample is completely mixed in 7 seconds, ensuring accurate results and saving time.
With patient safety a top concern today, the ABL90 FLEX is compatible with Radiometer's 1st Automatic solution, which enables positive patient identification through bar-coded syringes that are identified at the bedside and analyzer. "Clinician safety is enhanced because the sample can be introduced into the analyzer without removing the tip cap, preventing exposure to blood-borne pathogens," Beder said.
Siemens Healthcare Diagnostics – RAPIDPoint 500 Blood Gas Systems
Tarrytown, NY-based Siemens Healthcare Diagnostics offers the RAPIDPoint 500 Blood Gas Systems, which provide critical care values in approximately 1 minute with a full test menu from a single sample, allowing clinicians to focus on improved patient care. Test parameters include blood gas, electrolytes, metabolites, CO-oximetry (including neonatal total bilirubin and hemoglobin), and pleural fluid pH. The system also can be set up to record key ventilator settings in critical care settings such as flow, respiratory rate, continuous positive airway pressure, positive end expiratory pressure, peak inspiratory pressure, tidal volume, and Allen test. Users can perform a full test menu from a single sample or customize panels to meet specific needs. It is available for use in both the adult and neonate populations.
Fully automated calibration and quality control systems help ensure accuracy and support compliance without operator interaction. The RAPIDPoint 500 Systems also provide ease of use through an adjustable, color touchscreen with intuitive, menu-prompted operation and customizable demographic fields with multibyte character recognition. On-board video tutorials can simplify training. "The systems feature a built-in bar-code scanner plus a port design with automated sample aspiration to make hands-free testing processes bio-safe and independent of operator technique," said Susan Drew, spokesperson, Siemens Healthcare Diagnostics. User privileges can be set based on operator needs for testing, administrating, and reporting.
To further increase ease of use, the RAPIDPoint 500 Systems support wireless roaming with optional connectivity to laboratory information systems (LIS) and histology information systems. Dual port LIS transmission and USB ports simplify data backups. Through advanced control and connectivity via Siemens' RAPIDComm Data Management System, users can remotely monitor point-of-care analyzers, manage patient samples, and centralize operator management, processes, and documentation.
The RAPIDPoint 500 Systems don't require any routine maintenance. "A self-cleaning probe helps maintain sample integrity while a single cartridge delivers all required reagents to support a full complement of tests for interruption-free operation," Drew reported. The sample port, which accepts syringe or capillary samples without adapters, is also designed to minimize bubbles and detect and clear clots. Additionally, on-board 28-day automatic quality control cartridges require no operator intervention.
Nova Biomedical – Stat Profile Prime
Waltham, Mass-based Nova Biomedical simplifies critical care testing with Stat Profile Prime, a blood gas analyzer that is compact, lightweight, and simple to operate with a color touchscreen. It can be used in a fixed location virtually anywhere in the hospital or it can be operated on a mobile cart with a battery backup. Stat Profile Prime ensures lab accuracy with automated, true liquid quality control and continuous electronic self-monitoring, saving time and labor. Tests include partial pressure of carbon dioxide and oxygen, acidity, sodium, potassium, chloride, ionized calcium, glucose, lactate, and hematocrit.
The analyzer's ZERØ maintenance cartridge technology consists of individual cartridges for biosensors, calibrators, and liquid quality control. "Each cartridge is maintenance-free, ready to use, and easily replaced in seconds," said Brad Bullen, BS, RCP, sales product line manager, Core Products. This design optimizes the life of each cartridge; improves analyzer uptime; and eliminates the waste, downtime, and higher costs of older combined calibrator/sensor cartridge systems.
Stat Profile Prime is equipped to use Nova's MicroSensor Card, which contains biosensors for pH, carbon dioxide, oxygen, sodium, potassium, ionized calcium, chloride, glucose, and lactate. "The Stat Profile Prime is automatically calibrated and always STAT ready to deliver a full 10-test profile in just 60 seconds," Bullen said. MicroSensor Cards can be replaced in less than half the time of older cartridge systems, which can take more than 1 hour to calibrate and can remain unstable with drift, frequent recalibrations, and reduced throughput for even longer periods of time. Stat Profile Prime's Clot Block sample flow path protects the MicroSensor Card from blockages and prolonged downtime caused by blood clots.
Instrumentation Laboratory – GEM Premier 4000 with Intelligent Quality Management (iQM)
The GEM Premier 4000 critical care testing system from Instrumentation Laboratory (Bedford, Mass) measures pH, blood gases, electrolytes, metabolites, CO-oximetry, and more. GEM Premier systems offer a single, multiuse cartridge that includes all analytic components needed for a broad test menu. It requires no refrigeration and is maintenance-free. Multiple cartridge menu options enable test-site flexibility and ensure efficiency.
"What differentiates GEM Premier analyzers is Intelligent Quality Management (iQM), an integrated quality assurance system that actively and continuously monitors quality measures—reducing detection time of potential errors from hours to minutes and ensuring improved patient safety and outcomes," said John J. Ancy, RRT, MA, senior clinical consultant, Instrumentation Laboratory.
iQM performs automated and ongoing analysis of process control solutions and continuous assessment of all critical measurement components to ensure test quality, while relieving operators of almost all time-consuming responsibilities associated with performing, documenting, and trouble-shooting quality control. In addition to addressing and meeting regulatory requirements, iQM performs automated detection and correction of various errors that can occur in all phases of the testing process, including microclots or interference from benzalkonium, due to improper sample collection. Effective mitigation of these kinds of errors helps deliver quality-assured results with every sample.
The built-in quality assessment functions of the GEM Premier 4000 with iQM provide test site directors with full documentation to meet regulatory requirements in a transparent manner, automatically executing performance assessments at a frequency that exceeds minimum regulatory mandates. All quality data and assessments of critical analytical components are evaluated, recorded, and documented. The GEM Premier 4000's broad test menu, ease of use, and quality assurance program enable it to be used in multiple POC testing locations, including intensive and neonatal care units.
Roche Diagnostics Corp – cobas b 221
Roche Diagnostics Corp (Indianapolis) offers the cobas b 221 blood gas system for whole blood, serum, plasma, dialysate solution, and pleural fluid. The system can be used in a variety of hospital settings, including central laboratory, respiration therapy, intensive care units, emergency department, statin lab, operating room, neonatal intensive care unit, cardiac lab, and patient floor. It may be used for individuals at any age.
The system's configurable menu has options for blood gas (pH, partial pressure of oxygen, partial pressure of CO2); electrolytes (sodium, potassium, calcium, ionized chloride, hematocrit); metabolites [glucose, lactate, urea (blood urea nitrogen)]; CO-oximetry (oxyhemoglobin, deoxyhemoglobin, methemoglobin, bilirubin); and pH pleural fluid.
Because the cobas b 221 system does not require external gas tanks, it eliminates the need for lab personnel to handle them. "Another area where safety is improved is with the system's input unit," said Lynda Denney, marketing manager, Blood Gas. "Designed to accommodate all patient samples from syringes or other common sample containers, the input unit aspirates the sample rather than requiring the user to inject the sample, which helps minimize the risk of sample contact."
Results are available in less than 1 minute, thanks in part to its 512 wavelength spectrophotometer, which helps to minimize interferences.
The stationary benchtop blood gas analyzer uses reagent packs featuring smart chip technology, which allows them to be easily transferred between like devices—helping customers optimize use and control costs. "These load-and-go reagent packs offer a long shelf life with 42-day onboard stability that can be easily tracked by the analyzer," Denney said. "Economy mode helps minimize reagent use while the analyzer is idle."
The cobas b 221 system was designed to help provide virtually uninterrupted performance and to minimize delay-causing issues common to other systems, such as lengthy maintenance, warming of reagents, and system-clogging blood clots. "The analyzer has a powerful fluidic system that includes both peristaltic pump and vacuum pump mechanics that can remove the source of trouble and help minimize downtime," Denney said. "It also features a user-friendly, LCD touchscreen that delivers an instant snapshot of the patient's condition and the instrument's status."
The cobas b 221 system also features durable and maintenance-free electrodes that are designed to function for 6 to 15 months (depending on parameter) and eliminate the need to refill or replace membranes/caps. The system also employs an automated maintenance routine for cleaning and conditioning.
In addition, the system offers simple, single-handed operation with an input unit designed to accommodate both right- and left-handed users, making it easy to insert a fluid sample into the device. The system's moveable display arm enables the user to position the LCD display to a convenient location.
Alere – epoc Blood Analysis System
The Enterprise Point of Care (epoc) blood analysis system from Alere (San Diego) is the only wireless bedside testing solution to use "Smartcard" technology. This next generation technology provides patient results directly to a personal digital assistant (PDA) and to the electronic medical record, allowing the clinician to stay at the patient's side.
According to Bruce Lewis, epoc marketing director, Alere, the system minimizes sample degradation by allowing immediate testing at the bedside. Another safety factor stems from the fact that data entry and transcription errors are minimized with bar-code scanning for patient identification, operator identification, and test card information. Automated monitoring of testing processes maximizes patient safety and error detection. Because blood samples only need to be 92 mL, less blood loss results in a less traumatic experience for the patient.
The epoc blood analysis system is a handheld unit that can be used at the bedside. "The host mobile computer or PDA fits in your hand, making it easy to handle in a busy patient room," Lewis said. Results are realized in just seconds after a blood sample is introduced into the system. The sample port is easy to use and simple to inject. Currently, the system is used primarily in hospitals and for transport. RT
_________________________________________________________________
Karen Appold is a contributing writer for RT. For further information, contact [email protected].