Where Everybody Counts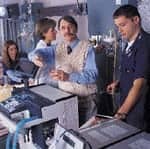 Therapists at Oregon Health and Science University work in teams throughout the hospital, including transport teams that last year handled 700 people from a tri-state region.
While the respiratory department at Oregon Health and Science University (OHSU), Portland, Ore, has everything one would expect to find in a large, academic-centered hospital, what makes it stand out is its staff. "We have an incredibly mature, bright, stable workforce," says Patrick Pangburn, RRT, MS, department director for respiratory care, clinical neurophysiology, and pulmonary function who is in charge of the hospital's 85 therapists.
The OHSU respiratory staff offers a full range of services throughout the 430-bed not-for-profit hospital. About two thirds of the staff work is in critical care, with the balance on the medical-surgical floors; about one third of the therapists work exclusively with children. The staff also work with patients at the adjoining Veterans Administration hospital and the freestanding Dorenbecher Children's Hospital. OHSU is a level 1 trauma center, so it serves both Oregon and the surrounding region, attracting patients from as far away as Idaho.
Though the therapists are everywhere throughout the hospital, several units especially need the services of the respiratory staff—the 67-bed adult critical care unit, the 16-bed pediatric intensive care unit, and the 34-bed neonatal center. Because therapists are constantly rotating throughout the hospital, they have to be prepared to change their assignment at a moment's notice. Staff stay in touch with their pagers, and supervisors continuously move throughout the hospital, keeping an eye out for trouble spots requiring the shifting of personnel.
Although the majority of the department's work is hospital-based, it does operate a small outpatient program. One therapist is dedicated to developing discharge plans for the patients who are going home.
Day and Night
A typical day for an OHSU therapist means a 12-hour shift working with a wide range of patients, from those with chronic bronchitis to trauma patients. A patient load typically is about five to six ventilated patients. Workload is monitored via computer; from eight to 11 therapists work each day shift. During the workday, the therapist performs a wide range of activities and meets a wide variety of personnel. "We're in pretty close contact with the physician teams dealing with all of the patients, so we'll round with them early in the morning," says Chris Harris, RRT, an OHSU staff therapist on the day shift. "A large part of what we're doing is ventilator management. Being at a teaching hospital, you deal with a lot of residents, and, for the most part, they're willing to have our input, so you have to be able to justify whatever suggestions you make with good evidence-based medicine."
Therapists rotate to different departments throughout the week, so Harris takes time to build rapport with the nurses and other staff members in those departments. "It's challenging, but it's also something that keeps it fresh, because you're not having the same scenery every day—you have a different patient population to look at every few weeks," he says.
When the sun goes down, things do not change for the 13 respiratory therapists on the night shift. "Health care is 24 hours," says Marie Keyes, RRT, staff respiratory therapist/ECMO therapist at OHSU. "We're just as busy as the day shift."
A challenge for the night shift is that with less support and medical staff, emergencies are sometimes more difficult to handle. "We have to just make do with the people on duty and go from there," says Keyes. "Typically, on nights, most of my staff are not veterans. We are always very heavy with the new therapists. That can be a little bit of a challenge."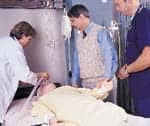 Mark Schleicher, left, Chris Harris, seated, and Patrick Pangburn.
A Wing and an Air
Every day two transport teams made up of a therapist and a nurse wait for the call that will mean they have a patient who needs to be moved from another hospital to OHSU. The teams never know if they will be traveling by ambulance, helicopter, or airplane, and must be ready at a moment's notice to drop whatever they are doing at the hospital and move out. There are seven respiratory therapists and eight nurses on the teams, which cover Oregon, southwest Washington, and occasionally Idaho. Last year, they transported 700 cases ranging in age from newborns to adults. The number of transport cases has increased over the past few years, a function of the area's increasing population.
Most of the cases are typically serious and life-threatening and require the services of a large trauma center like OHSU. "Most hospitals aren't set up to take care of these patients," says Mark Schleicher, RRT, a transport therapist at OHSU who has been working on a transport team for 8 years and specializes in pediatric care. "One, they don't have the equipment, and two, they don't have the experience. Our responsibility is to take that expertise to that outlying hospital and provide that same care all the way back to our hospital."
Transport therapists undergo a 6-month training course before they can begin working on the team. "We do intubations, we place umbilical lines, we'll needle a chest and put in chest tubes—and those are the kinds of things I wouldn't do as a regular staff therapist in a hospital," says Schleicher. "We do any type of nebulizer treatment, and then we do ventilator treatment en route." If the team is traveling by ambulance, they also are joined by a paramedic.
Academic Center
Though not officially part of a university system, OHSU is still the only academic medical center in Oregon. "We used to be one of the campuses of the Oregon State System of Higher Education," says Pangburn. "Probably 4 or 5 years ago, we became a public corporation, which gave us a lot of latitude. It really helped with things like purchasing and hiring, and it allowed us to decrease much of the red tape that we had when we were part of the State System of Higher Education. However, recently OHSU merged with the Oregon Graduate Institute, which is kind of the main engineering and science university in Oregon. They have been doing information systems, biotechnology, biomedical engineering, so that was a merger really made in heaven."
The academic bent of the hospital means that it is engaged in a variety of research studies, including those dealing with respiratory issues. "In terms of respiratory, we've been involved in nitric oxide, management of ARDS, and drug management of ARDS, that sort of thing," says Pangburn. "At any one time, we have a protocol or two going."
However, the respiratory staff is not involved in much of this research directly, says Keyes. "We rely on a lot of other people's research and a lot of our own sweat equity," she says. The respiratory department has implemented cutting-edge programs, such as an extra corporeal membrane oxygenation program last year, which includes a team of 16 therapists and has been very successful, Keyes says.
Challenging the Future
While OHSU continues to be recognized as a top medical provider in the state of Oregon—it recently won the consumer choice award from the National Research Corporation as best provider in the state—it still faces challenges, the largest, according to Pangburn, being Medicare and Medicaid reimbursement. "We handle what we believe is an inordinate amount of charity care. We are the old county hospital. So we see Oregon's sickest and most vulnerable people, and that's a challenge. Other challenges are recruiting the best and the brightest into our ranks and trying to stay one step ahead of the new technologies, really having the jump on what's around the corner that we are ready to integrate into our practice." OHSU is expected to lose up to $7 billion in Medicare reimbursement next year.
However, the hospital is looking to the future with an ambitious building program that will change the skyline of Portland. And the respiratory therapy department will continue to be an integral part of OHSU's future, as it is a part of its present. "I'm looking to develop a career ladder for therapists where the most skilled are paid a differential for that," says Pangburn. "If you can do more for your institution, I believe you should be rewarded, and that's something we have on the burner now."
C.A. Wolski is associate editor of RT magazine.