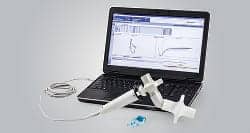 CareFusion revealed a number of new technologies at AARC 2013 that, according to the company, are designed to help clinicians optimize workflow efficiencies, support best practice strategies, promote patient use compliance, and turn extensive data into actionable information.
New products on display included the Ventilator Associated Event (VAE) application for the CareFusion Respiratory Knowledge Portal. This new technology provides a dashboard that displays near-real time patient condition baselines, reporting thresholds, and markers of protocol anomalies in an easy-to-read format. The VAE app enables clinicians to see what patients are at risk of developing a ventilator-associated condition as defined by the National Healthcare Safety Network (NHSN) of the Centers for Disease Control and Prevention new standards and definitions for surveillance of ventilator-associated events, including ventilator-associated pneumonia.
In addition, its AirLife Misty Fast disposable small-volume nebulizer (SVN) delivers drugs significantly faster than four other SVNs tested, according to a study cited by CareFusion. The study also found the rate of inhaled efficacious drug and the inhaled respirable mass per breath were both significantly higher for the AirLife Misty Fast SVN than the other SVNs tested.
The AirLife manual self-inflating resuscitation devices II also were on display for the first time at the AARC Congress. The devices are designed with a lightweight textured bag for secure handling and user comfort. The clear valve housing provides an unobstructed view of the valve operation while the 360 degree swivel connector helps improve device positioning for patients. The oxygen tubing includes a universal connector for easy connection to an oxygen source.
For pulmonary function testing, CareFusion unveiled its Vmax Vyntus SPIRO (pictured above), which works with a stationary PC within your facility, and configures with a laptop computer transforming it into a portable and precise spirometry station. The versatile Vmax Vyntus SPIRO integrates fully and takes advantage of the new workflow and quality driven SentrySuite software from CareFusion.
"CareFusion takes a comprehensive look at our customers' respiratory needs across their hospitals and health systems to implement the right respiratory and ventilation systems for each of their unique goals and priorities," said Kevin Ketzel, general manager respiratory technologies for CareFusion. "We have tools to simplify the vast amounts of data generated by ventilators and respiratory devices, which creates a dashboard to improve both patient safety and compliance to best practice protocols."