As hospitals across the country look for ways to reduce healthcare costs, more and more product manufacturers and third-party companies have begun to offer reprocessing programs for some devices, such as pulse oximeters, that provide the same reliable patient care but with an added savings and benefit to the environment.
By Phyllis Hanlon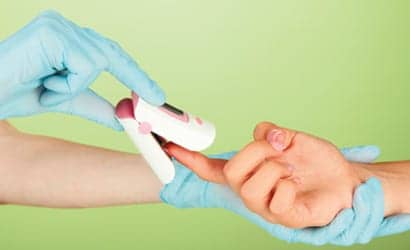 When trying to identify ways to save money, the General Purchasing Organization at Mercy Medical Center in Baltimore realized that the 12,800 pulse oximeter probes and 3,200 trocars and sleeves that went into the trash every year could present an opportunity. A chance to contract with a reprocessing company meant a reduction in expenses for the hospital and less waste in the landfill.
From a throwaway mind-set in the 1980s to a more environmentally conscious approach today, medical facilities are rethinking the way they use certain devices and equipment, according to Daniel J. Vukelich, Esq, president of the Association of Medical Device Reprocessors (AMDR). Thirty years ago, hospitals preferred to dispose of used medical devices, according to Vukelich. "Then the pendulum swung the other way. Hospitals decided they could clean and reuse devices instead of throwing them away," he said. There was one problem with this practice though. No one was following up to see if hospitals were actually cleaning equipment before reusing it.
So in August 2000, the Food and Drug Administration (FDA) established the first reprocessing regulations by issuing a guidance document: "Enforcement Priorities for Single-Use Devices Reprocessed by Third Parties and Hospitals." According to the FDA guidelines, essentially, any business or hospital that reprocesses a medical device would be classified as a manufacturer.1 However, because many hospitals had neither the resources nor the interest in taking on the manufacturer designation, they turned to third-party companies and the medical device recycling and reprocessing industry was created.
Regulating Reprocessing
Under FDA oversight, third-party reprocessors must abide by the same high standards imposed on original equipment manufacturers (OEMs).1 Companies that engage in reprocessing must register with the FDA and undergo a number of inspections including premarket approval for devices, regulation in the design, and purchasing, manufacturing, packaging, labeling, storing, installing, and servicing medical devices. Additionally, the FDA requires tracking of reprocessed devices and monitors all reports, including failure reports.1
Vukelich explained that devices from nursing, orthopedics, cardiology, and surgery are most often submitted for reprocessing; the list includes pulse oximeter sensors, tourniquet cuffs, compression sleeves, durable equipment, electrophysiology catheters, minimally invasive devices—such as trocars, scalpels, forceps, and clamps—and general surgical equipment. "A very small fifth bucket is unopened and unused equipment," added Vukelich. "These devices just get cleaned and approved rather than fully reprocessed."
The number of times a device can be reprocessed is also pre-validated by the FDA during the approval phase. The way the device is used and its material composition dictate how often the device can be reprocessed. "Devices made of stainless steel last longer than plastic," Vukelich pointed out.
Approximately 3,000 hospitals participate in some sort of reprocessing program. Those that do not reprocess are typically smaller hospitals that would be unlikely to realize any sizeable savings from the practice, noted Vukelich. The cost of a reprocessed device can be as much as half the cost of a new device and can generate a cost savings ranging from $200,000 to $2 million annually, based on the size of the hospital and how compliant the facility is with the program.
Leslie Scott, RN, BSN, CNOR, director of value analysis at Mercy Medical Center in Santa Ana, Calif, reported that her facility began working with Stryker Sustainability Solutions in October 2012. "Each product has a different yield rate, meaning how much we can expect to purchase through reprocessing. We have collection containers throughout the institution, which Stryker collects," she said. "What we are able to purchase is dependent on how much we deposit. For instance, of the trocars and sleeves that we deposit, we should expect to see 75% of them available through reprocessing." Exact financial benefit for Mercy Medical was unavailable, but Scott anticipates "a very significant cost savings through reprocessing."
Third-Party Reprocessors
Mackenzie Childress, associate marketing manager for Sterilmed, an FDA-registered and regulated, ISO 13485 certified medical device manufacturer in Maple Grove, Minn, said, "Collectively, reprocessing saved over $336 million for hospitals in 2012 and diverted over 10.5 million pounds of waste from landfills." She added that 70% of US hospitals participate in single-use device reprocessing and 94% of honor-roll hospitals engage in a reprocessing program. "This is encouragement for other hospitals to participate," Childress noted, referring to the country's leading medical facilities.
Sterilmed reprocesses a number of different medical devices, including pulse oximeter sensors, compression sleeves, 2D and 3D imaging and electrophysiology catheters and cables, femoral compression devices, general surgical devices, biopsy forceps, and graspers. But before accepting products for reprocessing, Sterilmed assesses whether the device in question meets its requirements, "such as FDA classification, strategic importance to our clients, device indications, material design, and medical device reporting history," Childress said. The company performs validation testing to meet FDA guidelines that ensure reprocessed devices are functionally equivalent to new devices and meet the FDA's rigorous standards for cleanliness and sterility. "We develop robust production and quality assurance processes to ensure the steps are repeatable, are measurable, and deliver consistent results to meet Sterilmed and FDA requirements."
Patient safety remains a top priority throughout Sterilmed's reprocessing cycle. "Sterilmed's processes are validated to meet or exceed FDA requirements for equivalence to OEM specifications for new devices," said Childress, who cited the FDA's Manufacturers and User Device Experience (MAUDE) database, which concludes there is no evidence to suggest that reprocessed devices fail more often than original equipment.2
Through validation testing for 510(k) clearances — the premarketing submission to the FDA — devices are verified as clean: organic residues are as low as in new devices and detergent residues are undetectable; functional: each reprocessed device is tested and reprocessing does not introduce new failure modes; and sterile: 100% ethylene oxide sterilization ensures complete destruction of bacteria, viruses, and spores. Depending on the device and inventory, Sterilmed's reprocessing cycle operates on a 28-day turnaround time for specific products from specific hospitals.
In-House Approach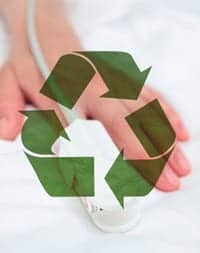 In addition to third-party manufacturers, some product manufacturers run their own reprocessing programs. Masimo Corporation, Irvine, Calif, is one such company. Peter Godlewski, vice president of product marketing at Masimo, reported that, after receiving complaints about pulse oximeter sensors reprocessed by third-party manufacturers, Masimo ran multiple tests to ascertain the credibility of these complaints. They found 91% of the third-party reprocessed sensors would fail one or more of Masimo's performance standards and 79% would not pass quality inspection due to visible defects, including 6% that had some form of biological debris. These findings prompted the company to keep reprocessing and recycling efforts in-house.
Rather than performing a minor cleanup and replacing only the adhesive on disposable sensors, Masimo takes a more robust approach. "Masimo reprocessed sensors are rebuilt using emitters, detectors, connecting elements, inner wrap, and outer adhesive. We guarantee the product will function as well as new with some gain in green benefit," said Godlewski. Additionally, he noted that Masimo's reprocessed sensors are indicated for use on newborns, while those reprocessed by third parties are not.
Masimo customers who prefer to use single-use sensors, but hesitate to contribute to overflowing landfills, have the option of returning used sensors to Masimo so the raw materials can be recycled.
According to Godlewski, the green effects that third-party reprocessors promote are somewhat exaggerated. He asserts that third-party reprocessing companies require several additional steps, which add to the carbon footprint. "There is the collection of devices, trucking them cross country to the third-party reprocessor, additional energy needed to sterilize the product, and then trucking them back," he said.
For hospitals and other medical facilities that have not yet joined a reprocessing or recycling program, Masimo offers another option. ResPosable, which was launched at the end of 2012, combines environmentally friendly reusability with the convenience of disposability, and has gotten "a very positive response," particularly on the West Coast where statewide incentives for reducing landfill waste and carbon footprint provide motivation, according to Godlewski. The design includes a reusable optical sensor (ROS) that can be used on multiple patients and a disposable optical sensor (DOS) for single patient use. "From a landfill standpoint, you throw away only the adhesive so there is much less waste," he said. "No electrical cable goes into the landfill. It's greener because we're not trucking anything back to the reprocessing facility."
Godlewski reported that the Masimo ResPosable Sensor delivers the same performance, comfort, and price point as mixed third-party reprocessed and single-use sensors with an overall better green profile. He noted that Masimo's ResPosable achieved 90% less waste versus 34% less waste with reprocessed devices and up to 41% lower carbon footprint compared to 43% higher carbon footprint with reprocessing. These figures were validated in November 2011 by Carbonfund.org, a nonprofit organization that encourages individuals and businesses to reduce and offset their climate impact.
Recycling and Remanufacturing
Covidien, Mansfield, Mass, engages in two sustainable initiatives, with no third-party manufacturer interaction. "We offer two solutions that address concerns customers have about costs associated with waste," said Erich Faust, director of US respiratory function for Covidien. Through its OxiMax Sensor Rebate Program, which was developed in 2010, Covidien contracts with hospitals to collect used monitoring devices. "We pick up the full receptacles and bring them to a central repository where we sort, recycle what we can, and destroy the rest," said Faust. "This removes the cost of waste disposal on behalf of the customer."
Through a second program, Nellcor Remanufacturing, Covidien remanufactures pulse oximeter sensors. Faust emphasized that this program, which has been in existence since 1989, is not a reprocessing solution, but a complete remake of a used device. "In reprocessing, a company takes a core sensor, removes the adhesive, and puts on a new one. But there may be a fray in circuitry or some other problem," he pointed out and added that the Nellcor pulse oximeter sensor with OxiMax technology is refurbished to a high level of quality. Covidien is FDA-registered and adheres to the security verification and validation specifications of brand-new sensors. "The FDA holds us to high standards," Faust said.
Much like the OxiMax Sensor Rebate Program, Covidien provides receptacles for the used SpO2 sensors, and collects, sorts, and sterilizes them before shipping to its production facility to be remanufactured. "The existing sensor is validated for ethylene oxide sterility, and the entire top portion is removed. We get down to the raw cabling and build a brand-new sensor with new construction, quality, and performance," said Faust. "When the sensor is reconstructed, it's labeled 'remanufactured' and put into a new pouch."
Faust noted that Nellcor sensors are remanufactured only once and cost less than new sensors. He also pointed out that only customers who participate in the program are eligible to purchase the remanufactured sensors. "Customers get credit for turning in one prequalified sensor. The credits ensure that only participating hospitals can then buy back the remanufactured products," he said. "This ensures true sustainability."
In the long run, Faust anticipates remanufacturing additional products. "The success of these programs has driven a good percentage of Covidien's business," he said. "This market is growing dramatically due to the Affordable Care Act and Accountable Care Organizations. Hospitals are looking for savings, value, and cost. If you look at our solutions and our mission statement, we provide value without sacrificing quality. Simply putting a new bandage on a used sensor does not ensure safety and quality. We maintain a good balance between accuracy and safety."
"Cleaner" Designs
To address the burgeoning business of reprocessing, the Clemson University Biomedical Engineering Innovation Campus (CUBEInC) began offering a Medical Device Recycling and Reprocessing Certificate Program in 2012. Within a yearlong cycle, students from mechanical, electrical, and industrial engineering disciplines learn how to design medical devices that "clean with reuse capabilities." Melinda K. Harman, PhD, assistant professor in Clemson's Department of Engineering, said, "The goal of the program is to get engineers to understand what factors hinder clean and sterilized properties in medical devices. For instance, if the texture on a device harbors bacteria or contamination, can you consider using a different texture? If a device is resistant to cleaning, how do you improve on that?"
At the start, Ascent Healthcare Solutions, which was acquired by Stryker Sustainability Solutions, helped to build the curriculum and created a solid foundation for the multidisciplinary program. Harman also has collaborated with locally owned SureTek Medical Inc, Greenville, SC, and internationally known STERIS Isomedix, Ontario, Calif, to jump-start the program. Ideally, Harman would like this certificate program to result in producing and patenting products that would become FDA approved. Realistically, she hopes to contract with companies to help them ascertain the viability of a design. "I envision participating with small companies to compare work on prototypes to see what will work best," she said. "This is a missing piece in the medical device industry. As a small company, if they can gain a competitive advantage, it will help drive down the cost of healthcare."
Harman added that corporate involvement also would give access to internship opportunities for her students. "We need to make sure our engineers get hands-on training. This program gives them a direct line to any medical device company, which is a major employment sector," she said, adding that the program also has broad social implications, as it will help reduce the medical waste burden nationwide.
As healthcare costs continue to skyrocket, the industry is seeking ways to rein in runaway spending. "Growing support and growing pressures create an increasing rate of market growth that is projected in the double-digits. The reprocessing industry is projected to grow over 30% by 2015. Reprocessing single-use devices is becoming an essential practice for hospital viability," Childress reported. "The savings realized directly impact our customers' bottom lines and allow them to better provide access to quality care for their patients and reduce their overall environmental footprint." RT
---
Phyllis Hanlon is a contributing writer for RT Magazine. For further information, contact [email protected].
---
References
"Enforcement Priorities for Single-Use Devices Reprocessed by Third Parties and Hospitals." U.S. Department Of Health and Human Services: Food and Drug Administration Center for Devices and Radiological Health. Aug 2000. Retrieved from: http://www.fda.gov/OHRMS/DOCKETS/98fr/000053gd.pdf.
Manufacturer and User Facility Device Experience Database (MAUDE). U.S. Department Of Health and Human Services: Food and Drug Administration. Retrieved from: FDA website.