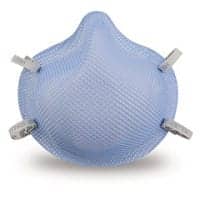 Consistently wearing special-fitted face masks while on duty is effective in helping healthcare workers avoid clinical respiratory and bacterial infections, according to Australian researchers.
The study was conducted in China where face masks are commonplace in all health settings. Close to 1700 doctors and nurses in 19 Beijing hospitals were recruited for the study. To compare three policy options governing the use of medical masks and N95 respirators, investigators randomly assigned participants to medical masks, N95 respirators, or targeted use of N95 respirators while doing high-risk procedures or barrier nursing.
Those who wore the N95 mask consistently were more than twice as likely to be protected from infection, compared with those who wore a surgical mask all the time. Those who continuously used the N95 face masks had a protective effect not only against clinical respiratory infections, but bacterial ones too. Results were only significant for those who wore the masks continuously.
"Outbreaks in hospitals tend to be viral. No one has thought of bacterial diseases as being responsible for outbreaks," said professor Raina MacIntyre, an infectious diseases expert at University of New South Wales Medicine. "In addition, bacterial co-infections commonly occur during influenza outbreaks. We suspect that if you have one infection it predisposes you to the other. There is a complex synergy between bacteria and viruses in the respiratory tract."
"You can't change a culture overnight. Practice and policy changes over time as scientific evidence changes," said MacIntyre. "We need to get our health care workers used to wearing these masks, so that we are ready for any pandemic. This research is relevant for occupational health and safety policy for health workers."