Effective preparation for airway management during disasters requires both careful planning and frequent practice.
By Michael V. Frey, RRT-NPS
---

For hospitals and other emergency care providers, mass casualty situations and epidemics often lead to an increased need for mechanical ventilation and airway protection. When planning for disasters, RT professionals often focus on ventilator stockpiles, supply levels, and logistics. But even before these steps, the most basic of respiratory care responsibilities must be ensured: the airway must be secured and protected.
Meeting this key need may involve situations and challenges that can be unnerving if not downright terrifying to the practitioner. Moreover, this responsibility must be acted upon with the greatest care and safety for both the patient and the caregiver.
In a typical airway situation, intubation is performed in a controlled environment. A prime example would be the operating room. However, in cases of mass epidemic or casualties, a secure and efficient environment for the intubation procedure may not be available to the practitioner. In such situations, a patient's condition may deteriorate on the general floor of the hospital or in the emergency department. Even if there are sufficient personnel to assist, proper lighting for airway visualization, and proper instrumentation and medications, the situation can easily spiral out of control.
During emergent situations outside of the norm, the practitioner will encounter a broad spectrum of patients with symptoms of varying degrees. Triage will be an important factor. The sickest will need to be tended to with greatest urgency. Patients in a casualty situation will most often present "with symptoms that mimic sepsis and acute respiratory failure."1 Practitioners also will face the possibility of additional environmental risks, such as the presence of chemical or biological agents. (A recent example of this would be the SARS outbreak in Asia and other areas of the world in 2003, when health care practitioners risked their lives to help those afflicted.2)
For these reasons, it is incumbent upon RT departments to plan carefully for a mass epidemic or casualty situation, and to practice the planned response. Doing so will help eliminate confusion, improve protection awareness, and increase the chances of survival for both the patient and practitioner in the event of a disaster.
Disaster Planning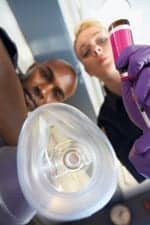 The kinds of scenarios that RT departments should consider in planning for mass epidemics and casualty situations include the possibility of terrorist attacks, chemical spills, both man-made and natural biological events, and recurring natural disasters like earthquakes, tornados, hurricanes, and floods. Over the last few years, many facilities have spent a significant amount of their time and resources on disaster planning and training in order to identify the appropriate assessment and classification for injured patients, the roles of emergency responders, and the command structures at both state and federal levels.
What such planning tends to overlook are the specific but critical questions such as:
Do we intubate in the field?
Do we have the right supplies to intubate and support the patient?
Who will intubate those patients who need it?
Who will mechanically ventilate these patients?
Should patients be transported to the nearest facility or to the most experienced one?
If the catastrophic event includes the possibility of contagion or infection, how do we protect the practitioners?
How do we contain the factors and prevent a widespread reaction?
In times of crisis, these questions can be the most difficult to answer. Accordingly, RT departments must plan for them now.
Contagions and Airway Protection
The first step in assessing a patient during a crisis is simple, but during moments of extreme stress, it can often be overlooked. The first step, as outlined in Talmor,1 is the need for airway protection. Does the patient require airway protection or ventilator support? What type of injuries did the patient receive? Is airway protection going to be an issue in 30 minutes, even though the patient is stable now? These are questions that must be answered quickly and thoroughly.
Furthermore, it is essential to ask additional questions. What is the cause of the need for airway protection or ventilator support? Is it physical damage? Is it a contagion? If it is a contagion, what steps need to be taken to protect the practitioner? We need our practitioners not only to be safe, but also to avoid becoming a carrier for an infectious agent. In addition, they should be trained for situations that require special training and precautions, such as chemical spills, biologic events, or radiation.
If faced with an infectious event, the stresses on the entire medical system can be overwhelming. To begin with, an increased need for mechanical ventilation will stress the system. Then, not only can the normal routine of the system break down, but practitioners will face additional stresses, such as the need to wear protective gear, the need to work in an uncomfortable and frantic environment, and their fear of the situation itself. Intubation during an emergency may cause the practitioner's stress levels to increase, and their growing frustration could lead them to remove protective gear, which will only increase their risk of exposure.
Because of the contagious nature of biological events, there is an increased risk of infection among health care workers. The SARS outbreak in Toronto was an ominous example of the need to be prepared. Airway events proved to be high risk procedures for health care workers and others.4 This crisis revealed the need for practitioners to be trained in efficient procedures to manage the airway, as well as to protect others from the contagion. Early identification of biological events is paramount and can be the difference between controlled outcomes and unfortunate disasters. Looking at past events, such as the SARS outbreak, and factoring them into planning for future events can lead to an orderly and efficient emergency management system.
Decision to Control the Airway
As the decision to protect and control the airway becomes paramount, procedures must be in place to use appropriate techniques and equipment. Properly trained personnel should be available to increase the chances of success and survival of the patient. Endotracheal intubation has long been the standard of care for airway protection and control. In some cases, however, experienced personnel may not be on hand, and other options may need to be considered.
Some alternatives to endotracheal intubation that have recently gained popularity and have had some modicum of success are laryngeal mask airways (LMAs) and combitubes.
LMA
The use of LMAs is gaining wider support in the management of patients with various spinal injuries, as well as for maintaining the airway. However, the LMA does not always protect the airway from aspiration. In fact, the LMA can act as a type of bolus in the pharynx, and may actually relax the lower esophageal sphincter, increasing reflux. The use of an LMA is often limited to the maintenance of the airway after a failed attempt at intubation, or as a last resort.5 However, if the need arises, the LMA may be an invaluable tool to maintain a patent airway and support ventilation until a more suitable airway can be obtained.
When using an LMA, maximum peak pressure seems to be up to 20 cm H2O, above which leaking will occur. Such leaking can result in the release of contagions, increasing risk to practitioners and other health care workers. This risk also arises often with the use of non-invasive positive pressure ventilation (NIPPV). The risk of contamination increases with certain masks or poor seals on NIPPV, so care must be given to assess the root cause of the situation and make appropriate choices.
Combitube
The combitube is a double-lumen tube inserted blindly into the esophagus or trachea. The position of the tube is confirmed by the presence of breath sounds or by capnography. By inflating one of the two cuffs, the lungs may then be ventilated. Problems arise after positioning with definitive securing of a tracheal tube. The combitube offers improved—but not perfect—protection of the airway from aspiration. Therefore, it is essential to perform gastric suctioning to decrease the incidence of aspiration, by keeping the stomach clear of food or liquids that may have been present.
Cricothyroidotomy
In some cases, the need for a surgical airway will require a cricothyroidotomy to be performed by an experienced practitioner without delay. It may be used as a primary airway under certain conditions, such as an injury to the upper airway, orotracheal intubation has failed, or the use of an LMA is not feasible. The procedure may be a full surgical approach or via a percutaneous needle. During a cricothyroidotomy, it is essential that a flow of oxygen is present to maintain oxygen saturation. In addition, there is the potential for carbon dioxide retention with this technique. Therefore, levels of carbon dioxide need to be measured and monitored through a variety of tools available to the practitioner. There appear to be no studies regarding movement of the neck during a cricothyroidotomy, ease of cricothyroidotomy with neck immobilization, or neurological deterioration following cricothyroidotomy. These are issues that should be studied in the future.
Conclusion
Successful management of disaster situations requires prepared and skilled personnel who are adept at performing their roles in an unstable and rapidly changing environment. Clinical simulations, practice scenarios, and repetition of techniques can help raise practitioner skills to the appropriate level and keep them there. Although it is difficult to be fully prepared for all contingencies, well-planned and tested protocols with appropriate training can eliminate the confusion that often accompanies disasters or other widespread emergencies. Ultimately, the survival of both patients and caregivers may depend on our ability to effectively and realistically respond to crisis situations.
---
RT
For further information contact [email protected].
---
References
Talmor D. Airway management during a mass casualty event. Respir Care. 2008; 53(2): 226–231.
Fowler RA, Scales DC, Ilan R. Evidence of airborne transmission of SARS. N Engl J Med. 2004; 351(6): 609-611.
Cooper A, Joglekar A, Adhikari N. A practical approach to airway management in patients with SARS. CMAJ. 2003; 169(8): 785-787.
Flaishon R, Sotman A, Ben-Abraham R, Rudick V, Varssano D, Weinbroum AA. Antichemical protective gear prolongs time to successful airway management: a randomized, crossover study in humans. Anesthesiology. 2004; 100(2): 260-266.
Varon J, Fromm RE. Airway management. In: Varon J, ed. Practical Guide to the Care of the Critically Ill Patient. 1st ed. St Louis: Mosby-Year Book Inc; 1994: 321-339.