While the vast majority of respiratory therapists do their lifesaving work in hospitals and clinics, a select few who operate as flight RTs find their workspace miles above the earth.
By Phyllis Hanlon
---

Photo: Brenda Hansen, RRT-EMT, and Bob Montgomery, RRT-NPS, sit in front of one of their medical transport helicopters as part of the Northwest MedStar team in Washington State.
In most cases, when respiratory therapists clock in, they execute their responsibilities in hospital rooms, intensive care units (ICUs), outpatient clinics, or home settings. But for a select few, their workspace hovers miles above the earth.
Although specific numbers are hard to come by, some respiratory therapists opt to take their education, experience and passion to the niche area of transport. Susan Horne, RRT, is a prime example. She has worked as a flight therapist at MedCenter Air at the Carolinas HealthCare System in North Carolina for 28 years. The program, which has four helicopters, two twin turboprop airplanes, two jets, and critical care and neonatal/pediatric ground ambulances, answers 1200 calls per month.

Originally, MedCenter Air followed a nurse/nurse or nurse/paramedic configuration, but that model has changed. "The program was flying patients on ventilators and thought it would be beneficial to add a respiratory therapist to the team," she said. "RTs are not only doing RT work. We are all cross-trained. Nurses can do artificial airways and RTs can give meds. We can do procedures that EMS are not allowed to do. For example, we provide blood products, do rapid sequence induction, administer pharmacological agents and put in airways."
The Ideal Candidate
The combination of a strong academic background together with clinical experience and quick thinking bode well for success as a flight RT, according to Greg Frani, BS, MBA, RRT, paramedic, community outreach coordinator and flight respiratory therapist with LIFE STAR out of Hartford Hospital in Connecticut.
He said, "An experienced respiratory therapist who has a diverse critical care background with the ability to be 'rigidly flexible,' think and act quickly and collaboratively, while applying and performing highly skilled procedures and techniques in a very dynamic and diverse environment with limited resources, personnel and direct oversight would be an ideal candidate."
Frani explained that typically, two RTs, both with broad skill sets, ride in the back of the helicopter. "You need to have advanced training, more than you would need in the ICU," he said. For instance, during a medical flight, the two RTs work together to intubate the patient, control bleeding, manage intracranial pressure and perform other tasks as needed. "You have to apply your expertise with advanced skill sets on the helicopter to take care of the patient in real time."
In addition to the medical aspects of the position, flight RTs must become intimately familiar with planes and helicopters. They have to check equipment on the aircraft at the beginning of each shift before the daily safety briefing where topics of discussion include identifying crew, operations issues and safety matters.
Frani said, "Participation in safe helicopter operations and, occasionally, ground operations is paramount. A great deal of education and time is invested into each flight RT so as to understand how to safely operate in and around and assist the pilot in the navigation of the aircraft, as well as the proper utilization of the multiband radios used during flight operations."
When not in the air, a flight RT might visit the emergency department (ED) and spend time in the office working on projects, answering emails and conducting research. "The day is young and commonly includes tours, phone calls and assisting in the ED when we are not out flying," said Frani. "Every day is a new day and full of diversity and unknowns."
Industry and Aircraft Expertise
While basic education and experience are important, new hires must undergo specialized training, usually an eight to 12-week orientation in all aspects of care under the guidance of veteran members of the team to enhance existing skills before taking that first official flight. "In transport you do a lot of advanced procedures you'd never do in the hospital, such as decompressions for the chest, starting an IV or IO, intubating, things the doctor is usually doing," said Brenda Hansen, RRT-EMT, senior respiratory therapist and neonatal/pediatric specialist at NW MedStar in Spokane, Wash.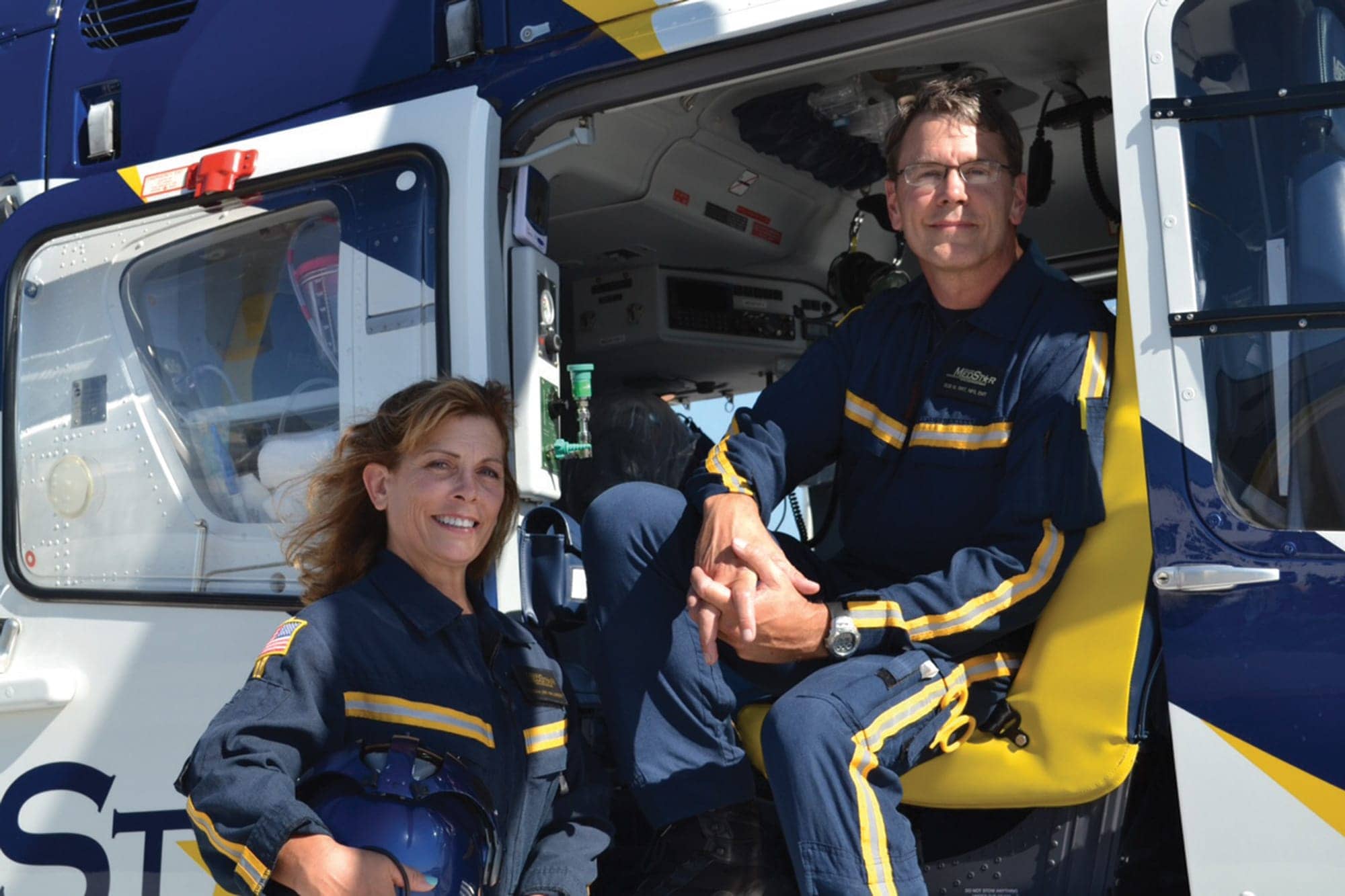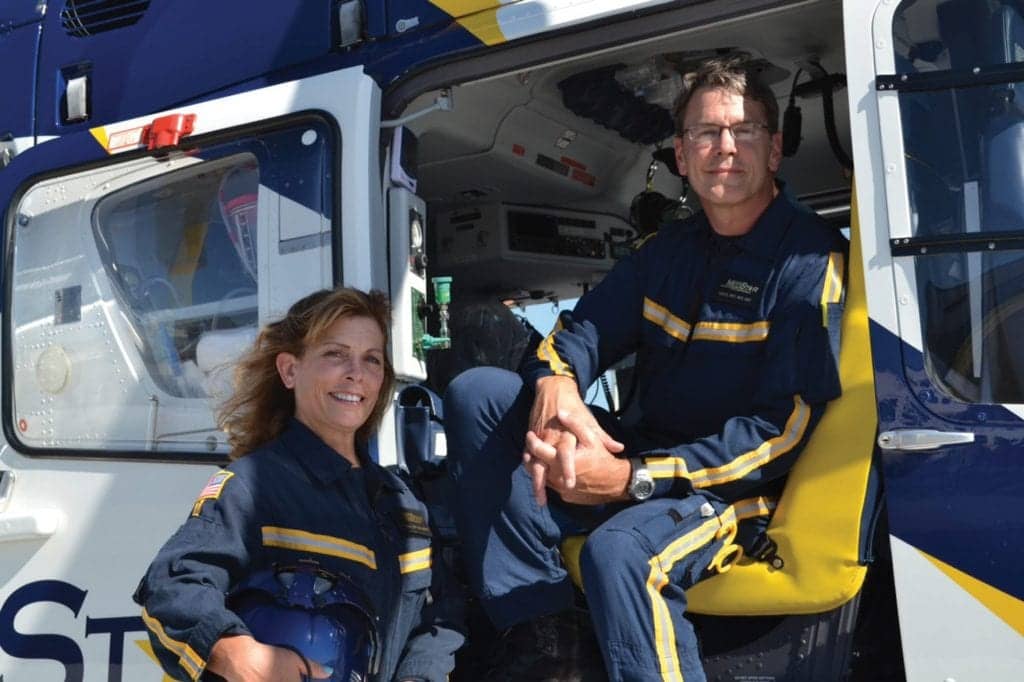 Hansen and retired Navy diver and medic Bob Montgomery, RRT-NPS, chief respiratory therapist, are part of the NW MedStar team that works from six bases in Washington State. The program features nine rotor wing helicopters, five fixed wing airplanes and seven ambulances.
Last year, NW MedStar transported 3,500 critical care patients and 1,500-advanced life support/basic life support patients. RTs work 12-hour shifts and fly with a pilot and a nurse medic. "We have an adult and perinatal nurse and a respiratory therapist that goes on every flight," said Hansen.
Not only must the RTs be experts in their own field, they must also be familiar with Federal Aviation Administration (FAA) regulations. "We go over the aircraft in classes. The pilots educate us. We know as much about their job as they do," said Montgomery.
RTs must be knowledgeable about all patient populations as well. "You have to know [how to handle] babies at 23 weeks to geriatric patients," Montgomery said, noting that while all transport RTs are well trained with ICU experience, they also exhibit cross-section skills as a medic and nurse. "We are the go-getters in the hospital department who want to advance and learn more."
Flight respiratory teams operate with a "firehouse mentality," noted Hansen. While a workday involves some mundane activities, such as daily duties, chart reviews and stock checks, the team is always poised to react when a call comes in. "When the tones go off, the dispatcher tells us what we need and we load the equipment," Montgomery said. "Our goal is to get the rotor wing off the ground in 10 minutes, although this timeframe varies if the helicopter is outside or inside the hangar because of the weather."
Throughout the flight, the team maintains contact with its EMS partners on the ground, receiving patient reports and information on landing zone conditions. "Ideally, the aircraft will have a 75-by-75-foot landing zone during the day and 100-by-100-foot at night," Montgomery said. "[EMS partners] tell us the type of terrain, if there are any obstructions like wires or fence posts. We may have to hike to get to the patient or jump into a truck or on the back of a snowmobile. The event requires a lot of communication."
Rough terrain, extreme weather conditions and other natural occurrences can complicate a mission. The NW MedStar team often flies into remote areas—Montgomery called their service area "the frontier"—under unknown circumstances so members are required to undergo survival training. "We go out into the wilderness for a day," Hansen said. "This training prepares us so that if something were to happen in the aircraft, we could survive. We would use our skills until help comes. The exercise builds toughness and inner strength."
While flight RTs face some unusual challenges, they typically have more autonomy than their grounded counterparts. "We do a lot of decision-making. In the hospital you have to wait for doctor's order. We use all the skills we've ever learned and we are constantly learning," said Hansen.
Changeable Landscape
Horne noted that while the job presents many benefits, certain situations and circumstances might require some inner fortitude. "You are working in a challenging environment. There is a lot of noise and motion. You're also dealing with altitude changes when you fly in the fixed wing and helicopter aircraft," she said. "And in some cases, you have to lift really heavy patients."
Also, late shift emergencies may wreak havoc on schedules, sometimes disrupting family life. "You might lift off at 4 p.m. to go to Bermuda or Texas and not get back for hours. We try to make sure new hires understand this," Horne said.
Charting can present another issue. Horne explained that it's not possible to do charting during a flight. "But this has to be done within 24 hours after an incident so it will get into the patient record," she said. When the team returns to base, therapists might have to spend another couple of hours completing charts before heading for home. In spite of what she considers minor drawbacks, Horne asserted that the benefits far outweigh any negatives.
RTs interested in working in transport should make sure they have all the necessary certifications, Horne advised. "There is so much more to this job than just taking care of a patient's lungs. As a flight RT you are responsible for the whole patient. You want to be a strong partner to your nurse. You also need to be flexible since you work in different environments and on uncertain schedules," she said. "You have to think on your feet while practicing under set protocols." In addition, RTs have to understand how to deal diplomatically with families and other medical professionals in the midst of a crisis situation.
Specialized Equipment
Just as flight RTs must have special training and experience, devices used in transport are specially designed for the conditions under which they will operate. Respiratory equipment for transport purposes differs in several ways from traditional ICU devices. According to Matt Anderson, vice president and general manager, Respiratory & Monitoring Solutions, Medtronic, its HT70 series of ventilators with a rating of IPX4 is ideally suited for emergency transport situations and partners well with Medtronic's portable oximetry and capnography devices.
"Also, since these ventilators utilize internal gas generators for air supply, they offer slightly different breath delivery characteristics," he said. The biggest differences between the two classes of ventilators are in the size, durability, protection from water and dust ingress and focus on portability with regard to battery use time and oxygen conservation, Anderson added.
Ventilation equipment used in the emergency transport environment must be robust, have appropriate water/dirt ingress protection, endure shock and vibration and utilize power efficiently so it can run longer on battery power. Anderson noted that the HT70 series ventilators have a built-in, 10-hour hot swappable battery that recharges in just three hours from AC or DC power.
"[The ventilators] effectively manage supplemental oxygen if it is in use. Built-in oxygen and estimated cylinder time monitors with alarms allow users to ensure that the supplemental oxygen system is connected, it is delivering the prescribed FiO2, and supplies are adequate," he said. "At the same time, they need to be simple to use by first responders or RT's with varying levels of training while providing a high level of safety."
CareFusion's ReVel and LTV 1200 ventilators for transport environments comply with safety parameters that closely monitor ventilator settings, especially during high turbulence, and are intuitive and easy to use, noted Kathy Wie, senior product/market manager for CareFusion. "LTV has turn knobs, which are easily accessible and a touch turn confirm buttonology. These ventilators are compact in size and lightweight compared to ICU ventilators found in the acute care setting. In addition, the LED panel enables easy view of monitored ventilator data in direct sunlight," she said.
"[CareFusion] devices also have preset menus for quickly setting the patient on ventilation. Invasive and NIV all-in-one ventilators provide therapy, based on the patient needs," Wie continued, adding that an integrated blender with oxygen conserve serves as backup for unplanned events or prolonged trips.
Given the conditions under which these devices are used, stringent testing is necessary to ensure patient safety and effectiveness. "First, the LTV 1200 and ReVel ventilators meet MIL-STD-810E, shock, ground transport, and helicopter transport vibration requirements, which is required for 510(k) approval for use in emergency transport," said Wie.
"A supplemental type certificate (STC) from the FAA is issued upon installation approval. They do not provide certificates for the device itself. It is up to the customer to arrange the installation approval review, as FAA verification is based on aircraft type and how and where the ventilator and bracket are installed and mounted. Our ventilators meet required air and ground standards and we provide documents to customers who are undergoing certification."
Most manufacturers offer training packages that include online tutorials, customized in-service training, quick transport guides for reference and competency, refresher courses and installation check off lists.
Montgomery emphasized that being a flight RT never becomes "second nature." He said, "I hit the nervous button every time I go out. You learn from every transport, whether difficult or simple. You never know what'll happen."
---
RT
Phyllis Hanlon is a contributing writer to RT. For further information, contact [email protected].