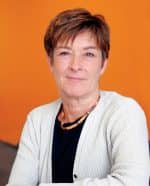 Marian Benjamin
At this year's North American Cystic Fibrosis Conference, held November 3-5, 2011, in Anaheim, Calif, 11 Cystic Fibrosis Care Centers were presented with the Quality Care Award, which recognizes sustained quality improvement work that helped achieve better health outcomes for people with CF.
The Care Centers Network, which has been recognized by the National Institutes of Health as a model of care for a chronic disease, was established by the Cystic Fibrosis Foundation to provide expert care for people living with the disease. In addition to caring for people with CF, the centers also participate in CF clinical research. The centers' effectiveness is clear: When the CF Foundation was established in 1955, most children with CF did not live to attend elementary school. Today, the predicted median age of survival is in the mid-30s.
The recipients of the award were chosen by the CF Foundation Center Committee from centers visited during fall 2010 and spring 2011.
What makes these centers so special? Centers that received the honor excelled at meeting five strict quality improvement efforts.
To be considered for the award, an organization must:
Show sustained quality improvement work that improved outcomes
Use clinical outcomes data to identify opportunities for improvement
Document results of improvement efforts
Involve patients and families in identifying, designing, and implementing
improvement efforts
Employ innovative strategies to improve care processes and outcomes
Implement system changes that result in high reliability of care processes
What does this have to do with RTs? Every award-winning center that I was able to contact has RTs as part of its team. At Nationwide Hospital in Columbus, Ohio, for example, RTs ran a project focused on airway clearance that led to a national presentation for them. Long Beach Memorial in California has a dedicated RT on its team, who in addition to assisting with data collection on how patients' lung function is improving, sees each patient for education and reinforcement on their aerosol medications. He also provides education of in-house RTs to maximize the care the hospital provides. At Children's Hospital of Pittsburgh (CHP), RTs perform spirometry at all clinic visits—twice weekly for hospitalized patients—and are involved in outpatient airway clearance education. Two of the RTs host an evening teaching session for families and participate in CHP's annual family education day. Cincinnati Children's Hospital Medical Center utilizes RTs in the care center to measure pulmonary function and teach airway clearance.
Clearly, the RTs at these outstanding centers play an integral role in meeting the quality improvement goals of their facilities. Congratulations to RTs at all of the Quality Care Award-winning facilities and to respiratory therapists all across North America who are helping to extend the life and improve the quality of life, not only of patients with cystic fibrosis, but of all individuals with chronic respiratory diseases.
You can see the list of winners at: www.cff.org/aboutCFFoundation/NewsEvents/2011NewsArchive/11-11-Care-Center-Quality-Improvement-Recognized.cfm.
—Marian Benjamin