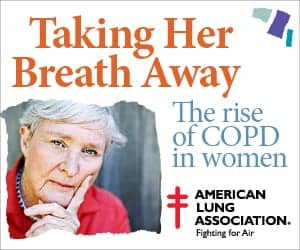 The American Lung Association's latest health disparity report, "Taking Her Breath Away: The Rise of COPD in Women," indicates women are 37% more likely to have COPD than men and now account for more than half of all deaths attributed to COPD in the U.S.
More than seven million women in the nation have COPD, and millions more have symptoms but have yet to be diagnosed. The number of deaths among women from COPD has more than quadrupled since 1980, and since 2000 death resulting from COPD has increased in the U.S. each year, according to the report.
The rise of COPD in women is closely tied to the success of the tobacco industry's marketing campaigns to the female demographic, which began in the 1960s, the report states.
Other key findings include:
Since COPD has historically been thought of as a "man's disease," women are underdiagnosed and undertreated for COPD.
Women are more vulnerable than men to lung damage from cigarette smoke and other pollutants.
Women are especially more vulnerable to COPD before the age of 65.
Women with COPD have more frequent disease flare-ups—a sudden worsening of COPD symptoms that is often caused by a cold or other lung infection.
Effective treatment of COPD is complicated, and women don't always get the kind of care that meets their needs.
The quality of life for women with COPD is impaired at an earlier age, and is worse overall than that of men with similar severity of disease.
The American Lung Association outlines steps to address COPD in the full report, including the strengthening of the public health response to COPD, as well as the US Centers for Disease Control and Prevention creating and supporting a comprehensive COPD program similar to what is already in place for other major public health problems; increased investment in gender-specific COPD research; expanded efforts to protect everyone from harmful exposures that cause COPD such as cigarette smoke and outdoor air pollution; and implementation of health care systems changes to improve the timeliness and quality of COPD care.