Gone are the days when an RT had to use muscle alone to clear lung secretions. Technology has made this more efficient, effective, and patient friendly.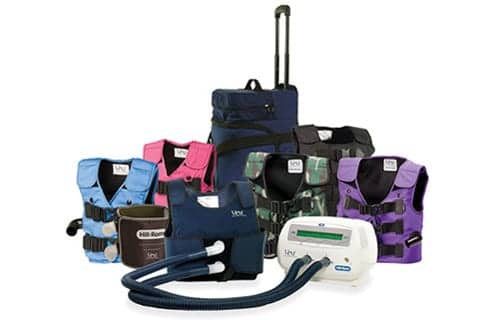 When treating many chronic respiratory diseases, one of the key elements of therapy is clearing lung secretions, which helps to minimize infections and to limit return hospital stays. Today, respiratory therapists have a plethora of devices to choose from; but while their size, complexity, and the way they perform their vital treatments may vary, they all help to mobilize secretions and clear the airway and lungs.
In the early days of respiratory therapy, secretion clearance was a manual process. A typical patient might be someone with cystic fibrosis, which required hand manipulating and pounding the chest area to "break" the mucus from the lung wall and allow the patient to expectorate it.
Technology changed all that. Today, high-frequency oscillation forms the cornerstone of secretion clearance techniques. Unlike the former, manual approach, oscillation technology affords a more consistent, uniform, and gentle approach to secretion clearance.
"What you have with a patient who needs to have their airways clear are small microbursts of air that are attenuated through the airways," explained Sean Mellor, BSRT, RRT. "As you percuss those secretions with the oscillation technology, that flow is disrupted across the surface area of the secretion—think of it as viscosity—you're almost beating the secretion up and making it more watery. And then you're able to loosen it and bring it up through the airway. You're really facilitating it in a physical and a physics type treatment delivering that oscillatory breath across the area of the secretion, thinning it down where it can be expectorated by the patient."
With new emphasis on reducing and preventing hospital readmissions as a result of the Affordable Care Act, secretion clearance will undoubtedly play a key role in keeping patients from making repeat hospital visits.
While oscillating technology is essential to secretion clearance, RTs and other clinicians have a number of options for the way it can be done, as the following representative devices from Hill-Rom, Philips Respironics, Electromed, and Monaghan Medical Corp illustrate.
In-hospital Oscillation
The MetaNeb from Hill-Rom is currently only available to clinicians as an in-hospital device. It is designed to maximize treatment by combining three therapies in one—volume expansion, secretion clearance, and nebulizer therapy.
"By combining all three of these therapies, we believe we have a really efficient device from a clinical and cost standpoint," explained Mellor who is also director of US Sales for Hill-Rom. "When you take into account all of the different devices you have to have at the bedside, we really want to find the best value for our healthcare teams and the patient, and we really feel that we have combined all three therapies into one device that is simple to use and easy to use, has a great interface, and, from an effectiveness standpoint, is combining all these tried and true therapies into one simple package."
The device begins by offering continuous positive expiratory pressure (CPEP) therapy, which helps expand the lungs, and then seamlessly moving on to the secretion clearance part of the treatment, which the company refers to as continuous high frequency oscillation (CHFO) therapy, at regular intervals. At the same time, the nebulizer is running throughout the entire therapy session.
"With the MetaNeb, you can seamlessly switch between recruiting an expansion of the lung, which is ultimately what patients need, to take a deep breath, through CPEP, and transition over to CHFO and pull those secretions from that expanded air space and clear their lungs," Mellor said. "You add on top of that the nebulizer and you have that three in one benefit. Ultimately, the goal is to drive those secretions out to prevent chronic infections. I think it is important to note that a large majority of that therapy relies on that expansion to get that air space opened up."
The MetaNeb is designed for use on a number of patient types from postsurgery patients, such as thoracic or cardiac patients, to patients with chronic conditions or diseases such as cystic fibrosis or COPD. Many of these patients are spontaneously breathing, so are able to work directly with the RT.
"You coach the patient—this is a spontaneously breathing patient who is coherent enough to walk through the therapy with you—you encourage on the deep breathing mode, the CPEP mode, you start them there and stay there for a couple of minutes, and then you switch over to that oscillatory mode, CHFO—which starts to percuss in those recruited airways to bring up those secretions, while the nebulizer is running consistently," Mellor said. "It's really about coaching the patient on the deep breathing piece, explaining that they're going to get percussed—so they know there's some secretion clearance that will be going on. And you take time to switch back and forth."
The device can be used in a number of other scenarios including those patients who have tracheostomies or patients who are ventilator dependent.
The therapy cycle is about 10 minutes long, with the CPEP and CHFO transition occurring four times during the session. The 10-minute timeframe isn't arbitrary, since most nebulizer treatments run about that duration, Mellor noted.
While the MetaNeb is currently only for use in hospital settings, Mellor said that the long-term goal is for the device to be offered for home use.
Manual Treatment
Philips Respironics' CoughAssist T70 is a second-generation manual insufflator/exsufflator, which the company introduced to the market approximately 1½ years ago. Among its benefits for patients are its simplicity of use, portability, accessory options (oximetry accessory, remote control accessory, external suctioning accessory interface), and power management options (detachable battery, external DC battery, universal battery pack).
"Weighing only 9 lbs, the CoughAssist T70 is easily portable, and a detachable battery adds a new level of flexibility for patients and caregivers. Additionally, the CoughAssist T70 incorporates a new feature called Cough-Trak, which gives patients the ability to synchronize the treatment with their own breathing pattern for optimal comfort," explained Eli Diacopoulos, VP, general manager, Home Respiratory for Philips.
The CoughAssist T70 clears secretions from the lungs by gradually applying positive air pressure (insufflation) to the airway and then rapidly shifting to negative air pressure (exsufflation). This in-exsufflation shift in pressure creates a high expiratory flow, stimulating a deep, natural cough.
Instead of introducing a suction catheter into the airway, air is delivered noninvasively through a facemask, a mouthpiece, or a simple adapter that allows the device to function with an endotracheal or tracheostomy tube.
"As a result, the CoughAssist T70 is a more gentle, comfortable way to remove secretions, keeping airways clear longer than trached suction and with fewer complications," Diacopoulos said.
The CoughAssist T70 is designed for use with any patient unable to cough or clear secretions effectively due to reduced peak cough expiratory flow (less than 5-6 liters per second), resulting from high spinal cord injuries, neuromuscular deficits, or severe fatigue associated with intrinsic lung diseases. Among the specific conditions that can see benefits are patients with neuromuscular diseases, ALS, or any illness that prevents them from adequately expectorating secretions, and who are at an increased risk for developing respiratory infections.
The company supports the CoughAssist T70 with numerous training options, including videos, clinician guides, quick start guides, and continuing education programs. Philips Respironics also has clinical experts available for in-service training sessions, as well as product support for clinicians and patients.
Acclimating the Patient
The SmartVest SQL Airway Clearance System from Electromed is a wearable garment surrounding an inflatable air bladder and a programmable air pulse generator. A hose connects the generator and the garment. The therapy can be administered by the patient or the RT. It delivers a rapidly repeating pulse of air alternately squeezing and releasing the upper body—each squeeze simulates a "mini cough," which acts to loosen the mucus from the walls of the airways.
The SmartVest is designed to acclimate the patient to its use. "We have designed our system to maximize the comfort and assure that it is easy to use," said Kathleen Skarvan, CEO of Electromed. "With any therapy, the key is to ensure quality of life and so we have uniquely designed our device with a single hose, which helps us accommodate a softer start and an active inflate and deflate.
"The soft start helps people to better acclimate to the therapy so it doesn't give them an abrupt sharp 'hug,' and the active inflate and deflate acclimates the patient to therapy by allowing the garment to contour to the chest cavity and the pulse amplitude remains more constant during the inhalation and exhalation so you don't have an uncomfortable bear hug."
As with the MetaNeb, the SmartVest's oscillations thin the mucus and then propel it to the larger airways where it can be expectorated or coughed out. Typical self-administered patient treatments consist of two 15- to 30-minute sessions per day. If the SmartVest is prescribed for home use, a trainer will be sent to the patient's home to help them be fit with the device and understand how it is used, and to calibrate it according to the prescribing physician's directions.
The SmartVest is also used in acute care settings, where it is administered by RTs. Skarvan noted that in these cases it may be used as a preventative treatment to help keep hospital patients—including those who will be prone for long periods of time—clear of secretions and possible infections.
According to Skarvan, the device has been prescribed to patients ranging in age from newborns to senior citizens. While it has been used to treat more than 400 diseases and conditions, it is most commonly used to treat cystic fibrosis, cerebral palsy, quadriplegia conditions, ALS, COPD, and bronchiectasis.
Handheld Therapy
Monaghan Medical Corp's Aerobika Oscillating Positive Expiratory Pressure (OPEP) Therapy System device is a handheld device that provides intermittent resistance, positive pressure, and oscillation simultaneously, helping to move and assist mucus clearance into the upper airways, so it can be coughed out.
Unlike some other systems that clear mucus by oscillating the chest wall, the Aerobika is an oral device dependent on inhalation and exhalation. However, it does work on the same principle of using oscillations to thin and dislodge mucus in the patient's lungs. The device can be used in treating patients with a number of respiratory diseases and conditions, including cystic fibrosis and COPD.
The device was put to the test in a study performed at the Robarts Research Institute, Western University, London, Ontario, and researchers found that the study subjects had improvements in increased mucus clearance, decreased cough frequency and breathlessness, and enhanced exercise tolerance. The handheld, lightweight, easy-to-clean device has been available for about 1½ years for use both clinically and at-home by patients. Earlier this year, the Aerobika received the Gold award at the Medical Design Excellence Awards (MDEA).
So Many Choices
All of the secretion clearance devices on the market work according to the same principle of oscillation, so how should RTs choose which is best for them? Mellor of Hill-Rom noted that ultimately it's a question of finding a provider that offers a quality product and stands behind it.
Meanwhile, Electromed's Skarvan advises clinicians to look for a device that fits the patient's needs in order to "improve their quality of life and reduce the number of their hospital visits." RT
_________________________________________________________________
C.A. Wolski is a contributing writer to RT magazine. For further information, contact [email protected].