Respiratory Care at St. Tammany Parish Hospital is a valued interdisciplinary member of the hospital's healthcare team.
By Lisa Hyde Kinler, RRT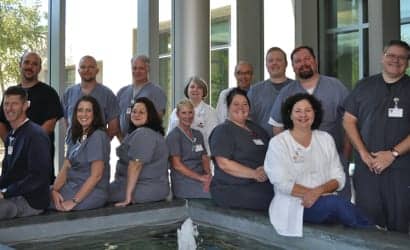 The Respiratory Care Department of St. Tammany Parish Hospital (STPH) in Covington, La, has been recognized as one of the top-performing departments in the state and has received the Hospital of the Year Award for Respiratory Care (over 200 beds) in 2011 and 2013 from the Louisiana Society for Respiratory Care.
Our experienced respiratory care practitioners (RCPs) are the main reason for our department's success in treating a full range of patients, from newborns to pediatrics to adults. As first responders, all of our RCPs are required to maintain certifications in advanced cardiovascular life support, pediatric advanced life support, and neonatal resuscitation program. Three-quarters of our staff are registered respiratory therapists (RRTs) and the remaining certified therapists have tuition reimbursement and allied health scholarships available to help them in achieving their RRT.
We also serve as a clinical rotation site for two respiratory programs in our community: Louisiana State University and Delgado Community College. Our staff prepares the next generation of respiratory therapists by mentoring students in acute settings, our pulmonary rehabilitation program, and our Sleep Disorders Center.
Respiratory care is a valued part of interdisciplinary teams at STPH. Our RCPs attend daily Grand Rounds in the ICU and CCU and work alongside the nursing staff in critical care areas, the emergency department, and level-III neonatal ICU. We have an excellent AACVPR-accredited pulmonary rehab program for both inpatients and outpatients. This team consists of RCPs and an exercise physiologist with monthly input from dietary, pharmacy, and chaplain. In addition, our respiratory services include a 4-bedroom Sleep Disorders Center (SDC). The SDC is accredited by the American Academy of Sleep Medicine and provides complete sleep testing, home studies, and follow-up with comprehensive treatment.
Maintaining best practices in respiratory care is important. In 2007, the medical staff approved our department's patient-driven protocols in five areas of respiratory care: oxygen therapy, volume expansion, airway clearance, bronchodilator, and asthma. Our RCPs develop an individualized care plan for every respiratory patient, which allows for high-quality care and helps to decrease the patient's length-of-stay. Our medical director, Ricardo Blanco, MD, and our team of pulmonologists are readily available to assist in protocol development.
Our department understands its role in the hospital's overall efforts to reduce readmission rates by providing pneumonia and COPD education as well as follow-up health coaching calls. A "Better Breathers" support group provides the community with on-going education and information on how to live with a chronic disease, and our "Lung Health Line" is open to the public.
Smoking cessation is a significant focus at STPH. Each year, in conjunction with Respiratory Care Week and again with the American Cancer Society's "Great American Smokeout," our department coordinates the "Drive for COPD" providing pulmonary screenings and tobacco cessation education within our community.
In December 2012, our department was awarded a grant from Pfizer Medical to develop a comprehensive, evidence-based tobacco cessation education program to help reduce tobacco use in our inpatient population. This initiative also supports the hospital's cancer program with the development of "Living Tobacco Free" to help inpatients deal with their nicotine addiction. This year, four RCPs became Certified Tobacco Treatment Specialists who provide one-on-one evidence-based counseling for inpatients identified as desiring to quit tobacco. Our work with these patients can continue after discharge, as we offer the "Living Tobacco Free" program to our community.
Upcoming introduction of pediatric emergency services will mean new skills and training for our RCPs, who embrace new challenges in respiratory care to deliver world-class healthcare at STPH. RT
---
St. Tammany Parish Hospital
1202 South Tyler Street
Covington, LA 70433
(985) 898-4000
www.stph.org