Current advances in resuscitation technology are improving safety, outcomes, and cost-effectiveness in a range of clinical settings.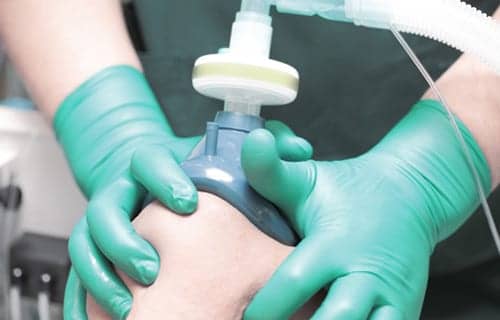 Today's resuscitation devices strive to improve safety and improve resuscitation outcomes, while offering portability and cost-effectiveness in a variety of clinical settings. Some are even specialized for the neonatal and infant patient populations. Here's a look at some current offerings.
CareFusion
The resuscitation portfolio from CareFusion's AirLife brand—which includes AirLife and AirLife II self-inflating and flow-inflating resuscitation—provides clinicians with a dependable solution for the most crucial moments of patient care.
"Offered with a wide variety of accessory options such as pressure manometers, expiratory filters, and carbon dioxide detectors, AirLife resuscitation kits provide a full range of safety features to help ensure the well-being of patients and clinicians alike," said Tim Gallagher, senior product marketing manager, AirLife Respiratory at CareFusion in San Diego.
Resuscitation bags are a ubiquitous presence throughout the hospital and virtually anywhere else patient care is administered. "CareFusion's AirLife brand offers cost-effective, quality solutions to meet the needs of healthcare organizations and institutions of all sizes," Gallagher added.
CareFusion's AirLife brand offers resuscitation solutions for all patient populations. This includes self-inflating bags appropriately-sized for infant, pediatric, and adult patients, as well as flow-inflating bags sized as small as 0.25 liters for neonates.
Mercury Medical
Mercury Medical, Tampa, Fla, manufactures the Neo-Tee Infant T-Piece Resuscitator. Each Neo-Tee features an in-line adjustable peak inspiratory pressure (PIP) controller, easy-to-read built-in color-coded manometer, and a variable stay-put positive end expiratory pressure (PEEP) knob. A built-in pressure relief valve is an added safety measure, limiting ventilator pressures to 40 cm of H2O—offering immediate, accurate, and safe care for neonates.
[sidebar float="right" width="275″]

Related Content
Check out RT's sidebar, ECMO As A Resuscitation Strategy, which covers a team of UPenn researchers who are studying the technology's use for cardiac arrest patients who can't be resuscitated by conventional means.

Read the article here.
[/sidebar]
The placement of the manometer on the Tee offers convenient "in-line" viewing of the patient's airway pressure (the clinician can monitor pressure on the manometer and watch the chest rise at the same time). "The adjustable PIP controller is in close proximity to the baby and can easily be adjusted in-line if higher pressure is urgently needed," said Scott Horowitz, product manager. The stay-put PEEP valve allows for quick and easy PEEP pressure adjustments as needed.
"If a less-experienced clinician is using the Neo-Tee, it can be a safer alternative than a cardiopulmonary resuscitation (CPR) bag (bag-valve mask), or hyperinflation bag," Horowitz said. "It might also be less intimidating after being trained on it."
When compared with the standard CPR bag or hyperinflation bag, Neo-Tee offers consistent PIP and PEEP pressures, which reduces the consequences of over and under inflation of the lungs. Additionally, there is no fatigue from squeezing a bag—since it doesn't have one. "This may reduce time in the neonatal intensive care unit (NICU)," Horowitz said. Furthermore, "using the Neo-Tee may decrease the chances of intubation, preventing an increase in length of stay and additional healthcare costs."
Because of Neo-Tee's lightweight design (83 g or 2.9 oz), it's suitable for use during any transport situation. In addition, Neo-Tee easily connects to an oxygen tank nipple, flowmeter, or blender.
Since Neo-Tee is completely disposable, it helps to prevent cross contamination and also results in no upfront capital costs. Other competitive T-Piece devices combine capital equipment costs with disposable/consumable costs and servicing, cleaning, and equipment calibration of that equipment, which can be quite costly.
Neo-Tee is used for short-term resuscitation anywhere in the hospital. It can be used at the NICU bedside, at the labor and delivery bedside, and in the emergency department.
VORTRAN Medical
VORTRAN Medical, Sacramento, Calif, offers VAR—an automatic resuscitator. Its hands-free operation improves safety and gives clinicians the ability to perform other tasks. "This reduces the chances of fatigue or overinflating patients' lungs," said Jeremy LaPlante, director of worldwide sales and marketing. VAR can be used in a magnetic resonance imaging (MRI) or computed tomography (CT) scan and can be used on patients who weigh 10 kg or more.
VAR allows hospitals to dedicate an automatic resuscitator to postoperative patients for use while transporting them from the operating room to the hospital suite, LaPlante said. It can remain with the patient if they need to return to the operating room or need a scan. Completely electricity free, VAR does not require batteries either. "From a risk management perspective, this is ideal if a power outage or natural disaster occurs, since it only requires gas flow to work," LaPlante pointed out. It can operate on air or oxygen as long as there is at least 50 PSI available.
VAR improves patient outcomes by providing maintained pressure ventilation through patented technology—pulmonary modulation, which senses and reacts to a patient's changes in pressures. "There is no chance for inconsistent respiration rates, unlike manual resuscitators, which can cause fatigue or adrenaline rushes," LaPlante said. VAR's consistency allows for the patient to slowly reduce CO2 levels. This consistency has been proven beneficial in a prehospital study comparing it to a manual resuscitator, according to LaPlante.
Weighing less than half a pound, VAR is easily portable and can fit in a medical coat pocket. It is ready to use right out of the box. VAR is sold in cases of 10 for less than $800, according to LaPlante. "We have also developed a low-cost airway pressure monitor called the VORTRAN APM, an accessory device to our automatic resuscitator to turn it into a transport ventilator with alarms and digital monitoring capabilities," he said.
ZOLL Medical Corp
ZOLL Medical Corp's advanced life support (ALS) defibrillators—the ZOLL R Series and the ZOLL X Series—are used in hospitals, emergency medical service, and critical care transport. Both feature technology to support delivery of high-quality CPR.
Both series include ZOLL's proprietary Real CPR Help audio and visual feedback for the correct depth, rate, and release velocity as well as tracking of idle time. They also use See-Thru CPR, an exclusive technology that minimizes the duration of pauses in CPR to enable rescuers to see the patient's underlying rhythm. RT
___________________________________________________________________________
Karen Appold is a contributing writer to RT. For further information, contact [email protected].