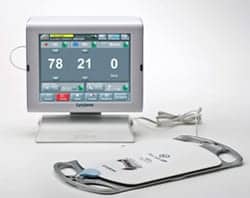 EarlySense (Waltham, Mass) has received FDA Clearance for its EarlySense 2.0 System, a contact-free bedside monitor for continuous measurement of respiration rate, heart rate and motion.
Using a sensor placed underneath a bed mattress, the system monitors and documents a patient's vital signs and movement, and provides early detection of patient deterioration, fall prevention, and pressure ulcer prevention, according to the company's website.
Through early detection, the EarlySense system assists clinicians in identifying and preventing potential adverse events, according to the company. The system is also able to monitor alarm response times by staff and can provide reports based on those readings.
"We provide the clinical team access to actionable information and empower them to identify potentially critical situations and respond in a proactive manner, in the hopes of preventing an adverse event from occurring as well as assisting the clinical team to become more efficient," said EarlySense CEO Avner Halperin.
According to a clinical trial by Brigham and Women's Hospital in Boston, the EarlySense system may be an effective indicator for complex respiratory patterns, which were found to correlate to a patient's respiratory condition. These patterns have the potential to show when mechanical ventilation is no longer required, according to an EarlySense statement announcing the results.
"The study results show that unique, complex respiratory patterns have the potential to predict, on one hand, the patients' readiness to be separated from the ventilator, but, alternately, also the need for continued ventilatory support," said principal investigator Gyorgy Frendl, MD, PhD, director of Surgical Critical Care Research, Brigham and Women's Hospital, and assistant professor of Anesthesia, Harvard Medical School.
For patients' recently weaned from the ventilator, the appearance of the following complex distress respiratory patterns indicated that they were likely to require further mechanical ventilator support:
Generalized disorganized respirations;
Frequent [every 30-120 seconds] high amplitude gasping breaths; and
Periods of apnea >30 seconds.
The study results were presented at the 43rd Critical Care Congress of the Society Of Critical Care Medicine in San Francisco from January 9-13, 2014.