Ventilators can breathe life into patients who are having trouble catching their own breath, but they do not guarantee a positive patient outcome and can contribute to complications such as nosocomial infections and barotrauma.
"The issues can be different in each care environment, but in the ICU, avoiding complications is one of the most significant. Because ventilation is often a supportive therapy during other treatments, respiratory therapists must ensure that complications do not inhibit recovery or worsen outcomes. Whether the complication is ventilator-associated pneumonia, lung injury, or tracheomalacia, it can impact outcomes and costs," says Ulf Solback, MS, vice president of marketing for Respironics Critical Care, Murrysville, Pa.
Clinicians must piece together holistic views of their patients to determine the best course of treatment and the most appropriate ventilation modes and settings. New technologies can help to elicit more information than in the past and deliver more personalized care, but health care teams are often faced with limited resources.
"The balance of maintaining high-quality care with fewer resources can be a daunting task. Today, respiratory care departments are faced with the challenges of a reduced workforce and a higher acuity of patients seen in the ICU," says Ed Coombs, MA, RRT, senior marketing manager of ventilation for Dräger Medical Inc, Telford, Pa.
Despite the challenges, clinicians continue to look for methods to improve patient care. Coombs notes that key to this success is keeping apprised of the latest technology, controversies, and current trends that can maximize patient outcomes. "Ventilator technology has increased exponentially over the past 2 decades. Today's ventilators are microprocessor controlled, utilize closed-loop feedback systems, and focus on ensuring safety," says Coombs.
Yet challenges remain in the areas of both ventilation technology and the care process. "One of the primary challenges now is integration of all our clinical knowledge and ventilation technology. The unmet needs have less to do with new features and modes and more to do with how we integrate monitoring, ventilation, and evidence-based protocols," says Solback.
Dave Costa, vice president of Hamilton Medical, Reno, Nev, concurs. "Hamilton Medical believes that technology should support human performance and decision-making ability," says Costa. The company's Ventilation Cockpit draws on the analogy of offering technology safe enough to fly, creating less hassle for the RT and greater safety for patients. "The autopilot protects the patient and implements orders even when the RT is not bedside. The cockpit provides instant recognition of key clinical data without confusion," says Costa. But along with improved integration, new features are certainly welcome.
Today's Ventilation Tribulations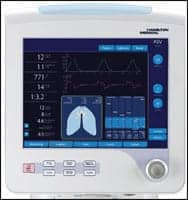 Hamilton Medical's G5 Cockpit supports human performance and decision-making ability.
Facilities often approach the acquisition of ventilators with their patient population in mind. "Many times it starts with the patient range. Many hospitals want one piece of equipment from neonate to adult so that the inventory can always meet demand," says Gary Milne, BSRT, RRT, senior clinical marketing specialist with Covidien Respiratory and Monitoring Solutions, Boulder, Colo. Acquisition teams also consider pricing and functionality, however, with an eye on features that can improve the patient experience and care.
For instance, noninvasive ventilation is becoming more widely used because it reduces complications associated with ventilation. "According to CDC guidelines, it's been shown to reduce VAP [ventilator-associated pneumonia] rates. Other studies suggest it can shorten lengths of stay and reduce costs," says Solback.
Some patients, though, may still be underserved in terms of ventilation. Elaine Lesnak, RRT, CRT, US marketing manager of home respiratory for Respironics, suggests that patients with progressive diseases or changing ventilation needs may not be receiving adequate ventilation. "One of the challenges facing clinicians today is [the need] to provide noninvasive ventilation [NIV] that is comfortable and has the ability to compensate for leaks but also the clinical efficacy of delivering a minimum minute ventilation [MMV]," she says.
Synchrony, or rather asynchrony, also presents challenges. Its impact can increase the patient length of stay, notes Milne, who refers to a 2006 study by Thille et al, published in Intensive Care Medicine, which found that the length of ventilation increased from 7 days to 25 when asynchrony presented. "There are many modes out there that are trying to improve the asynchrony situation," says Milne.
Milne thinks the trick may be to create systems that are more informative. "There is lots of information displayed on one machine, and the easier we can make it for the user to understand all the information, the better it is for patient care," says Milne.
Ventilation technology advances address these issues while also incorporating new information technology to link to larger systems (eg, central monitoring or hospital mainframes) and improve processes.
Software Advances at Covidien
Covidien has addressed these issues with two newer software options: Proportional Assist™ Ventilation Plus (PAV+) and Respiratory Mechanics (RM) software, both available with the PURITAN BENNETT 840™ ventilator.
The PAV™+ software option is intended to improve synchrony and control work of breathing. The feature, using a sophisticated software algorithm, measures patient demand every 5 milliseconds. "The patient determines the size of a breath, how often breaths happen, and when [the ventilator turns] off."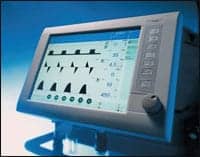 The Evita XL is characterized by its configurability and flexibility to design a pulmonary workstation for the ICU, according to Dräger's Ed Coombs.
The operator selects only one setting, and the monitor displays real-time calculations of patient work, airway resistance, and lung compliance. By illustrating the impact of changes, it helps to determine if a particular setting is appropriate.
The RM software option, introduced last year, also allows clinicians to assess patient status. The device displays values for negative inspiratory force (NIF), occlusion pressure (P0.1), and vital capacity (VC) on one graphical user interface and dynamic compliance (CDYN), dynamic resistance (RDYN), peak expiratory flow (PEF), end expiratory flow (EEF), and pulmonary surfactant (PSF) on a sub screen.
The occlusion pressure maneuver and coached respiratory maneuvers assist the clinician with determining when the patient is ready for weaning without having to disconnect the patient. This is a particular advantage for the NIF maneuver, which has traditionally required a separate device (often costly and fragile, according to Milne); with the RM option, it is integrated into the software.
The display will show a single pressure-time or volume-time waveform and the measured value upon completion of one of these maneuvers, and, as an additional aid, will also display the last three results for these maneuvers in tabular form. The information is intended to allow the clinician to trend the patient and judge progression.
Puritan Bennett™ ventilators feature DualView Touch Screens, which display ventilator settings and monitored data separately. "The trick to taking care of the patient is getting good visibility. Our dual screen helps the clinician better understand patient status by separating monitoring and settings," says Milne.
­Another company advantage is the ability to upgrade. "Anyone who has purchased an 840 ventilator can purchase upgrades for their system that include these new features," says Milne.
New Protocols from Dräger Medical
Dräger Medical also incorporates upgradeability. "In today's world of microprocessor-driven ventilators and the need for ensuring a safe investment of capital equipment dollars, there should be a clear upgrade path to maintain a level of sophistication that can grow as technology increases," says Coombs.
The company spends approximately 7% of its annual revenue on research and development with an eye on improving patient outcomes and helping customers operate in a more cost-effective environment.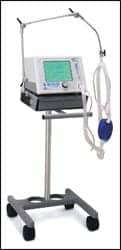 The BiPAP Vision is an NIV system featuring Digital Auto-Trak Sensitivity, which automatically adjusts to changes in leaks and patient breathing patterns.
Dräger's flagship product is the Evita XL, which now offers the SmartCare/PS option just approved by the FDA in March for additional claims. "While SmartCare/PS was first introduced in the United States in November 2005, Dräger recently received a 510(k) premarket notification from the FDA that demonstrates that the use of the Evita XL with the SmartCare/PS option can reduce overall ventilation time by 33%, decrease ICU length of stay by up to 20%, and reduce weaning duration by up to 4%," says Coombs.
These results, Coombs notes, are based on a European multicenter randomized trial involving 144 patients who demonstrated an improved respiratory condition with stable hemodynamic and neurologic status and no ARDS (acute respiratory distress syndrome) prior to initiating weaning.
The automated weaning protocol monitors a patient's respiratory rate, tidal volume, and end-tidal CO2 levels during PS/CPAP to augment or reduce the level of support required. The closed-loop system weans the pressure support level to an end-point, at which time the clinician is alerted to consider separating the patient from ventilator support. "By reducing weaning time and potential associated complications and infections, SmartCare may lead to reductions in the cost of care, improved resource utilization, and decreased incidence of ventilator morbidity," says Coombs.
SmartCare/PS contributes to the ease of use of the Evita XL. "Clinicians want to be able to easily make necessary changes in patient settings and be able to easily monitor patient parameters without difficulty," says Coombs. The Evita XL is characterized by its configurability and flexibility to design a pulmonary workstation for the ICU. A clinician can choose the parameters to monitor, establish trending, configure "short cut" functions, and develop customized monitoring screens.
"The versatility of the Evita XL is very popular," says Coombs, noting it can be configured to care for all patient populations with contemporary modes and adjuncts that are designed to improve patient comfort, such as ATC [automatic tube compensation], MMV, Autoflow, and NIV. The system incorporates the company's "Room-To-Breathe" concept intended to encourage spontaneous breathing, reduce "fighting the ventilator" by patients, and decrease sedation levels. "By definition, a ventilator must be able to allow a patient to breathe comfortably," says Coombs.
Innovative Features at Respironics
Respironics bases its efforts on a similar concept. "We focus on improving patient comfort, simplifying ease of use, and developing better decision support systems," says Solback.
New features such as AVAPS (average volume assured pressure support) help to achieve these goals. AVAPS automatically adapts pressure support to meet changing patient needs while maintaining a target tidal volume. "For clinicians, it can simplify the titration process and the need to change pressures as the patient's needs change," says Lesnak.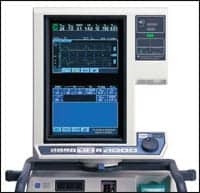 Puritan Bennett's 840 ventilation features options such as PAV+ and RM software which helps clinicians to better assess patient status.
The feature estimates the patient's tidal volume and compares it to the desired tidal volume, recognizing if the patient is not achieving the target tidal volume and gradually changing the inspiratory pressure in response. This holds benefits for many patients. For instance, patients who suffer from obesity hypoventilation insufficiency and experience ventilation impact with changes in body position will benefit from the automatic changes. "For the neuromuscular patient with respiratory insufficiency, AVAPS provides the comfort of pressure ventilation combined with the safety of a guaranteed tidal volume," says Lesnak.
Another feature with similar benefits is Digital Auto-Trak Sensitivity, which improves NIV by automatically adjusting to changes in leaks and patient breathing patterns. Solback notes this is one of the company's most popular features. The technology was originally introduced in the BiPAP Vision ventilator and is now also available on the Esprit critical care ventilator where it can be used in both invasive and NIV modes.
"The addition of Auto-Trak to the Esprit improves the NIV performance so that no matter what the care environment or situation, patients can have optimal therapy and clinicians don't need to make constant adjustments. Essentially, Auto-Trak responds to the variables that used to require therapist management. The real-time management of changing variables is key to patient comfort," says Solback.
The Esprit ventilator also features the new Speaking Mode, which enables speech function without the use of an external one-way valve. "Our technological breakthroughs for the Speaking Mode were the disconnection and occlusion algorithms. Imitating a one-way valve is not difficult, but instructing the ventilator when to revert to the prior setting presented a real challenge," says Solback.
To operate the Esprit, clinicians need only deflate the trach tube cuff of patients who meet the assessment criteria and turn on the software option. The Esprit ventilator controls the exhalation valve to direct the exhaled gas up through the vocal cords and permit normal speech. The algorithms differentiate between disconnections, occlusions, breathing pauses, coughs, and other events to automatically adjust settings and maintain alarms. For instance, it responds to occlusions by returning to the patient's normal settings.
"Providing the best quality of life for patients is important to patients and caregivers. Advances in ventilator technology have provided for more comfortable therapy and the ability to adjust to disease progression with smaller and simpler devices. Future development will focus on technology that can increase quality of life," says Lesnak.
Future Development
Editor's Note
For more ventilation products, read January's Tech Focus.
That development is likely to include miniaturization, improved monitoring technology, better gas exchange information, and integrated technology. "Medicine is always evolving through research. While many pulmonary pathophysiologies are understood, more research in the area of ventilator-induced lung injury needs to be done," says Coombs.
The goal is to keep patients breathing. "Ventilators won't heal the patient but rather will support them while other therapies take care of the original problem," says Milne. With no guarantees, ventilators continue to remain key to life support.
---
Renee Diiulio is a contributing author to RT. For further information, contact [email protected].