Portable Spirometer
Futuremed America Inc, Granada Hills, Calif, offers the Discovery, a small portable spirometer designed to include the features of large, office-based pulmonary function testing (PFT) equipment. Discovery's easy-to-read LCD monitor displays tests in real time, allowing more efficient monitoring of patient performance. Discovery stores up to 100 records, and Futuremed now provides Windows® data management software that allows patients' PFT records to be stored on a computer for future review and comparison. Discovery is all-inclusive and does not require a base station. It meets the new American Thoracic Society standards for spirometry. (800) 222-6780; www.futuremedamerica.com.
---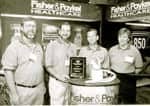 Nasal Mask
Respironics, Pittsburgh, introduces the ComfortSelect Nasal Mask, designed to increase patient compliance and comfort when using mask therapy. Its dual-layer cushion, adjustable forehead bracket, and soft silicone forehead cushions help reduce pressure points and mask leaks. Quick Clips™ allow patients to easily detach the mask from the headgear for daily use and cleaning. A silent exhalation valve disperses the air for quiet operation. Included with the mask is headgear that evenly distributes tension and adds stability. Eight adjustment points allow patients to achieve a secure and custom fit. (800) 345-6443; www.respironics.com.
---
Plastic Holding Chamber
PARI Respiratory Equipment Inc, Monterey, Calif, introduces the PARI Vortex™, a nonelectrostatic valved holding chamber for aerosol delivery. Made of metal, the chamber allows patients a more consistent delivery of their inhaled medications when using a metered dose inhaler (MDI). Researchers for the company have found that up to 60% more medication can reach the lungs. Also, plastic-valved holding chambers are more sensitive to a delay between actuation of the MDI and the patient's inhalation, giving more time for retrieval of medication from the device. The cyclonic flow pattern further enhances aerosol delivery for patients with low tidal volumes. (800) 327-8632; www.pari.com.
---
Face Mask
ResMed, Poway, Calif, expands on the design of the Mirage® Full Face Mask with the Series 2. The mask features a soft, contoured cushion that conforms to the face for a secure seal. When inflated by air pressure, the patented dual-wall cushion gently floats on the face. Breath-O-Prene™, a trademark of AccuMED, draws moisture away from the skin while allowing air to circulate through the material for increased comfort. (800) 424-0737; www.resmed.com.
---
Inflammation-Modulating Enteral Nutrition
Ross Products Division, Abbott Laboratories, Columbus, Ohio, offers Oxepa® Specialized Complete, Balanced Nutrition designed to modulate inflammation in critically ill patients on mechanical ventilation who exhibit pneumonia, sepsis, systemic inflammation (SIRS), need for supplemental oxygen or mechanical ventilation, acute lung injury/acute respiratory distress syndrome, multiple organ failure, or an APACHE II score >15. Oxepa is a medical food that should be used under medical supervision. It contains elevated antioxidants and a patented oil blend consisting of eicosapentaenoic acid and gamma-linolenic acid. In a prospective, randomized, double-blinded, controlled, multicenter clinical trial (Gadek et al, Critical Care Medicine, 1999), patients who were fed Oxepa as the sole source of nutrition for at least 4 to 7 days demonstrated reduced new organ failures, less time on ventilatory support, decreased length of stay in the intensive care unit, and improved oxygenation. (800) 515-7677; www.ross.com.
---
Ventilator
VIASYS Healthcare Inc's Critical Care Division, Conshohoken, Pa, introduces the Vela™ mid-range ventilator developed for use in intensive care and subacute settings. Vela provides continuous or intermittent mechanical ventilatory support and its compact size and integrated turbine support the patient throughout care. Vela offers touchscreen control with a graphical user interface that allows access to patient data. Breath is depicted on the LCD screen as a waveform or loop for in-depth analysis. (800) 520-4368; www.viasyshealthcare.com.