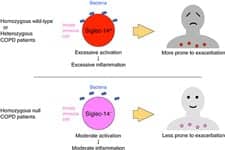 Siglec-14, a glycan-recognition protein in the lungs, is likely to be involved in the exacerbation of chronic obstructive pulmonary disease (COPD), according to researchers from the RIKEN Advanced Science Institute and Nippon Medical School in Japan. The protein could serve as a potential new target for the treatment of exacerbation of COPD, the 4th leading cause of death worldwide.
Siglec-14, which is made by innate immune cells, binds to the bacteria that often trigger exacerbation, researchers said.
As part of the study, scientists analyzed the correlation between the genotype of SIGLEC14 gene and the frequency of COPD exacerbations during one year of monitoring in 135 COPD patients from Japan. Researchers noted that approximately 1 out of 4 people in Japan cannot make Siglec-14 because of genetic polymorphism.
By analyzing exacerbations in the Japanese patients, scientists found that those patients who did not have Siglec-14 (31 patients) suffered far fewer episodes of exacerbations (nearly 80% less) on average compared with those who did have the protein (104 patients).
As a result, researchers concluded that COPD patients who do not express Siglec-14, are less susceptible to exacerbation compared with those who do.
The findings suggest that COPD patients may be stratified based on the SIGLEC14 genotype for more efficient and personalized care. Researchers said the findings also suggest that the development of a medicinal compound that can block the inflammatory events triggered by Siglec-14 engagement could be used to prevent or treat the exacerbation of COPD.
The study was published in the journal Cellular and Molecular Life Sciences and is available on its website.