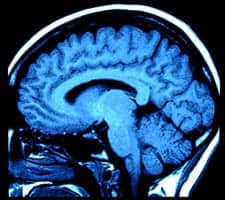 COPD patients have a significantly higher prevalence of cerebral microbleeds, according to research online ahead of print publication in the American Thoracic Society's American Journal of Respiratory and Critical Care Medicine.
"The connection between COPD and cerebral small vessel disease was suggested by two earlier studies, but the connection between COPD and cerebral microbleeds, the location of which can help elucidate underlying disease mechanisms, has not been studied," according to researchers Lies Lahousse, PhD, of the Department of Respiratory Medicine at Ghent University Hospital in Belgium and Bruno Stricker, PhD, of the Department of Epidemiology at Erasmus Medical Center in Rotterdam, the Netherlands.
"In the current study, we found, for the first time, that COPD increases the risk of cerebral microbleeds in deep or infratentorial brain regions, not only in a cross-sectional analysis but also in a longitudinal analysis in subjects without microbleeds at baseline."
Researchers examined 165 patients at least 55 years old who had COPD (confirmed by spirometry); cerebral microbleeds were detected with high-resolution MRI. The control group consisted of 645 subjects with normal lung function.
The author note the study's limitations, including the cross-sectional design of the main analysis and the association of COPD with multiple comorbidities, some of which may affect cerebral small vessel disease.