RT interviews Larry Murdock, RRT, vice president of marketing, Ferraris Respiratory.
STRAIGHT TALK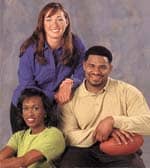 Ferraris Respiratory, Louisville, Colo, carries a range of asthma management products, including personal metered-dose inhaler spacers and chambers; personal, mechanical, and electronic peak flow meters; inspiratory training devices; and respirometers that monitor respiratory flow. RT spoke with Larry Murdock, RRT, vice president of marketing at Ferraris Respiratory, about why now, in particular, these types of products are becoming increasingly important.

Q: How much has the asthma rate risen recently and does it continue to rise? Why or why not?

A: According to the American Academy of Allergy, Asthma, and Immunology, the asthmatic population in the United States has been increasing since the early 1980s. A statistic from the Centers for Disease Control and Prevention is more staggering—the number of diagnosed asthmatics went from 6.7 million to 17 million in 18 years—570,000 new cases each year. Today, the American Lung Association states that in the United States, an estimated 20.3 million people have the disease, or about 1 in 14 Americans. It's a huge health care issue.

Much of the problem is air pollution. Excessive amounts of ozone in the air have been connected with childhood asthma in many countries. And, of course, airborne industrial pollutants, pollens, and household pets all contribute to the problem.

Q. What demographic is being hardest hit by the asthma epidemic and what is being done about it?

A: Our children are the most at risk, but more and more, adults are discovering that they have asthma.

Respiratory care practitioners can do a lot to educate those with asthma so that they manage their disease better. The RT is often the person training a mom how to handle a metered-dose inhaler for her child, and that training can make a big difference. Just knowing how to use a peak flow meter can help avoid under- or over-medicating and keep a patient out of the hospital.

At Ferraris Respiratory, we focus a significant portion of our resources on helping diagnose and treat asthma.