A new group of resuscitation devices are demonstrating that there is always room for improvement.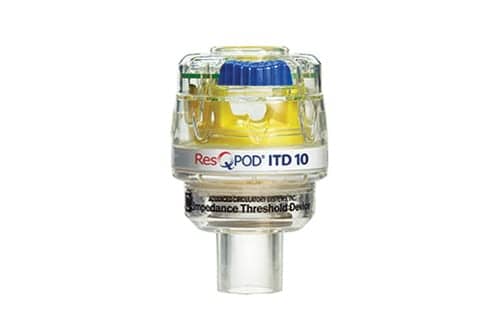 Resuscitation is probably among the most fundamental medical procedures, one of the earliest procedures that clinicians learn, often in the form of traditional chest compression CPR—which can also be used by non-clinicians in emergency situations. But there is more to effective resuscitation than the basics. In addition to more extensive  training and experience, clinicians, today, have a plethora of tools at their disposal that can make resuscitation—particularly in the clinical setting—not only effective, but easy.
Several new or newly available products on the market are demonstrating that innovations in resuscitation techniques and technology are far from over.
Responding to the Market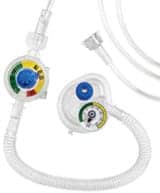 Mercury Medical's flagship product, Neo-Tee, is a disposable, infant T-piece resuscitator that has been used effectively around the globe. This led to an inevitable question from clinicians, according to Scott Horowitz, senior product manager for Mercury Medical. "Many clinicians have asked if we had, or it would be nice if we did, offer a similar product for patients with a higher weight range over 10 kg, expanding the offering to children and adults," he said.
The resulting sister product to Neo-Tee, the Resusa-Tee, currently has 510(k) clearance for use in the US market and is expected to be commercially released in January 2016. The device will also have a CE mark in European and other markets that require either a 510(k) or CE.
The device is designed to be simple to use, similar in function to the company's Neo-Tee. It is connected to a flow meter or oxygen tank, a flow rate is set to start, and then the inspiratory pressure is set—with the adjustable peak inspiratory pressure (PIP) controller—to the desired pressure. Then the PEEP pressures are set. Once the pressures are set, they can be validated with the color-coded manometer that is on the Resusa-Tee prior to using it on the patient.
Once the mask is on the patient, ventilating the patient is performed by occluding the PEEP knob hole with your forefinger or thumb. Pressures are verified with the manometer. Releasing your finger will initiate PEEP pressure. Horowitz said a typical setting would be approximately 20 cm H2O of PIP and 5 cm H2O of PEEP, though that can vary according to the needs of the patient.
The Resusa-Tee is disposable and comes standard with a manometer and PEEP valve. It is designed to be used in an MRI environment up to 3 Tesla, is lightweight, and ideal for transport, according to Horowitz. One of the big advantages for clinicians is that it is easy to use, he said.
"A brief in-service on the product is really all that is needed. If one is familiar with the Neo-Tee, it makes it even easier to in-service," Horowitz said. "When RT students visit our booth at conventions, they try the CPR and hyperinflation bags, but when they demonstrate the Neo-Tee, they see first-hand how easy a T-piece is to set up—and it's much less intimidating for them; also, they realize how safe it is to use."
The device is also economical, since it is an all-in-one unit with the manometer and PEEP valve coming standard and integrated into the design. The Resusa-Tee is available both with and without a mask. Another advantage for clinicians using the Resusa-Tee, said Horowitz, is that it can be used for both children and adults.
"With that said, clinicians can save money by not having to purchase two different sizes of CPR bags (BVMs) and can streamline their inventory," he said. "Additionally, there is no capital cost with the Resusa-Tee. Purchasing portable ventilators—that offer settings for PIP and PEEP pressures—can be expensive for a hospital, clinic or EMS agency. The Resusa-Tee offers these features at an extremely low cost."
Currently, Mercury Medical has not conducted any studies using the Resusa-Tee, but anticipates seeing similar results to those of the Neo-Tee.
Resuscitation by Acquisition
Food and Drug Administration (FDA) approved in 2004 and launched on the market in 2005, Zoll's ResQPOD Impedance Threshold Device (ITD) may have been around for some time, but was mainly confined to the emergency medical setting.
With the device's acquisition by Zoll, the company expects to increase the scope of the ResQPOD's use to new clinical environments, especially in hospitals.
"We think there's a huge opportunity in hospital settings. RTs understand how this fits into the care circuit," said Deborah Leahy, director of marketing for North American Hospitals for Zoll.
The ResQPOD ITD is attached to an airway during CPR and enhances negative pressure in the chest to pull more blood back to the heart and lowers intracranial pressure noninvasively. When combined with CPR, the ResQPOD has been shown in studies to increase neurologically-intact survival by 25% or more.1
Additionally, other studies1-6 have shown that during high-quality CPR, the ResQPOD: doubles blood flow to the heart, increases blood flow to the brain by 50%, doubles systolic blood pressure, increases neurologically-intact survival by 25% or more, increases the likelihood of successful defibrillation, provides benefit in all arrest rhythms, and circulates drugs more effectively.
For clinicians, the ResQPOD ITD is easy to use, according to Leahy.
"It's very simple to use—lights activate when there's an airway and it attaches directly to the ET tube," she said. "You attach it to the bagged mask. It fits directly into the resuscitation circuit. Our portfolio of high quality CPR devices are built directly into the defibrillator. This can help improve survival."
The ResQPOD requires minimal training, according to Leahy.
"It's plug and play," she said. "The great thing about is that you attach it to the patient and the ResQPOD ITD does everything." The ResQPOD ITD is a single-use device and costs about $110 per unit. It has no age restriction for use.
Ease of Transport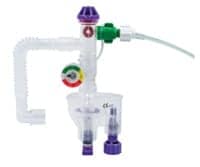 VORTRAN is currently in the process of renaming and improving its VAR (VORTRAN Automatic Resuscitator), which it expects to release in 2016 under the name GO2Vent.
The GO2Vent can be used with patients weighing 10kg or more and only requires air or oxygen to operate it. It does not require electricity or batteries to operate.
"It is useful for post-operative transport taking a stable patient who was on anesthesia back to their hospital room, or to other areas of the facility depending on the needs of the patient. It offers a safer option for transporting than a Bagged Valve Mask (BVM) as it provides consistent ventilatory support," explained Jeremy LaPlante, director of worldwide sales & marketing for VORTRAN Medical. "It can be safely used during a MRI or CT scan as it has been tested and given approval for MRI use as Conditional per the new FDA standards and testing being conducted by Frank Shellock (PhD, FACR, FISMRM, FACC)."
Using the device is easy, according to LaPlante. "We say it is as easy to use as 1-2-3 because it only takes three steps to set up and ventilate a patient," he said. "One, connect to pressurized gas source, set inspiratory flow through the flowmeter; two, set the PIP with T dial and connect to patient once verified operation with colored manometer; three, adjust the exhalation rate dial to determined frequency and adjust flow, PIP, and exhalation rate as patient needs it."
Training is just as simple, LaPlante said that users are suggested to review product inserts and short training video available to get a better understanding of how the product works.
The GO2Vent is designed for use in pre-hospital transports, post-op transport, for during MRI or CT scans, in isolation areas, and during power outages.
"It is a great option for disaster preparedness since it can be stockpiled for up to five years," LaPlante said.
In addition to being non-electric and easy to use, the GO2Vent is disposable, cutting down on cross contamination, and can be used for a wide variety of patients. It has another benefit for the clinician as well, according to LaPlante.
"It allows for clinicians to have hands free operation so that they can be more attentive to the other needs of their patients during transports," he said. "It can be used with either 50% or 100% FiO2 and is easily changed with a dial."
The current VAR model, which has been on the market for more than 15 years, costs about $760 for a case of 10. LaPlante said the improved GO2Vent was set for CE sales in Europe at the end of September and expects for FDA approval by early 2016. RT
---
C.A. Wolski is a contributing writer to RT. For further information, contact [email protected]. 
---
References
Idris et al. Circulation 2012;AHA ReSS abstract #LBRS-352.

Lick CJ, Aufderheide TP, Niskanen RA, et al. Take Heart America: a comprehensive, community-wide, systems-based approach to the treatment of cardiac arrest. Crit Care Med. 2011;39(1):26-33.

Aufderheide TP, Alexander C, Lick C, et al. From laboratory science to six emergency medical service systems: new understanding of the physiology of cardiopulmonary resuscitation increases survival rates after cardiac arrest. Crit Care Med 2008; 36(11):S397-S404.

Aufderheide TP, Yannopoulos D, Lick CJ, et al. Implementing the 2005 American Heart Association guidelines improves outcomes after out-of-hospital cardiac arrest. Heart Rhythm. 2010;9(10):1357-1364.

Thigpen K, Davis SP, Basol R, et al. Implementing the 2005 American Heart Association guidelines, including use of an impedance threshold device, improves hospital discharge rate after in-hospital cardiac arrest. Respir Care. 2010;55(8):1014-1019.

Hinchey PR, Myers JB, Lewis R, et al, for the Capitol County Research Consortium. Improved out-of-hospital cardiac arrest survival after the sequential implementation of the 2005 AHA guidelines for compressions, ventilations and induced hypothermia: the Wake County experience. Ann Emerg Med. 2010;56(4):358-361.