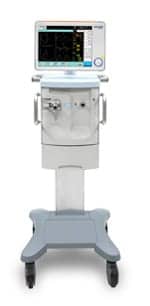 Oricare Inc has received 510k clearance from the U.S. FDA for its V8800 ICU Ventilator, according to the company, which develops, manufactures and markets medical devices worldwide.
The V8800 is an intensive care unit ventilator designed for use with infants, children and adults. The device includes integrated spirometry, which offers additional clinical information to enhance ventilation therapy, according to Oricare.
The device is equipped with a 15-inch LCD touch screen that allows clinicians to quickly select ventilation settings. The V8800 display can be rotated 180 degrees in different directions, allowing for different angles of observation and action.
The V8800 provides a wide range of advanced ventilation modes that enable effective care across different patient acuity types. Modes of Ventilation include:
Volume Controlled, Assist/Control;
Pressure Controlled, Assist/Control;
Pressure Regulation Volume Controlled, Assist/Control Synchronized Intermittent Mandatory Ventilation;
Spontaneous Ventilation;
Bi Level Ventilation; and
Non-invasive Ventilation.
"Oricare strives to develop high quality OR and ICU products that offer a strong value to our customers," said Oricare's executive vice president David Jamison. "This clearance is an important step as Oricare continues to launch more products in the USA market."