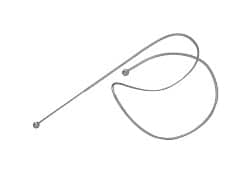 The Lung Volume Reduction Coil (LVRC) led to "significant and clinically relevant improvements in lung function, ability to exercise and quality of life for patients with emphysema," according to a presentation of study results at the ATS 2013 International Conference.
"Our study shows the device is effective in treating both homogeneous disease, where emphysema is distributed evenly throughout the lungs, and heterogeneous disease, where emphysema is isolated to specific areas of the lungs," said Gaetan Deslee, MD, PhD, professor of respiratory medicine at the University Hospital of Reims, France. "The results clearly demonstrate that a broad population of emphysema patients can achieve clinically and statistically significant improvements in quality of life, exercise capacity and lung function from treatment with LVRC, and that these improvements are sustained at one year from treatment."
The study implanted 2081 devices in 218 procedures. improvements were seen in the four areas being measured: quality of life, FEV1, RV, and 6WMD with few adverse events.
The LVRC, which is inserted into the lung in a procedure that does not require a surgical incision, works by gathering and compressing diseased lung tissue, allowing healthy tissue to function more efficiently. Patients typically are implanted with multiple devices in each affected lung, with each lung being treated in a separate procedure, according to PneumRx.