Despite criticism from some in the industry, research supports the use of capnography for moderate procedural sedation during endoscopic procedures.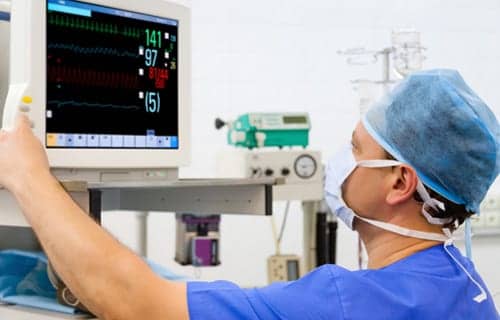 Capnography is becoming a standard patient monitoring tool for a number of different medical situations. The death of Amanda Abbiehl in 2010 prompted her parents to found Promise to Amanda to promote the use of capnography for those on patient-controlled analgesia pumps (PCAs). A year later, two researchers from Emory University School of Medicine conducted a study1 that found benefits to using capnography during dental procedures. And the following year, Kelowna General Hospital in British Columbia began using capnography for post-operative obstructive sleep apnea (OSA) patients as a way to enhance patient safety and reduce costs.
Then in 2011, the American Society of Anesthesiologists (ASA) Standards for Basic Anesthetic Monitoring expanded the use of capnography for moderate procedural sedation during endoscopic procedures. The guidelines stated, "During moderate or deep sedation, the adequacy of ventilation shall be evaluated by continual observation of qualitative clinical signs and monitoring for the presence of exhaled carbon dioxide, unless precluded or invalidated by the nature of the patient, procedure or equipment."
However, the release of these recommendations unleashed a firestorm of criticism from three professional organizations. The American Society for Gastrointestinal Endoscopy (ASGE), American Gastroenterological Association (AGA), and American College of Gastroenterology (ACG) cited the lack of appropriate studies at the time to support this advice. These organizations noted that the reported data on which the ASA based its recommendations stemmed from pediatric endoscopic literature or studies involving advanced endoscopy procedures requiring deep sedation.
Furthermore, these three groups suggested that using capnography devices might lead to false alarms, which, in turn, could prompt stoppage, delay, or termination of a procedure unnecessarily, leading to inefficiency and added costs. The organizations also noted that the new recommendations failed to clearly define apneic events and offer appropriate interventions should they occur during sedation.
In a written statement, this organizational trio said, "There are insufficient data to demonstrate that improved clinical outcomes or care quality derive from the use of capnography in adults undergoing targeted moderate sedation for upper endoscopy and colonoscopy." The statement continues: "Furthermore, the absence of standardized and validated definitions and recommended responses to capnography findings further discourages the application of a costly technology that has no proven value in healthcare delivery."
Since the release of the above statement, additional studies have been conducted that support the use of capnography for colonoscopy. A study2 published in the American Journal of Gastroenterology examined whether capnographic monitoring would reduce the incidence of arterial oxygen desaturation when using propofol sedation during colonoscopy. A total of 760 patients scheduled for colonoscopy under propofol sedation were randomly assigned to a control arm with standard monitoring or an interventional arm with capnography, in addition to routine monitoring procedures. Findings showed a significant reduction in the incidence of oxygen desaturation in the study group versus the control group (38.9% vs 53.2%; P<0.001).2
A second study,3 published in Endoscopy in March 2014, examined the incidence of hypoxemia in patients undergoing colonoscopy with propofol sedation and found similar results. This study randomized 533 patients to standard monitoring or standard monitoring with additional capnography. Patients in the study group were much less likely to suffer hypoxemia than those in the control group (18% vs 32%; P=0.00091). The study authors did note that anesthesiologist-administered sedation was deeper, given more often, and at significantly higher doses compared with patients receiving nurse-administered or endoscopist-directed sedation. However, the results still favored capnography as an effective monitoring tool during colonoscopy. RT
___________________________________________________________________________
Phyllis Hanlon is a contributing writer for RT. For further information, contact [email protected].
___________________________________________________________________________
References
Farish SE, Garcia PS. Capnography primer for oral and maxillofacial surgery: review and technical considerations. J Anesth Clin Res. 2013;4:295. doi: 10.4172/2155-6148.1000295.

Beitz A, Riphaus A, Meining A, et al. Capnographic monitoring reduces the incidence of arterial oxygen desaturation and hypoxemia during propofol sedation for colonoscopy: a randomized, controlled study (ColoCap Study). Am J Gastroenterol. 2012;107(8):1205-12. doi: 10.1038/ajg.2012.136. Epub 2012 May 29.

Friedrich-Rust M, Welte M, Welte C, et al. Capnographic monitoring of propofol-based sedation during colonoscopy. Endoscopy. 2014;46(3):236-44. doi: 10.1055/s-0033-1359149. Epub 2013 Dec 11.