Technological influences from industry and consumer products are helping to evolve the functionality of pulse oximetry.
By Lori Sichtermann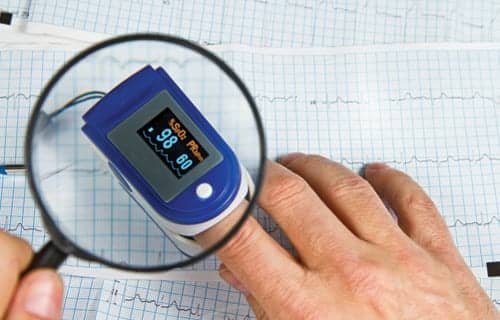 For decades, pulse oximetry has played a critical role in patient safety as a monitoring tool. It's a reliable technology that has continued to evolve as sensors and wireless capabilities have improved. However, the stage is set for some interesting developments as industry and commercial technology are influencing how pulse oximetry data are collected and used within the clinical setting.
RT Magazine recently spoke with those who know the technology best to get their insight on the current state of pulse oximetry and what's in store for the future. Contributing to the discussion were:
 Jack Auer, vice president, marketing and sales, Xhale Assurance Inc; and
Julia Strandberg, vice president of global marketing, patient monitoring, Covidien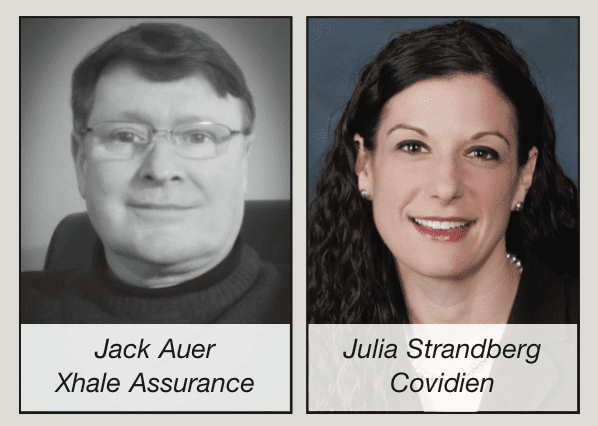 RT: The patient monitoring market, including pulse oximetry, has been steadily increasing over the last several years. What forces do you believe are driving growth?
Jack Auer (Xhale Assurance Inc): New technologies have been introduced in an attempt to broaden the number of parameters that pulse oximetry-based technologies can detect. This is all being done in an attempt to improve performance. The goal is to move away from the large, general care floor population where continuous monitoring has not been a standard of care.
What's more, screening for specific conditions or disease states has become more advanced, allowing for greater recognition of a range of respiratory issues.
Julia Strandberg (Covidien): There are decades of trust involved with using pulse oximeters as a means of measurement. There's not a single physician, nurse, clinician, etc who goes through medical school and does not use a pulse oximeter to monitor patients. The trust placed in this technology is incredible.
Over the last 5 years, we've seen a rapid pace of technology evolution. Devices are getting smaller, lighter, more comprehensive, wireless, and even using different types of light sources. Technology advances that have been made in other industries, whether industrial or consumer, are definitely helping to progress the medical industry for systems such as pulse oximeters.
RT: Tell us about your company's most recent pulse oximetry technology. What are your product innovations focused on? How are they increasing patient safety in clinical settings?
Auer: Our Alar One-Sense pulse oximetry sensor is focused on reliable, clinical performance, ease-of-use, and patient comfort. The sensor takes advantage of the nasal ala—the fleshy part of the side of the nose, which has a rich vasculature system with a multidirectional blood flow fed by both the external and internal carotid arteries.
This is a unique monitoring site because, unlike the extremities, the nasal ala circulation is not affected by the sympathetic nervous system, which often is responsible for making finger-based readings impossible.
Strandberg: We have a wide range of pulse oximetry solutions, including bedside monitoring systems, as well as disposable and reusable sensors. What's more, we just launched a virtual patient monitoring platform. Essentially, it's an integrative approach to bringing the power of data to the clinician anytime, anywhere. The technology pulls physiological and contextual information from multiple monitoring devices and sends that data to mobile devices, central stations, and EMRs.
RT: How are developments with home oximetry, wireless oximetry, and smartphone-integrated oximetry influencing the market and your product development? Can these technologies be useful for hospitals and practitioners seeking to reduce costs?
Auer: A long-time topic has been wireless sensors, something that required a "basket of technology" to successfully execute; everything from batteries, miniaturized, ultra-low power components, and wireless protocols. More recently, the necessary elements of technology have become more economically accessible. This can be seen in the proliferation of new platforms appearing on the market. It's also influencing our own development for near-term projects.
Strandberg: At Covidien, we're finding that there is a huge push regarding the care continuum. The focus today is on workflow efficiency, hands-free capabilities, data integration infusion, as well as preventative care and compliance, at both the patient level and the clinician level.
There's no doubt that the patient monitoring market is moving ferociously toward this new world where monitoring is not only easier, but more important.
RT: In the last year, pulse oximetry has gotten significant legislative and media attention as an effective screening device for congenital heart defects in newborns. Dozens of states have passed or enacted laws to require the test. What are your thoughts on its use as a diagnostic for newborns? What effects could state laws requiring the test have on the market?
Auer: A 2013 abstract1 summarized this concept by saying pulse oximetry screening is a highly specific, moderately sensitive test, which is acceptable to parents and staff. It's likely to be cost-effective and fulfills the criteria for universal screening. Routine screening for CCHD (critical congenital heart defect) using pulse oximetry is being increasingly supported and was added to the recommended uniform screening panel in the United States in 2011.
Strandberg: Understanding and early detection are critical, and it's incredible how pulse oximetry can play a part in that technology. From our perspective, we provide the most accurate reading for neonates. It really means that our devices are connected to the heart. We're not deriving the algorithm from anything other than the patient's heart. Because of that, we believe that the technology helps in the situation with neonates as they are in their context. That could mean whether there is motion in the room, the level of noise in the room, whether the baby has a low-perfusion rate, or really understanding the patient's respiratory status. That's what our technology does in the context of that screening measurement. It's efficient, it's economical, and it's critical to prevention and detection.
RT: How has pulse oximetry evolved in the last 2 years and how will it continue to evolve in the next 3 to 5 years?
Auer: With a few notable exceptions, we've seen very few actual innovations in pulse oximetry over the last several years. Instead, what's happened is an expansion to new platforms, both traditional and on mobile devices. There's also been some catch-up on claims and distance between major competitors, and competitive acquisitions.
An ongoing challenge in medicine that begs a solution is identifying which patients are at risk for respiratory depression, and then mitigating that risk. A clear answer would be to more comprehensively monitor the patients. Simply monitoring with pulse oximetry alone is problematic because it is a late indicator of respiratory status, and it doesn't actually detect the movement of gas or respiratory effort.
That said, a coming innovation from Xhale Assurance is a single sensor. It's easy to use and comfortable, and provides three components that are pivotal to monitoring for respiratory depression, including reliable pulse oximetry, real breath detection, and detection of respiratory effort.
Strandberg: We foresee a lot of partnerships within the industry in the coming years. In the United States, patients are going to take on some of the payment mechanisms for their health, ultimately becoming more influential and involved in choosing healthcare.
As a result, the medical community is going to have to partner more and more. Patients are going to search for value and comprehensiveness, and not one company can provide everything to everyone. Instead, through strategic partnerships between industry and the medical community, patients will be put in the center of the focus.
For us, the future means more advancements in wireless and cableless capabilities, total data fusion, and enabling data to be retrieved from anywhere at any time.
There's an elevation of responsibility on the part of the clinical community to drive a higher level of care. The technologies that will be going in and out of hospitals in the future are going to be powered by integrated solutions. RT
---
Reference
1. Ewer AK. Review of pulse oximetry screening for critical congenital heart defects in newborn infants. Curr Opin Cardiol. 2013 Mar; 28(2):92-6. doi: 10.1097/HCO.0b013e32835d7e42. Accessed here.