RT convened an industry roundtable of experts to discuss issues in the patient monitoring market, such as alarm fatigue, pediatric sensors, and data security.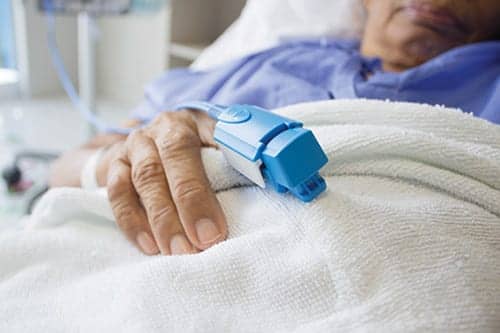 The patient monitoring market, including pulse oximetry, has been steadily growing. Technology is evolving to reduce costs and maximize outcomes. To learn more about the market, RT convened the following industry roundtable of experts to discuss issues such as alarm fatigue, pediatric sensors, and data security:
Margie Rogers, associate director of Marketing, Patient Monitoring and Accessories, Nihon Kohden America;
Alisa Salibra, senior director of Vital Signs and Patient Monitoring for Welch Allyn, a division of Hill-Rom;
Peter Ziese, PhD, MD, head of sales and marketing at Philips Monitoring Analytics & Therapeutic Care.
RT: The patient monitoring market, including pulse oximetry, has been steadily growing. What do you believe is driving this growth? How is technology evolving to reduce costs and maximize outcomes?
Margie Rogers: Nihon Kohden is the globally recognized pioneer behind pulse oximetry. The company's Senior Manager Dr. Takuo Aoyagi received the 2015 Institute of Electrical and Electronics Engineers (IEEE) Medal for Innovations in Healthcare Technology for his invention of SpO2, which was first published in 1974. In 2007, the World Health Organization (WHO) recognized pulse oximetry as "the most important lifesaving practice during surgery." This has driven a new era of patient safety during anesthesia and is recognized as the standard of care for the assessment of oxygenation, spanning virtually every domain of medical practice. This recognition of the life-saving benefits of SpO2 has increased adoption and caused continued growth.
The monitoring of SpO2 and advances in related technologies have improved patient care, providing critical information to enable the right care at the right time. For example, with our cap-ONE capnography system, we have miniaturized the mainstream sensor to enable CO2 capture close to the patient's nose and mouth. This provides critical information in regard to status changes, which starts the process of life-saving actions. The technology is evolving rapidly, reducing the cost of care, and improving outcomes.
Alisa Salibra: Hospitals and clinics alike are continuing to migrate from manual to digital vitals as they move from paper charts to electronic medical records. The impact can be pretty powerful: We've seen customers reduce errors and omissions by up to 75%1 by connecting vital signs devices to the EMR. Others have saved their nurses 30 minutes of manual data documentation per shift—time that can now be spent on patient care.2
Dr Peter Ziese: Healthcare providers are continuing to feel the pressure as the industry shifts to a value-based care model and the stressed importance of improved patient outcomes. In addition to the changing landscape, providers stay awake at night thinking about challenges like patient safety. Patient safety continues to be a top concern for the healthcare industry, and while the industry is making strides to address clinician pain points, issues such as lack of complete patient data and exhaustive alarm fatigue still remain. While challenges persist, there is an opportunity to improve and address the barriers that clinicians are currently facing with technology, which is why we are seeing the patient monitoring market continue its steady growth. Patient monitoring technology can provide clinicians with smarter alarms and virtually gap-free data to lower the chances of preventable adverse events while helping them to improve patient outcomes.
With connected care technology, like Philips IntelliVue Guardian Solution with Early Warning Scoring (EWS), patient data is steadily captured and integrated with the EMR for virtually gap-free patient records wherever they are in the hospital – from admission to discharge or in transport from department to department. Newer patient monitoring solutions can obtain vital signs at the patient bedside continuously and alert clinicians of patient deterioration through smart algorithms. With immediate attention, clinicians can make more confident care decisions and intervene earlier, with more timely and consistent treatment that can reduce the rate of readmission after in-hospital treatment.
Philips IntelliVue Guardian Solution can save time for nurses on their rounds, allowing them to spend more time with each patient and less time writing down vital signs. The automated monitoring system also improves clinician workflow by significantly reducing transcription errors and reducing delays in treatment time with immediate access to patients' vital signs. With clinical decision algorithms, providers have the confidence to act quickly and provide their patients with the best quality care, allowing them to see a decrease the number of cardiac and respiratory arrests in their hospital wards.
RT: Please discuss your company's most recent innovations in pulse oximetry and patient monitoring technology. What are they focused on? How are they improving patient care?
Rogers: Nihon Kohden is continuously improving patient care by refining algorithms used in pulse oximetry. The upgraded technology is continuously pushed to our devices via upgrades that are provided for the life of our patient monitor and telemetry units.
Capturing vital signs and other critical physiologic parameters throughout the hospital visit is critical for optimal patient care and complete patient records. That's why we have a unique premium-as-standard product philosophy, where all of our products come fully featured in base configuration and are capable of comprehensively monitoring patients of all acuity levels no matter where they are in the hospital. Our newest Wi-Fi based patient monitoring system, NK HiQ, employs a wireless network to connect all of this patient information throughout the hospital. The system's smart telemetry device keeps patients safe by acting as a stand-alone monitor when the patient is out of wireless range, with innovative back-fill capabilities that automatically synchronize all data once the patient is back within the coverage area. The device seamlessly connects to the central station, so patients are actively and continuously monitored, and all data goes to the hospital's EMR.
Our latest monitors are focused on improving workflow by simplifying complex medical information, turning it into easily understood graphics, and maintaining complete patient records. The advanced monitors enable customization for specializations with ease. With two on-screen touches, any monitor is configured for the preferences of the specialist at hand. Continuity of care is critical as a patient moves throughout the hospital, so our transport monitor acts as a full color standalone touch-screen system, providing information on all major vital signs while a patient is moved to different care areas. Along with our advanced line of bedside patient monitors, our telemetry devices and their advanced embedded sensors, capture important patient data from the moment the patient enters the hospital to the moment they are discharged. That data is continuous and ready for care providers to review on all devices.
Salibra: We partner with Masimo, Medtronic and Nonin to help ensure our customers can choose the latest technology that best fits their needs, integrated right into the vitals monitor. We are seeing an uptick in interest in CO2 monitoring in addition to traditional SpO2, as CO2 monitoring allows for more accurate assessment of patient deterioration. In response to customer interest, we've also expanded our early warning score capabilities to support more protocols and single-parameter triggers. Hospitals are increasingly adopting these protocols to improve their ability to asses and respond to patient deterioration earlier.
Dr Ziese: In January, Philips debuted its next-generation Patient Monitoring solution, an enterprise-wide system that consists of bedside, transport, mobile and central station monitoring technology. The solution aims to help enhance patient care by providing easy access to comprehensive patient data to help clinicians make confident decisions. The latest offering features the IntelliVue X3, a transport monitor with intuitive smart-phone-style operation that was released in 2017. It offers caregivers the ability to change patient cables during transport or at bedside, allowing them to spend less time dealing with equipment and more time caring for the patient. By capturing patient data from monitors and medical devices, which then feeds securely to the hospital's EMR for virtually gap-free patient records, the solution is designed to help improve patient care, drive clinical performance and assist health systems in lowering costs. Paired with IntelliVue X3, clinicians have immediate access to a patient's complete data, providing them with the information they need, when they need it to make critical decisions for patient care.
In March, Philips announced that the integration of the IntelliVue Guardian with EWS into the general care units at Saratoga Hospital has helped improve patient safety and clinical outcomes. Since implementing Philips' patient monitoring technology in 2015, Saratoga Hospital has reduced patient transfers to the intensive care unit (ICU) by 63% and eliminated patient codes within its 20-bed orthopedic unit, which dropped from three or four codes per year to zero.
RT: Alarm fatigue is continually cited as a top concern of healthcare providers. What steps should healthcare providers take to mitigate this problem and ensure no legitimate patient alarm goes unanswered?
Rogers: Nihon Kohden offers Aware, an advanced alarm reporting and management tool. In addition, we have a team of nurse executives who are ready to help with the hospital's unique alarm management strategy and offer best practice knowledge. Our team focuses on key factors including:
Completing a baseline alarm assessment
Analyzing data for high frequency alarms that can be reduced
Performing patient touch point assessments
Reviewing alarm settings for goal-based needs and priority
Collaborating on data-driven adjustments to reduce alarms while retaining clinically targeted settings
Evaluating overall effectiveness of alarms toward goals for transformative care and patient safety management
Nihon Kohden recognizes that alarm fatigue can come about with nuisance alarms, false alarms, and technical alarm conditions that may not impact patient safety. To address these concerns, Nihon Kohden patient monitors are equipped to adjust to the hospital's specific care protocols and every patient population's unique care pathways:
Advisory alarm time can be increased from 20 to 120 seconds
Escalation alarms are customizable based on time, values or percentages of values
Respiratory algorithms are adjusted to provide user-definable alarm delays
Other customized settings are designed to limit the number audible non-actionable alarms
Salibra: It comes down to setting the right alarm protocol for each area so the right person gets the right alarm at the right time. A post-surgical patient may have a very different threshold than a general medical patient—and hospitals may prioritize different parameters for each of them. For example, some hospitals are setting respiration thresholds of a certain number of breaths over a certain period of time in order to trigger an alarm. Every hospital—and every unit within the hospital—should use their own clinical judgment to determine what they are monitoring for, and how frequently. This will help inform a protocol that reduces the probability of alarm fatigue.
Dr Ziese: Alarm fatigue is a constant battle for clinicians, as they are exposed to hundreds of alarms within an hour, and it is difficult for one clinician to respond to all these alarms at one time.  In an effort to alleviate this concern, the industry is developing technology with smart alarms that alert the care team when a patient's condition is changing. EWS technologies navigate a number of real-time vital signs and produce a single score that alerts clinicians if a patient is showing signs of distress. By setting smarter alarm limits, clinicians can reduce false alarms, drastically decreasing the stress for both patients and staff, and respond to a single alarm to provide immediate, effective care to their patients. Mobility can further enhance the use of these technologies to improve clinician workflow. By allowing clinicians to access and respond to these alerts on the go, it can further support earlier response and intervention.
RT: Does your company offer any pediatric- or neonatal-specific monitoring solutions and (if so) what special features are these devices equipped with?
Rogers: A neonate is a critical care patient, but not at all like a "little adult," so we provide options for settings that are specific to neonates. In standard Neonate Mode, we provide three settings made to address lung and cardiac needs of the neonate—all master settings can be customized based on the hospital's needs and standards of care. Thoughtful views pull together relevant information like OCRG (oxycardiorespirogram) with vital signs data so it can be simply visualized to inform care decisions. The alarm escalation features are very helpful in the NICU, as they can be customized to be based on specific numbers, percentages of values, time, warnings and critical. We provide sensitivities and algorithms that are specific for neonate patterns and provide options that are especially important for cardiac units, likely seen in level 3, 4 and academic NICUs. In addition, we provide thoughtful neonate supplies, like CO2 sensors and adapters that withstand humid environments from incubators and SpO2 products that are made for the neonate's sensitive skin.
Nihon Kohden also offers a dual SpO2 Smart Cable for CCHD screening (Pre and Post Congenital Cardiac Heart Disease), as we want to help hospitals meet this standard of care as simply and easily as possible. This information is clearly tracked in the EMR, which means there is no more guess work and providers can leverage information from birth to entry in the NICU to develop a care plan of action. The Nihon Kohden Dual SpO2 Smart Cable can be easily moved from monitor to monitor for flexibility. This allows the hospital to take the technology to the patient, not the patient to the technology, delivering better care and a more cost-effective monitoring option.
For pediatrics, Nihon Kohden continues the customization to accommodate different levels of patient needs at different stages in their lives. Nihon Kohden provides a number of different products that are developed specifically for pediatric measurements and comfort, like SpO2 for children and CO2 masks that are offered in various sizes for growing faces.
Salibra: Our vital signs monitors feature a pediatric mode with custom algorithms for pediatrics and neonates, and they support the inputs required to establish a Pediatric Early Warning Scoring (PEWS) system. We also offer pediatric- and neonatal-specific accessories like blood pressure cuffs and SpO2 sensors to support the most accurate measurements.
Dr Ziese: Philips has a number of fetal monitors, and the latest advancements provide expectant mothers with the ease of mobility through cableless monitors. With this technology, mothers can move around freely during pregnancy and labor with continuous monitoring, improving their experience to walk, sleep, eat and shower without the burden of being connected to multiple cables. The Avalon CL monitor transmits fetal and maternal vital signs plus fetal heart rate and maternal pulse with Smart Pulse technology, which differentiates between maternal pulse and fetal heart rate without the need of an additional sensor like SpO2 and ECG. The wireless monitor continuously feeds patient data to the EMR through IntelliSpace Perinatal, an obstetrical information management system designed to provide complete coverage from first antepartum visit through labor, delivery, postpartum, discharge and follow-up visits.
RT: Given today's reality of cybersecurity threats, how are hospitals balancing the need for quick, reliable access to patient data while protecting patient privacy? How is your technology designed to support this goal?
Rogers: Hospitals are partnering with patient monitoring manufacturers to ensure best practices are in place like data encryption to protect sensitive patient data while ensuring continuity of care. Our technology is designed with safeguards in mind, and our company is constantly watching new threats and vulnerabilities that emerge. When they are found, we take steps to quickly evaluate protective measures based on an assessment of the threat level.
Salibra: Too often, increased IT device security measures introduce additional workflows or cumbersome tasks for clinicians. The goal is a solution that is both very secure and very useable. That's why we have partnered with Imprivata to introduce single sign-on capabilities with our Connex® vital signs devices. The solution extends Imprivata authentication to the vital signs devices, and grants access with a simple badge scan—no additional user name and password entry required. The result is increased security without hampering the clinical workflow. We're highly focused on continuously improving in the area of cyber security for our devices from both an embedded software and connected system perspective.
Dr Ziese: Protecting patient privacy in the face of constant cyberattacks is a top priority for Philips, which influences the security features of our products to prevent loss of patient data. All Philips products are governed by our global Product Security Policy, under which the company conducts extensive ongoing analysis of our products, often in collaboration with customers and researchers, to identify and address potential vulnerabilities. Hospitals can balance the need for quick, reliable access to patient data and protect patient privacy through encryption of patient data within the network and working with their IT department for regular updates to prevent new cyber threats from compromising data from medical devices and patient records. Through routine upgrades and health system employees understanding the hospital's compliance policy, patient data can be quickly accessed and utilized without risk of compromising patient privacy.
RT: Regarding telemedicine, how is integrated monitoring technology helping to improve therapy adherence and chronic disease management, and helping to prevent hospitalizations?
Rogers: Telemedicine is the fastest growing segment in patient monitoring and is expected to continue to grow in the future. One of the biggest benefits of integrated monitoring at home is that patients gain an understanding of the changes in their own bodies and have the ability to ensure adherence or improve lifestyle to see results. Additionally, care givers can reach out to care providers if they see issues requiring intervention. If issues are identified early enough, they may be able to direct care over the phone or guide the patient to their primary care physician before an issue becomes urgent.
Salibra: Telemedicine is allowing care to be delivered outside the traditional hospital setting. We have customers using our vital signs devices in settings ranging from hospitals to convenience care to prisons to oil rigs. We also offer the Welch Allyn Home solution to help patients manage chronic conditions like hypertension with devices trusted by clinicians. There is a need for clinical-quality measurement in more areas than ever before, and we're investing in this area to support our customers when—and where—they need us.
Dr Ziese: For integrated monitoring outside of the hospital, clinical wearables can improve therapy adherence and chronic disease management by tracking vital signs and analyzing a patients' health data as they advance in their treatment. This insight gives clinicians a deeper understanding of therapy adherence outside of the hospital, and can help them to make real-time adjustments to care plans. For patients suffering from chronic diseases, it's important to evaluate their risk for developing a secondary health issue as a result of their pre-existing condition. Wearables can help track and analyze data to determine the risk of other complications, while helping the patient to manage their current chronic condition. By making adjustments to their care at home, patients are empowered to manage their conditions with the tools they need, which can improve therapy adherence and prevent hospital readmissions.
RT: What do you feel is on the horizon in the patient monitoring market? How do you think it will continue to evolve in the next 5-10 years?
Rogers: Nihon Kohden is focused on delivering smart, safe and secure data acquisition and management systems that improve outcomes, deliver population health and reduce healthcare costs. Over the next five to 10 years, we will continue to become less of a traditional medical device company and more of a medical informatics company that helps providers acquire and use data to practice predictive and preventative care. We will lead the industry in this area.
In the near-term, we expect to support hospital workflows with smart patient care using predictive analytics to help direct patients to the right care areas. With evolving informatics, patients can be directed to the right care area to address their issues, potentially bypassing the ED.
We also expect cybersecurity to continue to be a critical factor, especially as patient data continues to flow beyond the hospital and doctor's office into the home. In the patient's home, we anticipate that technology will enable monitoring to enhance care while simultaneously reducing the cost of care. We expect to see continued growth in monitoring customization so that monitors quickly adapt to both the specialist and the patient.
Overall, we expect workflows to become more streamlined, resulting in improved outcomes. At Nihon Kohden, we know that quality will continue to be an imperative no matter what the future may bring.
Salibra: We expect a continued push for more monitoring outside the walls of the traditional hospital. Whether it's urgent care, long-term care, or a "hospital at home" concept, there is a desire for care to be delivered in more places than ever before. We also expect wearable technology to continue growing over the next several years. There is interest in clinical-grade wearable devices and smarter data analysis tools for use in the hospital and at home.
Dr Ziese: The healthcare industry will see the shift of medical wearables from the experimental phase to mainstream healthcare. Wearables will become an integral part of the patient monitoring market, with the potential to address stress monitoring, blood glucose monitoring and cardiac monitoring. There is potential for wearables to monitor otherwise undetectable behavior and physical changes in patients that could advance to a disease like Alzheimer's, whose symptoms progress gradually over time. For the longer-term evolution of patient monitoring, artificial intelligence (AI) will continue to drive the technology for improved clinical decisions and the analysis of patient data.
Connected care technology with machine learning capabilities will empower clinicians to make proactive care decisions. By aiding clinicians with the most crucial data points at the time needed most, they have the opportunity to reduce unfavorable patient outcomes and improve patient care. As for patient data analysis, the industry is beginning to understand specific use cases for the immense amount of patient data collected by connected technologies, and I expect much more specialization to improve patient care as a result of this data in the next few years. RT
---
For more information, contact [email protected].
---
References
Meccariello M, Perkins D, Quigley LG, Rock A, Qiu J. Vital time savings: evaluating the use of an automated vital signs documentation system on a medical/surgical unit. JHIM. 2010;24(4):46–51.
Welch Allyn. Case Study. Lafayette General Medical Center. Giving Nurses the Gift of Time. 2014.