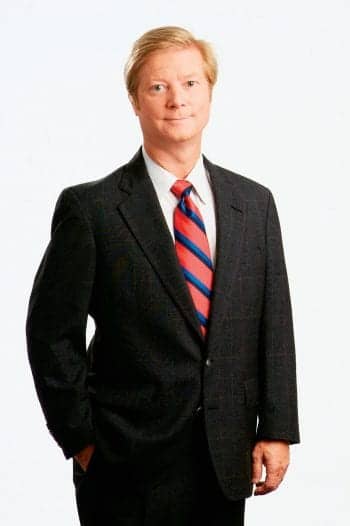 David Lain, JD, PhD, CRT , RRT
David Lain works hard. He has a JD and a PhD (in health science); he is a certified respiratory therapist and a registered respiratory therapist; and he is a fellow of the American College of Chest Physicians (FCCP), the American Board of Forensic Medicine (ABFM), and the American College of Forensic Examiners International (ACFEI). Lain is the vice president and chief clinical officer of Oridion Capnography Inc, Needham, Mass, a position he has held since 2006. And he is an active researcher, having published more than 100 articles, written nine larger works (from dissertations to books), and presented more than 117 times on topics ranging from "Practical Pulse Oximetry During High-Altitude Hiking" to sleep medicine to phototherapy for neonates.
Lain also plays hard. He swims, runs, and cycles—often all at once—in athletic competitions, such as the World Triathlon Championships in Kona, Hawaii (2008), and the ITU World Long Distance Duathlon in Richmond, Va (where he participated in 2007 as part of the USA Team). One might think it's possible Lain pushes himself too hard. But his work and "play" actually balance each other and enhance all the segments of his life.
"Long runs, bike rides, and swims are ideal times for me to clear my head and think. During an Ironman and while training for one, you have a lot of time alone with yourself. You really get to know who you are and what it is you should be doing, in that you learn to be thankful for what you have, what you are capable of doing, and how you can give back to help," Lain says.
ON A PRACTICE PHILOSOPHY
Lain has learned he is capable of accomplishing and giving back quite a lot. In addition to his research and full-time position, he is also a member of numerous societies and associations, including the American Association for Respiratory Care (AARC), the Society for Technology in Anesthesia (STA), and the American Academy of Sleep Medicine (AASM). The wide reach helps him to stay on top of current issues as well as provide a forum for his messages. "I work to bring a focus on patient safety and discovering safe and effective methods to monitor and treat patients," Lain says.
He accomplishes this through his work with Oridion and his research efforts. Oridion, a 20-plus-year-old company, develops Microstream Capnography monitors and modules and end-tidal carbon dioxide (etco2) breath sampling lines, and tools for monitoring the adequacy of ventilation and providing an early indication of airway compromise.
As vice president and chief clinical officer, Lain is responsible for strategic and tactical planning, the creation and development of intellectual property (he has nine patents pending), management of international clinical research, support for the Department of Regulatory Affairs, and direct marketing activities at a global level. The core values that guide him in his company role are similar to those that have guided him in his career: excellence, passion, integrity, innovation, and customer (and patient) satisfaction.
The work enables Lain to extend his reach more than if he had remained in private practice. "The research and development I am involved with allows me a greater impact over a broader range than I had at a single institution," Lain says.
ON DEVELOPMENTAL DRIVERS
Lain is guided in his developmental efforts by the market. "I look for unmet needs. [On a daily basis,] I try to figure out ways to improve the life of patients and end users of medical products. What is it the patients and clinicians need to deliver better care?" Lain asks.
He is currently involved in three pending patents covering the development of the Integrated Pulmonary Index (IPI), Smart Sleep Diagnostics, and monitoring of carbon dioxide during HFOV (high-frequency oscillatory ventilation). The IPI, a technology of Oridion, utilizes etco2, respiration rate, pulse rate, and Spo2 to assess a patient's ventilatory and oxygenation status. Monitoring trends with this algorithm can provide an early indication of problematic changes as well as offer the clinician a quick assessment of patient status.
Lain's past developmental work has resulted in the creation and co-development of new drugs (INO), mechanical ventilators (Ohmeda Advent, CPU 1, Respironics Quantum, and others), the BiliChek (a transcutaneous bilirubin measurement system for newborns available through Philips Healthcare, Andover, Mass), and fetal oximetry with Healthdyne (which was divided and sold in 1994).
A focus on direct patient care and safety has also resulted in his involvement in developing new methods for the thermoregulation of newborns and photoisomerization for hyperbilirubinemia. Some of his related research appeared in the Journal of Pediatrics and was presented at the annual conference of the Association for the Advancement of Medical Instrumentation (AAMI).
ON PROUDEST ACCOMPLISHMENTS IN REHABILTATION THERAPY
Lain cites some of these projects as his proudest accomplishments regarding his work in rehabilitation therapy. "Number one would have to be the IPI," Lain says, when asked. Being able to introduce something new to the field has been both exciting and fulfilling.
The IPI incorporates another research passion, capnography, which Lain has been studying and using for more than 30 years. "Capnography has played a major role [in my career] in that I was using etco2 in the late 1980s while looking for the 'great opening' of alveoli. It amazes me that capnography is an area where I have worked for decades to various degrees," Lain says.
His work in two other areas has also received acclaim from the medical community: that involving hyperbilirubinemia and that working with nitric oxide. Research and development on the first subject resulted in technologies such as the Ohmeda BiliBlanket; his work with the latter produced an inhaled medication system.
ON A STRONG RESEARCH FOCUS
Lain has maintained a strong focus on research and development throughout his career because he sees it as a way to improve patient care and safety. "Over the nearly 40 years [I have spent] in this profession, I have sought ways to bring research to the hands of students, respiratory therapists, scientists, and physicians at medical centers and universities globally," Lain says.
During that same time, Lain has also seen the profession grow and improve, contributing along the way where possible. Some of his early research and development involved what are now mainstream methods, such as the use of the high-flow nasal cannula, pressure control with inverse I:E ratio, pressure-controlled ventilation, and HFV (high-frequency ventilation). His global research on lung disease and patient safety has led to more than 300 publications. Journals in which his writing has appeared include Chest, Critical Care Medicine, Heart and Lung, and Respiratory Care.
Lain typically tries to take a universal view when approaching research. "By working with respiratory care practitioners and physicians globally, I get the experience of care provided worldwide," Lain says, noting he has developed a strong network of colleagues throughout the world.
His interests continue to be varied. "In 2011, I will be involved with more than 50 global research projects that focus on problems that range from neonatology to general floor care," Lain says.
ON THE MOST EXCITING RESEARCH
Lain has found his work broadening the understanding of gas exchange via capnography to be some of his most exciting. "It represents the fastest method to assess conditions such as respiratory depression," Lain says. Technologies such as the IPI provide new methods of managing interactions involving the body, such as oxygenation and ventilation.
"I see capnography playing a key role in critical care as well and postoperative monitoring of patients," Lain says. He has written on the use of capnography in the recovery room as well as determination of appropriate alarm settings, suggesting it is the safest method for monitoring patients. "During the past year, I have been extensively investigating patient risk specific to sedation and analgesia in multiple environments," Lain says. These range from the ICU to the field. In 2009, he published an abstract in Critical Care (March 13, 2009) on the use of continuous positive airway pressure and end-tidal carbon dioxide during respiratory distress in field emergency care that concluded capnographic measurements helped to improve ventilation (by decreasing carbon dioxide) in field emergencies.
ON THE ROLE OF RTS
Lain expects respiratory therapists to take a role in managing these types of therapies and technologies, explaining that the profession is key to improvements in patient safety and care. "Of the allied health professions, respiratory therapists are the experts in breathing. We need to take a leadership role in managing the post-op complications of patients that are associated with respiratory depression," Lain says.
In a letter to the editor that appeared in the journal Chest in 2008, Lain noted that respiratory depression is a risk during sedation, even in the ICU, stating that "Capnography is indispensable as a rapid monitor of respiratory depression that can be pharmaceutically imposed." He reiterates the point today, saying, "The management of patients with OSA [obstructive sleep apnea] postoperatively, as well as those with no history of respiratory conditions who can develop problems, is key to reducing or eliminating preventable death or injury."
ON BALANCE
Ironically, Lain has been studying respiration and sleep for years, but stays busy enough that he has probably lost a little sleep of his own during that time. Even so, he makes time for family and charity in between his work and play. "It is not always easy. But family comes first," Lain says. The rest is guided by passion, and not profit.
Lain does significant pro bono work in the medical community, providing community lecture and awareness programs in sleep medicine and volunteering with the American Heart Association. Outside of medicine, he has supported efforts to save endangered animals, created a scholarship fund for economically depressed young athletes, and worked with friends in Japan through the Amateur Radio Relay League to help contact families without phone communication as part of Japanese relief efforts.
He cultivates his global network of peers, noting he has collaborated with some of his colleagues for more than 25 years. "In your professional life, the people you work with and get to know, in my case worldwide, are more than colleagues—these folks are my friends," Lain says.
This enthusiasm for life and people is a strong guide for Lain in everything he does, but particularly his work. It has led to a long and successful career. "It's important to truly be passionate about your work, so much so that it feels natural and a part of you while you are doing it," Lain says. And so he works hard, and plays hard, because it's a natural thing to do.
---
Renee Diiulio is a contributing writer for RT. For further information, contact [email protected].