The Minolta Pulsox-2, distributed by Maxtec Inc, Salt Lake City, is ideal for SpO2 readings in the home care environment. Its rugged design provides reliable spot checks with every reading. The large LCD displays a pulse strength bar, battery replacement warning, and both SpO2 and pulse rate levels. The Pulsox-2 runs on two AAA batteries and offers four times the battery life of the competition, saving hundreds of dollars. (866) 4-MAXTEC; www.maxtecinc.com.
---
The IRC735 by Invacare Corp, Elyria, Ohio, is an easy-to-use, overnight screening pulse oximeter with a built-in printer that provides a summation report with the push of a single button. If complete overnight data is preferred, it can be downloaded using the Invacare Downloading Software & Computer Interface Cable (IRC783). The unit is powered by four AA batteries and will store two sleep screening cycles of data. It is offered with either a durable probe or five disposable probes, which are applied similar to a bandage, and stay on the patient's finger during sleep. (800) 333-6900; www.invacare.com.
---

CONMED Corp, Utica, NY, introduces a full line of Nellcor-compatible pulse oximetry sensors manufactured by Dolphin Medical. Sold by CONMED, disposable (foam or vinyl) and reusable sensors are available in sizes ranging from neonatal to adult. The sensors are clinically validated for accuracy and have a competitive warranty. (800) 448-6506; www.dolphinmedical.com.
---

Smiths Medical PM Inc, Waukesha, Wis, offers the MiniCorr handheld pulse oximeter, which provides SpO2 and pulse rate monitoring on patients from neonate to adult. The device is battery or AC powered and has adjustable alarm limits as well as visible and audible alarm signals. It incorporates the patented Serial Autocorrelation (SAC) Technology used in the BCI® Autocorr® pulse oximeter. This technology enhances its ability to detect pulse readings in all environments. The MiniCorr is adaptable to home, sleep, and clinical environments. (800) 558-2345; www.smiths-medical.com.
---

Mediaid Inc, based in Torrance, Calif, offers a pocket-sized pulse oximeter called the Model 100 that is ideal for use in physician's offices, emergency departments, hospitals and clinics, and home health care settings. This pulse oximeter is available with a built-in sensor or an external sensor with a cable adapter. The Model 100 is ideal for basic spot checking or continuous operation, and it provides fast and accurate measurements. It also features advanced DSP technology and a 2-year warranty. Mediaid also offers pulse oximeter software, sensors, and accessories. (310) 793-8844; www.mediaidinc.com.
---

Datex-Ohmeda, Madison, Wis, presents the 3800 and 3900 stand-alone pulse oximeters featuring TruTrak®+, a clinical motion algorithm that allows the pulse oximeters to provide more reliable performance during conditions of clinical patient motion. Used in combination with Datex-Ohmeda's OxyTip®+ sensors and cables, the 3800 and 3900 pulse oximeters offer improved SpO2 readings, an easy-to-use interface, and intuitive feature set. The company's TeleOximetry® PC Access software generates easy-to-read InstaReport data summaries for quick analysis. (800) 345-2700; www.us.datex-ohmeda.com.
---

From Masimo, Irvine, Calif, the new Radical pulse oximeter with Masimo SET V4 technology offers original Radical features and functionality with advanced ClearVue™, FastStart™, Smart Tone™ pulse beep, and APOD™ features. ClearVue maximizes screen clarity, while APOD dramatically minimizes the risk of measurement during times when the probe is off the patient. Radical provides continuous and reliable SpO2 monitoring throughout the continuum of care. Radical not only delivers the accuracy and reliability of Masimo SET technology, but with multifunctionality, ease of use, and true sensor standardization. (877) 462-7466; www.masimo.com.
---

The Pulsox-3 series of pulse oximeters by Konica Minolta, Mahwah, NJ, can be worn like a watch. They are lightweight at 1.5 ounces and simple to use—just turn on the power and measurements begin. Features range from basic pulse rate and SpO2 with pulse level bar to 24-hour memory, alarm functions, and a selection of sensors. Measured data can be downloaded to a PC. Two AAA batteries last for 48 hours. The compact size is ideal for recording data during sleep, exercise, or oxygen therapy. (800) 748-5355; www.pulsoxkonicaminolta.com.
---

The 920M™ PLUS pulse oximeter from Respironics, Murrysville, Pa, offers 72 hours of memory. The handheld pulse oximeter is small, weighs only 7.4 ounces, and incorporates several new patient features, including a larger display that makes it easier to read. Data is stored every 4 seconds and can be downloaded into Windows®-based software for data analysis, storage, and report generation. Powerful and efficient, the 920M PLUS pulse oximeter has 100 hours of battery life and 45 hours with NiMH rechargeable batteries. (800) 345-6443; www.respironics.com.
---

The OxiMax® NPB-75 handheld capnograph/pulse oximeter by Nellcor, Pleasanton, Calif, contains the company's latest OxiMax pulse oximetry technology to deliver accurate readings, even during the challenging conditions of patient motion or low perfusion. It features patented Microstream® capnography and breath sampling accessories to ensure smooth operation. It can be used for intubated and nonintubated applications and patients of all sizes. (800) 635-5267; www.nellcor.com.
---

Nonin Medical Inc, Minneapolis, introduces the Avant® 9700 tabletop/portable digital pulse oximeter, offering easy-to-read displays, flexible alarm management and printing options, 115 hours of memory, color displays, and an 8-hour minimum battery life. Its plethysmographic waveform changes color as patient signal quality changes. All alarm settings are customizable, and the patient security mode prevents accidental changes to critical parameters. Compatible with Nonin's PureLight™ sensors, the 9700 also features PureSAT™ signal processing technology. (800) 356-7807; www.nonin.com.
---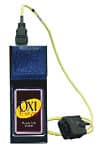 OxiCard® pulse oximeter by QRS, Plymouth, Minn, provides instant, real-time oxygen saturation and pulse rate assessment. OxiCard also offers spot checking and recording capabilities. Test results are quickly displayed, stored, and printed. Additional features include the ability to record up to 24 hours of SpO2 and customizable recording intervals. Capture data on a pocket PC and then synchronize that data to the patient database. QRS also offers the SpirOxCard®, a combination spirometer/pulse oximeter. (800) 465-8408; www.qrsdiagnostic.com.