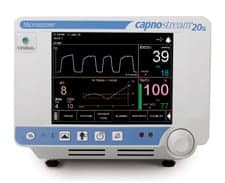 Covidien has released the Capnostream 20p bedside monitor, a new capnography solution designed to help clinicians identify and address serious health threats while appropriately managing sedation levels during ventilation.
The Capnostream 20p is equipped with Covidien's new Apnea-Sat Alert algorithm, which measures and reports recurring apnea (temporary cessation of breathing for more than 10 seconds) and oxygen desaturation events.
The Apnea-Sat Alert feature detects apneas per hour and oxygen desaturation fluctuations, displaying the values on the Capnostream 20p monitor screen without requiring additional equipment or clinical workflow changes, Covidien said.
Frequent apneic events can provide clinicians early warning of cardiopulmonary complications. Combining the Apnea-Sat Alert feature with Covidien's Microstream technology may facilitate early detection and treatment of cardiac arrest and others serious conditions, according to the company.
"Studies show that as many as 88% of hospitalized patients may be at risk for recurrent apneas, yet we're only identifying and treating a very small number,*" said Scott Kelley, MD, Covidien's chief medical officer for Respiratory and Monitoring Solutions. "The Capnostream 20p bedside monitor will help increase apnea detection rates and represents an important advancement in continuous patient monitoring that we believe will help save lives."
Apnea-Sat Alert technology is a part of Covidien's Smart Alarm Management technology that helps mitigate alarm fatigue while meeting Joint Commission guidelines for alarm management, according to the company.
More information is available on the Covidien website.