St. Jude Children's Research Hospital relies on its talented and motivated cardiopulmonary staff to continue the vision of its founder.
By Phyllis Hanlon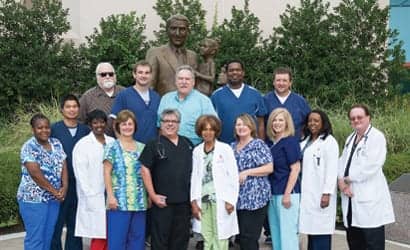 Front Row (L to R): Karatha McWright, Angie Jones, Laurie Greenwell, Joe Pusateri, Bobbie Coleman, Marilyn Hodges, Robin Ainsworth, Julia Grandberry, and Doug Harper. Back Row (L to R): Ruben Mobo, Ed West, Jason Rains, Jim Cresswell, Antoine Johnson, and Keith Wilder.
In the 1940s, struggling entertainer Danny Thomas prayed to St. Jude Thaddeus, the patron saint of hopeless causes, and asked the saint to "help me find my way in life, and I will build you a shrine." Thomas' success is legendary, as is the result of his promise. Created in 1962 to "advance cures, and means of prevention, for pediatric catastrophic diseases through research and treatment," St. Jude Children's Research Hospital in Memphis, Tenn, has made, and continues to make, a significant impact on the lives of children worldwide.
Professional, Highly Trained Staff
The cardiopulmonary department at St. Jude, which includes a staff educator and 19 respiratory care practitioners, plays a vital role in fulfilling the hospital's mission, according to Jim Cresswell, BS, RRT, director of cardiopulmonary services. Located within 40 feet of the intensive care unit (ICU), the department occupies 1,763 square feet and includes dirty processing and clean storage areas, tank room, clean equipment room, two offices, and a technician break room.
Although St. Jude has no emergency room, the hospital has several busy outpatient clinics. Cresswell said, "We see 16,700 inpatient days per year and 257,000 outpatient visits a year. The hospital has 64 operating beds and is licensed for 78. Our ICU has eight beds." The average length of stay for FY2013 was 5.4 days. "Patients come from around the world with hematologic or oncologic diagnoses. We treat patients aggressively through research-based protocols, incorporating the latest in radiological, surgical, and chemotherapeutic regimens," he said.
Cresswell noted that 95% of St. Jude respiratory staff is nationally registered. "Ideally, I try to hire someone with pediatric NICU experience. You have to be able to apply your knowledge and critical thinking skills effectively with all patients you treat," he said, adding that ongoing education and training keep staff updated on the latest trends. "Every year, the department educator, Keith Wilder (BS, RRT, AE-C), along with the staff, identifies topics in current literature to offer RTs in-service training that advances their knowledge of equipment and techniques." The educator also assesses staff competencies and coordinates an annual seminar. "Keith brings in national speakers. It's a large regional event that brings attendees from four to five states," said Cresswell.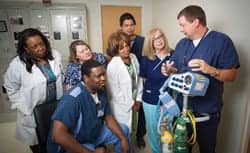 Keith Wilder (right) gives in-service on a transport ventilator to (standing, L to R) Julia Grandberry, Marilyn Hodges, Bobbie Coleman, Ruben Mobo, Robin Ainsworth, and Antoine Johnson (seated).
In addition to in-service training, the department sends staff members to local, regional, or national seminars every year, Cresswell said. "By doing this, staff can see what equipment and therapy are trending and bring that information home to apply or modify our practices. It's extremely important to educate and promote life-long learning among our staff."
The department uses a self-scheduling system and has a weekender program, which offers flexibility. "When someone needs a day off, they cover for each other," he added. "Staff knows what is required and needed. Providing that flexibility and letting staff take ownership in the process promote job satisfaction and retention.
"Once every four or five years, we see turnover due to life circumstances, but fortunately we have created an environment where therapists want to work. We have a clear mission and strive to choose the brightest and best to be part of our team," Cresswell said, noting that St. Jude has been a consistent presence on the Fortune Magazine list of the annual "100 Best Companies to Work For."
Collaboration and cooperation are keystones of the cardiopulmonary department. "They are a passionate, caring, highly skilled staff that is dedicated to patient care. They are not doing this work for self-gratification. We take a proactive approach and promote positive patient outcomes. We are always looking for subtle changes in patients and will intervene quickly," Cresswell said.
Pam Dotson, RN, MBA, NEA-BC, senior vice president, Patient Care Services, and chief nursing officer, takes pride in the accomplishments of this department. "Our respiratory team is comprised of talented individuals, whose knowledge and skill are only surpassed by their compassion and commitment to our patients," she said. "I am very proud of the whole team, the care they deliver, and the leadership provided by Jim Cresswell as their director."
Interaction With Other Departments
In 2006, St. Jude formed a multi-disciplinary rapid response team, which Cresswell co-led. He explained that the team offers intervention and another set of eyes in an emergency situation. "We are one of the few in the country without a physician on the team. Our team includes an RT, a nurse coordinator, and a critical care nurse," he said. "We have found we are able to get the patient to the right level of care at an early stage, which reduces the outcome severity. We transport many patients to the ICU in an average time of 28 minutes. Since implementing, we have yet to intubate a patient."
Leadership at St. Jude recognizes the treasure they have in their respiratory care professionals. "We have an amazing group of respiratory therapists who bring outstanding skills to our critical care environment. Our RTs are attentive to even the most subtle changes in the cardiopulmonary status of our high-risk children, who often have long-standing underlying cancer or other catastrophic disease," said R. Ray Morrison, MD, division chief, Critical Care Medicine. "With the experienced clinical acumen our RTs provide, we are frequently able to intervene early with non-invasive respiratory support with the intent to avoid mechanical ventilation. When it's clear that invasive mechanical ventilation is required, I'm always thankful to partner with such skilled respiratory therapists at the bedside."
Cresswell's staff uses the latest equipment to better serve its pediatric patients, including nitric oxide and transport ventilators. "One of the best pieces of equipment we use is a high frequency aerosol nebulizer. It removes secretions and eliminates the need for patients on the general unit to go to step-down or ICU," Cresswell said, pointing out that these children all have immunosuppressed systems and are at high risk for complications.
St. Jude uses the Cerner power chart system and documents electronic health information with handheld scanner units, Cresswell noted. "But one of the best technology systems we use for our staff is a voice activated communication system. We wear it around our neck. It eliminates the need for pagers and increases response time and communication."
Research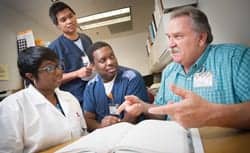 Department director Jim Cresswell (right) explains new protocol to staff.
Extraordinary research efforts at St. Jude have led to significant advances in prevention, detection, and treatment of childhood cancers, according to Cresswell. He pointed out that when the hospital was founded in 1962, the cure rate for leukemia was < 5%. "That rate is now 92%," he said. "Our cure rate for brain cancer is 70%, well above the national average."
One research effort involves the St. Jude Life Cohort Study, which evaluates survivors as far as 50 years out from diagnosis. "We are looking to see what other medical problems they might have as a result of their initial disease or treatment," noted Cresswell. In addition, nine respiratory care practitioners have been involved in research and six have been published in peer-reviewed journals. Staff continually work on new ideas and participate in evidence-based research to improve treatment. "We benchmark ourselves nationally and constantly look for ways to improve our patient outcomes. Our rate for VAP is less than 0.5%," Cresswell said.
As for the future, Cresswell sees an evolution into a more protocol-driven department. "We are looking for better ways of doing what we have
already done. We're very accepting of innovation and are always trying to find new and better ways of doing things," he said, adding that writing more papers and conducting more research—anything that will save more children's lives—will lead to the ultimate goal of preventing and curing childhood illnesses. RT
---
St. Jude Children's Research Hospital
262 Danny Thomas Place
Memphis, TN 38105
(901) 495-3300
www.stjude.org