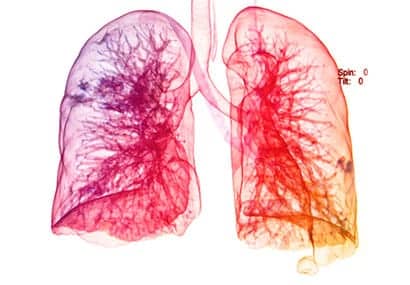 Patients with COPD and emphysema have reduced pulmonary vein dimensions, according to researchers at the Columbia University.
"These findings support a mechanism of upstream pulmonary causes of under-filling of the LV (left ventricle) in COPD and in patients with emphysema on computed tomography," the authors concluded. Conversely, increased pulmonary vein area would have pointed to intrinsic LV dysfunction, they added.
Investigators reviewed data from 165 people with a history of smoking, 53% of whom had COPD. Participants were primarily recruited from the Multi-Ethnic Study of Atherosclerosis (MESA) COPD Study.
In patients with COPD, the mean total cross-sectional pulmonary vein area was around 10.4% smaller, even after adjusting for confounders, at 562 mm2 and with 618 mm2 respectively. Percent emphysema, as measured via CT, was significantly inversely related to pulmonary vein area. Those in the highest quartile had a predicted total area of 526 mm2 compared with 652 mm2 in the lowest quartile.
The authors found that the association between emphysema and pulmonary vein area was true even in patients without COPD.
"These findings suggest that impaired LV filling in COPD, and also in emphysema in the absence of clinical COPD, may be predominantly due to reduced LV preload from upstream pulmonary causes rather than intrinsic diastolic dysfunction," the authors wrote.
They note that signs on echocardiography, such as reversed E/A ratio, may be misinterpreted as LV dysfunction in patients with COPD, when they in fact represent increased stiffness of the left ventricle or states of low LV filling pressure. Their study findings support this, as patients with COPD were 2.6 times more likely to have an abnormal E/A ratio than controls.