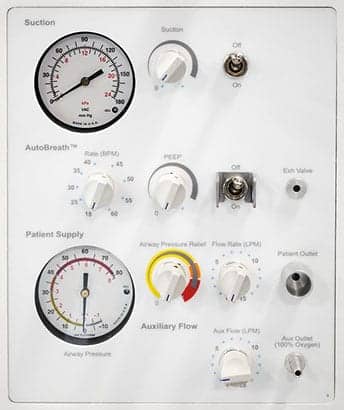 Dräger has introduced AutoBreath, a device that automates the neonatal resuscitation process. The product allows clinicians to set and deliver consistent peak inspiratory pressure (PIP); fraction of inspired oxygen (FIO2); positive end expiratory pressure (PEEP); liters per minute (LPM); and breaths per minute (BPM). This potentially contributes to a decrease or elimination of air trapping, hemodynamic insult, and inadequate ventilation. AutoBreath is an advanced respiratory support option of the Resuscitaire Radiant Warmer.
"AutoBreath allows you to match ventilation rates with the recommended clinical protocols and guidelines for neonatal resuscitation," said Lorna Kane, marketing director of neonatal care and workplace management, North America for Dräger. "Because it eliminates inconsistencies in care caused by fatigue and different levels of clinician experience, AutoBreath supports more consistency in care across shifts."
AutoBreath reduces the risk of insufficient inflation and over-inflation of the infant's lungs during resuscitation, both of which can result in serious injury. The consistent inspiration rate delivered by the AutoBreath minimizes the potential risk of human error.

Photo © Drägerwerk AG & Co. KGaA.