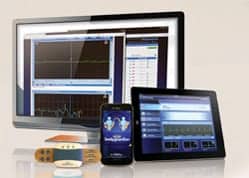 Preventice Inc has launched the BodyGuardian Remote Patient Monitoring System (BodyGuardian RMS), a new noninvasive remote monitoring device designed to detect and monitor non-lethal cardiac arrhythmias for ambulatory patients.
The BodyGuardian System, developed in collaboration with Mayo Clinic, uses sophisticated algorithms to monitor key biometrics outside of the clinical setting, allowing patients freedom and mobility to continue their daily lives. A small body sensor adheres to the patient's chest to collect ECG, heart rate, respiration rate, and activity level. Patient data is then transmitted via mobile phone technology to the Preventice mHealth platform for physicians to review online or on a mobile device.
In addition to the algorithms from Mayo Clinic, the device uses technology from STMicroelectronics and Samsung Electronics. Jon Otterstatter, Preventice co-founder, president, and CEO, the stated the partnerships between the four brands developed "a remote monitoring platform that meets the most stringent privacy and security standards, that is reliable in a variety of clinical and non-clinical settings, and that exceeds the usability expectations of today's sophisticated consumers."
The BodyGuardian RMS received 510(k) clearance from the FDA in August 2012.