No Decline in Asthma Exacerbations
New data from a study supported by AstraZeneca and presented at the 62nd Annual Meeting of the American Academy of Allergy, Asthma and Immunology (AAAAI) show that despite numerous treatment options for asthma, patients experience emergency department visits, hospitalizations, or attacks at a rate that has not declined substantially over time.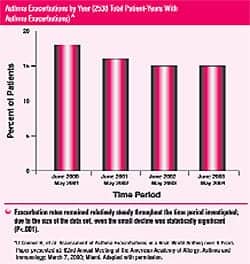 Additionally, the data showed that asthma patients who have experienced an asthma attack are twice as likely as other patients are to experience additional exacerbations. "Despite the numerous asthma treatments available in the United States to treat adults with asthma, and the emergence of new therapies, the disease is still poorly controlled. In many cases, this may be due to the lack of physician and patient compliance to therapy despite asthma exacerbations," said Richard O'Connor, MD, director, Department of Quality Management, Sharp Rees-Stealy Medical Group, lead author of the study. "The findings provide evidence of the need for new ways to help patients and physicians optimize their disease management, including new medications that help control the everyday symptoms of asthma."
Respiratory Diseases Leading Cause of Child Hospital Visits
The most common reason why American children require hospital care, other than when they are born, is to treat respiratory disorders, according to US Department of Health and Human Services' Agency for Healthcare Research and Quality (AHRQ). Respiratory disorders—primarily asthma, pneumonia, and acute bronchitis and bronchiolitis—account for roughly 23% of hospital stays for all children age 17 and younger. The number of hospitalizations for each of these conditions ranges from 154,000 to 166,000 a year. Next in importance are digestive disorders, followed by nervous system conditions ranking third, and endocrine, nutritional, and metabolic disorders taking fourth. Fifth goes to teenage pregnancy, while mental disorders and substance abuse ranked sixth. These statistics are from the Kids' Inpatient Database, part of AHRQ's Healthcare Cost and Utilization Project (HCUP).
Asthma Risk Increased in Women with High Levels of Inflammatory Protein
Women with high levels of an inflammatory protein produced by fat tissue are at significantly increased risk of asthma, finds research printed in the March 2006 issue of Thorax. The researchers measured the levels of leptin, an inflammatory protein that is produced by fatty tissue in the body. Leptin levels were significantly higher among those who had been diagnosed with asthma, than among those who had never had the respiratory disease. After taking into account various factors likely to influence the findings, the association between leptin and asthma appeared to be stronger in women than in men, and stronger in women who had not yet gone through menopause. Although heavier women had a greater risk of asthma, this was not explained by their high leptin levels. The findings suggest that the protein may not be responsible for the link between overweight and asthma, but may have an independent role in increasing the risk for the disease, say the authors.
Use of High Humidity Does not Improve Symptoms for Children With Croup
For children with moderate to severe croup treated in the emergency department, use of high humidity did not improve symptoms more than low humidity or mist therapy, according to an article in the March 15 issue of JAMA. "Our trial shows that, in children with moderate to severe croup, 100% humidity, even when delivered in water-particle size designed to deposit in the larynx, does not result in greater clinical improvement than either controlled delivery of 40% humidity (optimally delivered placebo) or humidity delivered using the blow-by method (commonly used placebo)," the researchers write. They also found no significant difference in changes in respiratory rate, heart rate, or oxygen saturation at 30 or 60 minutes among the three groups. "Our results suggest that the use of humidity in children with croup admitted to emergency departments is not warranted," the researchers write. "Humidity may actually have been found useful because of other factors associated with its use such as the comfort of being close to parents or the low temperature used for delivery in certain humidification devices."