Even with 230 respiratory therapists spread across four acute care hospitals, RTs in Lee Memorial Health System still share one purpose: "Provide Better Breathing for Life."
By Phyllis Hanlon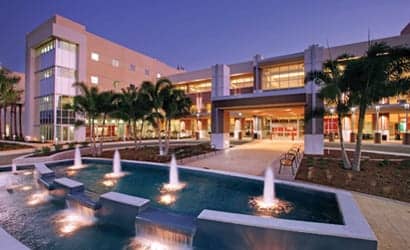 Lee Memorial Health System, one of the largest public, not-for-profit health systems in Florida, includes four hospitals. Gulf Coast Medical Center (pictured above) is a 349-bed acute care facility in Fort Myers, Fla.
Citizens in southwest Florida are in good hands when it comes to first-class healthcare. Lee Memorial Health System (LMHS), a 1,600-bed system founded in 1916, serves several counties in this corner of the Sunshine State, including Lee, Charlotte, Collier and Hendry. With more than 1,300 physicians, approximately 10,500 employees, and 4,500 volunteers, Lee Memorial Health System is well positioned to deliver state of the art health services to a wide range of patients. One of the largest public, not-for-profit health systems in Florida, LMHS is governed by a 10-member board of directors, which is elected by Lee County residents.
The system comprises 4 acute care hospitals: Lee Memorial Hospital, HealthPark Medical Center, Gulf Coast Medical Center, and Cape Coral Hospital. In FY 2010, LMHS recorded more than 72,000 inpatient admissions, saw more than 212,000 patients in the emergency rooms, delivered approximately 6,500 newborns, and treated about 2,000 trauma patients.
Respiratory Care Services (RCS) contributes significantly to the comprehensive patient experience within the four acute care hospitals, as well as ambulatory services in two of the system's outpatient centers. When the department's current system director, Alan D. Cunningham, BS, RRT, joined LMHS in May 1983, the RCS Department included 16 respiratory therapists. During the last 30 years, Respiratory Care Services has blossomed, in terms of both staff and scope of services.
The department interacts with the patient beginning with the initial entry into the system, and continuing with the education process, diagnostics, monitoring and therapy, rehabilitation, smoking cessation programs, and at-home care. With approximately 230 therapists on staff, Respiratory Care Services has the experience and expertise to serve all patients, from neonatal to geriatric.
Highly Educated And Trained Staff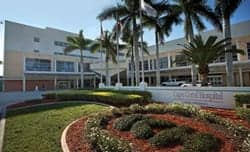 Cape Coral Hospital (Cape Coral, Fla) was built in 1977 and joined Lee Memorial Health System in 1996.
All therapists at Lee Memorial Health System are, at minimum, registered respiratory therapists (RRTs). Approximately half hold a bachelor's degree and some have masters or doctorate degrees, according to Cunningham. A local state college offers a baccalaureate program for RTs, which accounts for the prevalence of highly educated staff.
Additionally, on-the-job training supplements the academic experience and helps to orient new therapists to the various departments and required responsibilities. "We have a very dedicated supervisor and education team to bring new therapists along. Our education specialist, John Campbell, keeps track of the competency level of every RT. When we have a new hire, we orient them and analyze their skill set, then train and assist with improvements that will help the person succeed," Cunningham said. Staff often moves among the four campuses, which presents a number of opportunities to work in different settings. For that reason, a large proportion of staff is cross-trained.
Cunningham reports a very low turnover rate at LMHS. "Our staff see opportunities for their career path and don't want to leave. On average, staff has been here 15 years, a lot of them as long as 30 years. The longevity comes from our professional environment. We are a close-knit group and support each other both inside and outside the hospital system," he said. "Our culture provides a challenging, professional, and rewarding work environment. Our system rewards staff for being innovative with new ideas and concepts for safety, efficiency, quality and cost savings."
The system director, as well as the RCS Department directors—Darrell Detzel, Kevin Stuckert, and Diane Sobel—are credited for their accessibility to staff and the creation of vehicles that promote participation and input. "An example of this would be our staff council and quality of care council. The staff council deals with day-to-day issues, while the quality council addresses investigative processes and new technology," he noted.
For instance, members of the staff council represent front line employees. "We give them the autonomy to develop and discuss processes," Cunningham explained. The council examines current procedures and evaluates the efficiency and cost-effectiveness factors. All staff is encouraged to submit ideas via a suggestion box. These comments then become the starting point for discussion. "We ask if we can do things better, smarter, and more cost effectively, keeping in mind patient quality of care. Staff takes ownership and pride in their department and in the care that they give the patients. They are making a difference in the healthcare needs of the county," said Cunningham.
Specialized Services
Just as the Respiratory Care Department has grown significantly, so, too, has the scope of services it offers. At Lee Memorial Health System, patients can expect to find respiratory therapists intimately involved in 14 different ICUs that focus on stroke, adult and pediatric oncology, open heart, neurology, pediatric, surgical, medical, neonatal, and perinatal patients. RTs also work in the four emergency departments, a Level II Trauma Unit, and Gulf Coast Medical Center's nationally recognized kidney transplant unit.
To facilitate communication among the units and clinical personnel, and to improve patient care, LMHS recently converted its system-wide record keeping and documentation procedure to EPIC, an electronic medical record system. "We feel this has enhanced our quality, safety, and efficiency," said Cunningham.
LMHS is also known for its top-notch newborn and maternity care. "Our NICU is a 48-bed Level-III Regional Intensive Care center, which provides services to a seven-county region. These units are one of 11 RPICC centers in the state of Florida and the only one in our region," he said. RPICC is a statewide health care delivery system designed to provide optimal care to women with high-risk pregnancies and to sick and preterm newborns.
He added that LMHS has the lowest mortality rate for very low birth weight (<1,500 grams), the third lowest morbidity rate, and one of the lowest retinopathy of prematurity (ROP) rates in comparison to other RPICC centers in the state.
Attuned to the growing needs in this niche area, Lee Memorial Health System is in the process of expanding NICU and pediatric units. The new Golisano Children's Hospital will be constructed at the HealthPark site and will offer an expanded menu of services for babies, children, and parents. "Our NICU is very family oriented, and the new hospital will allow for a 64-bed, private room, Level III unit that will house approximately 41,000-square feet of space solely dedicated to the NICU and staff," Cunningham explained. "We are very excited to break ground on the newest children's hospital in the nation and with the expertise of our NICU supervisor, LaReina Walsh, begin the process of enhancing our staff to further meet the needs of our increasing number of patients in southwest Florida."
Although Respiratory Care Services contributes significantly in every area of the health system, one of its specialties is pulmonary diagnostics. "We offer the most current testing techniques available for pulmonary function testing, such as bronchial challenges, IOS, plethysmography, and complex pulmonary stress testing. We oversee 17 blood gas labs system-wide, which are maintained under the direction of our RCS medical director and pulmonary diagnostics supervisor, Cheryl Daly," Cunningham said. "Our bronchoscopy labs are providing the most cutting-edge technology available, including bronchial thermoplasty for treating uncontrolled asthma, and EBUS for a more precise diagnosis of lung cancers. We also offer superDimension Navigational Bronchoscopy, airway valve insertions for providing timely closure for pneumothorax leakage and fiducial markers along with argon intra-bronchial lesion destruction."
Accomplishments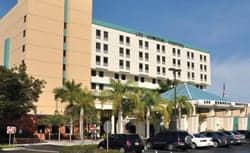 Lee Memorial Hospital opened in 1916 and now serves 355 beds, including a Level-II Trauma Center.
Respiratory Care Services is especially proud of three innovative programs that are helping to change the lives of those with pulmonary issues, one of which is the Asthma Management Program. "This program, with the dedication of our asthma education coordinator, Teresa Summe, has reduced emergency department visits and admissions by 90% over the last three years," Cunningham said. "With asthma diagnoses increasing over the last five to 10 years, patients now feel that they have more options and control to help manage their disease."
Another example of the department's innovation and cutting-edge techniques is its COPD Readmission Program, a pilot study for COPD management. "The new government guidelines, which will soon affect financial reimbursement for COPD readmissions, are a major concern for all healthcare facilities. This initiative crosses many departmental lines, utilizing respiratory therapists, nurses, physicians, social workers, DME, pharmacists, and discharge planners," Cunningham said. "Our goal is to reduce readmission by 20 to 25 percent, which could result in a significant cost savings to the system." Lee Memorial Health System is the first healthcare facility in the state to offer this type of comprehensive program to help COPD patients manage the disease process.
Sleep disorders and pulmonary function are often linked and LMHS opened its accredited Sleep Disorders Center under Cunningham and Sleep Lab director James Hill in 1984, to address these comorbid issues. With three locations and 13 beds, Lee Memorial Health System also features the only pediatric sleep lab in southwest Florida, according to Cunningham. "We will be expanding these services to help meet our patient population demands."
Federal, Academic, And Professional Partnerships
The incredible advances taking place at Lee Memorial Health System have attracted federal attention. Cape Coral Hospital received a research grant from the Department of Defense (DOD) to study the business case for Optimal Healing Environments (OHE). Strong academic partnerships also enhance the health system's ability to deliver first-class services and programs to its patients. LMHS has partnered with Edison State College to provide education and research on alternative medicine. "Both the government grant and the partnership with local universities involve all departments, including respiratory care, and, as bedside patient care providers, will become an integral part of how we deliver respiratory care services."
Cunningham's participation on several boards helps to keep the department apprised of the latest techniques, state-of-the-art technologies, and newest protocols. He serves as chair of the advisory committee at Edison State College's Respiratory and CVT Department. He also sits on the American Lung Association board and chairs the Florida Respiratory Leadership Network, an organization that assembles the directors of other respiratory care departments in the state.
Growing Into The Future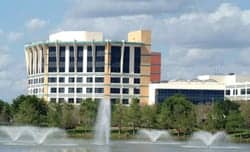 Opened in 1991, HealthPark Medical Center is a 368-bed acute care facility serving the Fort Myers area.
Looking ahead, Cunningham anticipates continued growth in Lee Memorial Health System's Respiratory Care Services Department. He expects his respiratory therapists to contribute even more to the outpatient areas and envisions an expanded sleep lab. The Asthma Management Program and COPD Readmission Education Program will receive greater attention and enhance its services, he added.
Cunningham credits his management team for the cohesion and professionalism of the department, including its medical director Razak A. Dosani, MD. "We recognize and appreciate our coordinators and many lead therapists who manage the front lines at all of our facilities. We would not be successful without them. We are one department working together in many locations as a family and team," said Cunningham.
Each of the four campuses in Lee Memorial Health System displays a plaque: "Our Purpose: Provide Better Breathing for Life." Its Respiratory Care Services Department embraces that philosophy as evidenced by its four goals: to inspire and develop our employees to take ownership of our mission; perform diagnostics, treatment, and rehabilitation in the most efficient and effective manner; work in collaboration with physicians and our community to promote and improve our quality of care; and evaluate and implement new technologies and equipment through education and technical support. RT
---
Lee Memorial Health System
Fort Myers and Cape Coral, FL
(239) 343-2000
www.leememorial.org