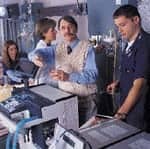 CPAP Wipes
Beaumont Products Inc, Kennesaw, Ga, offers Citrus II CPAP Mask Wipes containing a unique formula designed for effective cleaning of all types of CPAP, bilevel, and oxygen therapy masks, tubing, and accessories. Rinsing is not required with the wipes, just wipe the mask clean and it will dry in seconds. Safe and gentle to use, the wipes will not dry, harden, crack, or deteriorate soft plastic with repeated use. Use daily to remove dirt and oils and to prevent the buildup of organic material. Made with natural citrus, corn, and coconut oils, Citrus II CPAP Mask Wipes clean, deodorize, and refresh, leaving no residual after odor. (800) 451-7096; www.citrus2.com.
---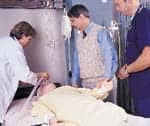 Universal Belt
Medcare, Buffalo, NY, announces the launch of the new XactTrace™ Universal. These XactTrace belts, featuring respiratory inductive plethysmography (RIP) technology, deliver a highly sensitive and reliable respiratory effort tracing. This new Universal belt can be used with all Medcare systems as well as other PSG recording systems that have the same signal range. The XactTrace Universal is reusable, and one size fits all, providing a custom fit for every patient. The belts are easily adjustable and lightweight with a snap connector for reduced preparation time. The XactTrace Universal Sensor includes LED status indicators and requires no additional modules. (888) 662-7632; www.shopmedcare.com.
---

Cylinder Wrenches
New cylinder wrenches from Responsive Respiratory, Fenton, Mo, include hot stamped "on/off directional arrows" to eliminate confusion with cylinder use. The product also includes a valve seal slot to grasp seals for easy removal on filled cylinders. (866) 333-4030; www.respondo2.com.
---

Color Ventilator
The US Food and Drug Administration has granted Hamilton Medical Inc, Reno, Nev, 510(k) clearance to market a new version of its RAPHAEL Color ventilator, complete with noninvasive ventilation and tube resistance compensation (TRC). The RAPHAEL Color is a compact biphasic ventilator designed to help pediatric and adult patients breathe more freely in all modes and phases. To reduce the patient's work of breathing while on the RAPHAEL, TRC offsets the flow resistance imposed by the endotracheal or tracheostomy tube. (800) 426-6331; www.hamilton-medical.com.
---

Endotracheal Tube Holder
Dale® Medical Products Inc, Plainville, Mass, introduces the Dale Stabilock™ endotracheal tube holder, providing a more secure method of stabilization and giving clinicians a better way to prevent accidental extubation. The flexible, cushioned, and latex-free system is easy to apply and secures most endotracheal tubes. The adhesive base that acts as the underpinning of the system is skin friendly and attaches to the neckband with a Velcro® strip to prevent slippage. The lightweight, flexible tubing channel prevents kinking and allows easy access for oral care. Patient comfort and a secure fit are ensured by the soft, easily adjustable, cushioned neckband. The holder is also adaptable for patients with facial hair and complies with Advanced Cardiac Life Support guidelines. (800) 343-3980; www.dalemed.com.
---

Apnea Monitoring
CAS Medical Systems Inc, Branford, Conn, offers a family of products for apnea monitoring needs. For home use, the portable Ami Plus monitor provides a built-in modem. In the hospital, the 511 monitor offers durable heart and respiration monitoring along with the option of the latest in oximetry technology all in one unit. CAS Express software allows users to quickly access, review, and analyze data from either the Ami Plus or the 511. CAS also offers a line of disposable supplies for the neonatal intensive care area. (800) 227-4414; www.casmed.com.