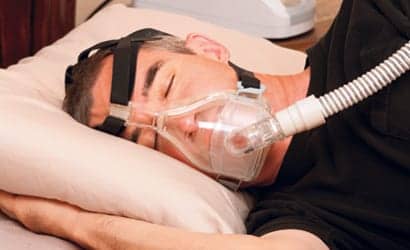 September's RT Market Analysis discusses one of the fastest growing product markets in respiratory care and sleep medicine: CPAP masks and interfaces. Executives from five leading product manufacturers spoke with us about the lastest developments in the market and their companies:
Steve Moore, Vice President of Sales & Marketing for Airway Management, Carrolton, Tex;
Brian Palmer, Product Marketing Director, Sleep, DeVilbiss Healthcare, Somerset, Pa;
Ron Richard, CEO of InnoMed Technologies Inc, Coconut Creek, Fla;
Kelly Rudolph, President of Hans Rudolph Inc, Shawnee, Kan; and
PJ Ruflin, Director of National Accounts for Sunset Healthcare Solutions, Chicago.
The respondents talk about some of their newest and most innovative CPAP masks and some of the patient-focused trends that are seeing their products become lighter, simpler and more affordable.
---
RT: What are the latest trends and developments in CPAP masks and interfaces? How have products changed in the last few years?
Steve Moore (Airway Management): The trend is to minimalize things like headgear and mask size along with creating simplicity of fit and ease of patient use. Also, extended warranties to get the provider through the compliance measurement period.
Brian Palmer (DeVilbiss): This entire sleep industry is continuing to grow and mature. Patients are becoming much savvier about the products available in the market. The biggest change in interface products has been the size and weight. Masks are getting smaller and lighter each year. Small nasal masks are a key portion of the market that is getting the most attention right now.
Ron Richard (InnoMed): The basic categories haven't changed all that much but there seems to be more selections within the categories, ie. more options for women and children. The focus on new products for women is interesting, new mask designs that focus on the special needs of a women's are going to overall improve adherence to their therapy. Overall, masks were much bulkier and were not very comfortable or user friendly. Masks generally are getting smaller and offer multiple size cushions in one kit, which has also helped with sizing and compliance.
Kelly Rudolph (Hans Rudolph): We see our competitors trying to come out with new models every 6 months but forgetting the most important thing about CPAP masks: quality and ease of use and cleaning. We spend our time designing and making masks that last longer without fail, are easy to use and clean, are low cost, and, most importantly, provide a good seal on the sleeping patients face.
There are faster modes of development available to use, more materials to work with, better mold designs, better machining centers to work with, and more competition, so prices have gone down.
PJ Ruflin (Sunset): In my experience, and in Sunset's experience, we basically see CPAP masks becoming more simplified, which means less adjustment, quicker release straps, things where it's very easy to change the cushions and to get it on and off your face. Making them more unobtrusive is another trend: lightweight, specifically, and easy to use as possible, which goes with the simplifying.
Lightweight is definitely becoming an important feature, as nasal pillows and other different types of styles of masks emerge, not just a full face or a nasal mask. Patients are also asking for quiet use, to allow them and their partners to sleep better. A great seal is a major focus now as well. Another trend is mask guarantees. Mask manufacturers are making sure to guarantee their masks so if the patient doesn't like it, he/she can send it back and find something they do like.
RT: Tell us about your company's most recent CPAP masks or interfaces. What makes them innovative?
Moore: Airway Management released its first CPAP interface in 2013, called the TAP PAP Nasal Pillow Mask. The TAP PAP anchors to the upper teeth and eliminates the need for headgear. Unlike most nasal pillow designs, patients can use the full range of pressure up to 20 cm H2O. The device comes with an industry first 90-day compliance guarantee. We will replace the mask to the provider's inventory if the patient is deemed non compliant.
Palmer: DeVilbiss recently launched the Innova Nasal CPAP Mask. There are 2 innovations that separate this mask: simplicity and weight. The mask has a permanently attached gel cushion to make cleaning and maintenance easy for patients—no removable parts, with the exception of the headgear. This also allows the mask to have the weight of a silicone, but retain the comfort of a gel. We are excited to be able to offer patients this unique combination.
Richard: InnoMed Technologies has been focused on developing mask interfaces for the past decade and continues to see that as our core business. Our most recent mask designs are aligned with the trends in the sleep market. Our newest interface is the Aloha Nasal Pillow System has headgear that enables the clinician to adjust the fit and comfort levels easily because the headgear offers 2 different anchor points. The Aloha utilizes a free floating 360 degree swivel and patented design that allows the patient to sleep in any position and the system stays in place. This addresses a huge problem associated with restless sleepers or patients that want to sleep on their stomachs or side. Three different pillow sizes included in each kit improves compliance therapy.
Rudolph: Our 7600 Series V2 Full Face Mask is a high quality mask designed to seal better than most other masks on the market. Our materials are higher quality, we have fewer parts in the assembly, it is much easier to clean, and glasses can be worn while wearing it. It also has a simple release port so patients can detach and walk around with it on. The 7600 Series V2 can be cleaned in the dishwasher every day—the mask stays assembled in the dishwasher.
Our new QUEST 6860 Series V2 Homecare Only Mask, available in Europe and other foreign markets, is now being introduced as a low-cost option for the U.S. market. It is still much higher quality than the competitors and it is an exact copy to the physical geometry of the 7600 Series V2 that is sold now. The only exception is this version will not be for dishwasher or steam autoclave cleaning and disinfection. Our QUEST, like our 7600 V2, only has 3 parts to disassemble if taking it completely apart. Otherwise you simply take the headgear off and begin cleaning the mask and swivel in soap and water.
Both of these mask series fit under the chin and have 5 sizes that are made of a single piece of soft material (no hard frame) so they contour to the face rather than sit on top of it. Our masks run 2 sizes larger than our competitors; in other words, if a patient normally wears a medium, they would wear our extra small size. Our larger sizes are ideal for bariatric patients and others who have difficulty finding a mask long enough and large enough for their face.
Ruflin: Sunset has just released our Deluxe CPAP Mask, which has responded to what we've recognized as the trends of the market: it's very lightweight and very simple. It doesn't have a whole lot of 'bells and whistles'; there aren't all kinds of valves or buttons you have to press to get the cushion off. It also has less contact points on the patient's face; for example on our full-face device it does not have a forehead pad. There are a lot of other masks out there that are starting to do that—not having the forehead pad allows for patients to more easily read or see without a bridge in their eyes. We also have different packaging available for it: you can get retail package as well as a bulk order package. It's a nice option for HMEs/DMEs to have depending on whether they want to display the masks.
The most innovative mask on the market, in my mind, is the TAP PAP. It's held in place by a mouthpiece. Headgear is completely optional, the patient can go without it and use the mouthpiece, it's like a mouth guard, and it's a nasal pillow into your nose. Keeps your mouth shut as well as making sure the patient gets the proper therapy and good seal. I think that's a really cool mask and shows how there is a lot of new stuff coming out on the market, a lot of innovation happening. Obviously the SleepWeaver is the cloth mask that's been a round a while but its very different as a cloth mask.
RT: How large a problem is patient compliance and how are your products responding to this need by helping users adhere to therapy schedules?
Moore: Several thousand patients have fit TAP PAP via our video after purchasing on line. Patients are saying that it is the most comfortable mask they've ever used. Comments like this are due to its individually-sized pillows and tremendous stability (no leaks) provided by the special ThermAcryl mouthpiece. All of this is backed by a 90 day patient compliance guarantee.
Palmer: DeVilbiss develops products focused on the needs of the patient. We see CPAP therapy is an intrusion to the life of the patient, and we look not only to minimize that intrusion, but engage the patient in their therapy. Our IntelliPAP line of products is among one of the smallest, quietest products on the market. With SmartCode technology, patients can go to IntelliPAP.com website, enter the code, and follow their therapy. We were the first on the market to provide this type of detail to patients and continue to enhance the ease of use and robustness of this unique solution.
Richard: Compliance across the entire health care industry is a problem and continues to be a focus of providers and payers. The general statistics related to compliance is running in the 50% range and this includes medications. In terms of our products, we are working on a number of other advances in the areas of materials used for the headgear, the cushions and ease of fitting the mask. This advantage can translate into a huge improvement in compliance.
Rudolph: It's a big problem because wearing a mask is so intimate to each patient. It's so important that it is comfortable and fits leak-free, which is why our design is made in 5 sizes, covering a wider range of patient faces. We also offer a simple plastic Sizing Gauge in order to get the correct fit right from the beginning.
Ruflin: I'd say that patient compliance with CPAP masks is probably the biggest challenge. There are a lot of things that manufacturers are trying to work through patient compliance. What we're looking at is being as accessible as possible for answering questions about the mask, whether it's the patient or the DME, to educate them so that they can really feel comfortable with what they are selling and getting to their patients, ultimately.
Everyone has different sized and shaped faces, so getting the proper fit is really important for compliance in order to make sure the seal is right. We offer online videos, fitting guides by mail, guides that patients can print themselves. The mask guarantee is also an important part of the patient compliance.
We are also learning how to improve our masks by polling patients, taking surveys online, trying to get as much feedback as possible, so when patients don't comply, we try to learn why they did not. In the future, we can look at their feedback and figure out what's going to be the best way to make patients happy.
RT: Does your company carry CPAP masks for use with infants and children? And if so, how do your products differ for the pediatric population compared to adults?
Richard: Yes we have a line of masks designed for small adults and children called the Nasal Aire Petite. And if so, how do your products differ for the pediatric population compared to adults? The primary difference is the size of the cannula that is inserted into the patient's nares. The headgear is also sized for smaller patients.
Rudolph: We do make masks for Pediatric Large & Small, and Infant, Neonatal & Premature faces, but those are for pulmonary function testing and not cleared for CPAP use. Our 7600 and 6860 QUEST Series have 5 sizes with the smallest being the Petite Size, which is specified for patients as low as 60 lbs. It is the same geometry but shrunk down in size to fit those very slim, small faces.
Ruflin: There aren't a lot of pediatric options out there that I've come across, but Sunset Health Care is the distributor for SleepNet's MiniMe Pediatric Nasal Mask. It's FDA-approved for ages 2 to 12. Children have more sensitive skin so it's really important to make sure the masks are really soft, in terms of what is in contact with the their skin.
RT: Do you have any advice for respiratory therapists on how their patients can gain the most benefit from their CPAP interfaces?
Moore: Identify issues that could arise such as "claustrophobia" with each patient. Ask questions about headgear and seal types.
Palmer: As I speak with patients, there is still a good deal of them that do not realize they are eligible for replacement masks and accessories that can improve their CPAP experience. Having a clean, new interface can go certainly affect the long-term compliance of a patient, not just the first 90 days.
Richard: Most providers have come to notice that many patients switch to a different style of mask within the first 90 days of therapy. Also, many patients use more than one style or type of mask in order to improve their experience with their therapy and give certain parts of their face a rest and avoid pressure sores. I encourage patients to try new masks and continue to look for options that better fit their needs.
Rudolph: Use our sizing gauge first and get your patients into the correct size from the start. The patients will have success getting a good seal and have better comfort, which will prevent them from developing a poor opinion of CPAP from a negative first experience. Our masks are 2 sizes larger than others, so we have found that if we can get RTs to use our Sizing Gauge and follow the correct sizing instructions then we have won 90% of the battle.
Ruflin: Make sure the patient is comfortable. Listen to what they are saying and match their needs, but at the same time, as the respiratory therapist, you are the expert; share your knowledge on what the manufacturer has told you about the mask and use your judgment for each individual patient.
RT: What changes can RTs and patients expect to see with CPAP masks and interfaces in the next few years?
Moore: I cannot divulge what we are working on however I will say that we are very confident with the stability provided by our proprietary mouthpiece. Patients are virtually leak-free in any sleeping position.
Palmer: DeVilbiss will continue to be an innovator in the CPAP market. We are working to improve both the CPAP and humidification technology to better treat the patient and increase compliance. CPAP interfaces will continue to get smaller, lighter, and simpler to operate. Beyond the products, we expect to see continued improvements in the services we offer to providers. DeVilbiss recently launched the TouchFree Warranty Program. Although the IntelliPAP has less than 1% return rate, we recognize that this is a pain point for providers. This new program allows an RT to simply go on-line, fill out the patient prescription, and DeVilbiss uploads this information directly into an IntelliPAP and overnights a replacement to the patient's home, ready to use out of the box.
Richard: InnoMed Technologies will be focusing on developing options for women and children as these markets are growing quickly as the overall awareness of sleep disorders in these 2 populations has increased. We will be launching several new products over the next 12 months and we see the sleep market continuing to grow at a solid pace.
Rudolph: From Hans Rudolph, RTs will continue to see high quality materials that don't break, fall apart, or become non-functional. They will continue to see innovative and comfortable seals and face geometries/curvatures that seal properly and feel good on their face, with soft, comfortable effective headgear that secures the mask with even distribution, avoiding sores.
Everyone at Hans Rudolph looks forward to the challenge and we welcome feedback toward making improvements to all of our products and especially something as intimate as our Masks for CPAP & BiLevel OSA Therapy and also NIV (Non-Invasive Ventilation). We will continue to design, develop and manufacture reusable and disposable masks for homecare and hospital care and now EMS and other markets.
Ruflin: I think manufacturers are going to build on the latest trends and improve on existing products. Lightweight is really important feature. I think people don't want a lot of things hanging off the mask on their face. That's why I think nasal pillows are probably becoming a popular design, because they are lightweight and they don't have a lot of contact with the face. Being quiet is a huge feature. You see a lot of side products that try to make things quieter with dampening the noise—I think the mask itself, if you can make that quieter, that's a big attraction to patients.
Obviously, more comfortable masks depend on the preferences of the patient. Some patients may say they want gel because that's most comfortable. Others might say the gel is too heavy and they need a simple silicone plastic mask. I think getting rid of a lot of the bells and whistles is a change we will see. Patients are asking for simpler masks, but as manufacturers, simpler will be cheaper to manufacture also. Price is a huge issue. You need to make sure you are creating quality products but manufacturers are going to do as much as possible to cut down the costs. But as long as the design is good, a more affordable mask is a good thing. RT
---
For further information, contact [email protected].