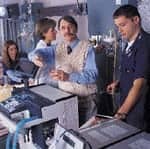 "Pulse oximetry technology is quickly becoming even more convenient, reliable, and versatile. The market continues to grow, year after year, and today you'll see oximeters used everywhere—including physician's offices, hospitals, EMS environments, and homes. As pulse oximetry continues to expand, its applications in sleep studies are becoming more and more apparent. Motion, low perfusion, and false low readings are now rarely a problem. Products continue to get smaller and require less power. New products and technologies (eg, Bluetooth wireless technology and a variety of other telemedicine capabilities) are giving patients and clinicians previously unheard of freedom and flexibility."—Philip Isaacson, managing director and owner, Nonin Medical Inc, Plymouth, Minn.
---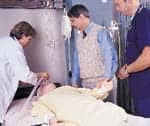 "From its beginning almost 30 years ago, our company has been committed to producing high-quality products for the respiratory care market—whether hospital, EMS, or home care. With our core technologies of pulse oximetry and capnography, we have always sought to give our customers what they want and need in the area of patient monitoring. With an eye always toward the future, we constantly try to improve our products and anticipate the industry's needs. In addition, with the introduction of a full line of MRI-compatible transport ventilators, we have expanded our product catalog to offer even more choices to respiratory care professionals."—Maria Cartier, director of marketing, Smiths Medical PM Inc, Waukesha, Wis.
---

"Cadwell Laboratories Inc is a privately owned company in Kennewick, Wash. We design and build all of our products used in sleep laboratories, EEG labs, physical medicine and rehabilitation-physician offices, and the operating room. We continue to see double-digit growth in the polysomnography diagnostics market. Most market activity is driven by hospital/clinic-based laboratories. Over the last several years, we have seen increased acceptance of our ambulatory EEG systems. We anticipate that this same trend will occur with the release of our new ambulatory sleep system with virtual patient animation."—Bill Antilla, senior product manager, Cadwell Laboratories Inc, Kennewick, Wash.
---

"ZLB Behring is a worldwide leader in the therapeutic protein industry. We manufacture high-quality products to treat rare and chronic disorders, such as alpha-1 antitrypsin deficiency, hemophilia, and primary immune disorders. Behind our ongoing efforts to provide life-saving therapies is a solid commitment to creating awareness of these disorders to help patients get the therapy they need as early as possible. In the area of alpha-1 antitrypsin deficiency, or alpha-1, respiratory therapists are on the "front lines" of patient care. Respiratory therapists can play a crucial role in furthering this effort by joining us in promoting testing for alpha-1. We appreciate the skill and dedication of respiratory therapists, and we know that by working together, we can—and will—make a significant, positive difference."—Paul R. Perreault, Sr, executive vice president, WW Commercial Operations, ZLB Behring, King of Prussia, Pa.
---

"Compumedics recently commissioned a survey revealing that sleep-study demand continues to grow year over year, with increased consumer awareness of sleep disorders cited as a primary explanation. Most labs surveyed are expanding rapidly to cope, requiring ever-higher levels of efficiency. The resulting need for advanced, integrated laboratory management tools streamlining all aspects of operations has exploded. Products like our neXus Profusion can move labs into the paperless realm, allow remote data access, provide assistance with HIPAA compliance, and aid in accreditation efforts. Compumedics is committed to ongoing development of innovative solutions to support the continued expansion and effectiveness of sleep disorder diagnostics."—David Burton, executive chairman and CEO, Compumedics USA, El Paso, Tex.
---

"Hans Rudolph has been making patient interfaces since the 1930s and never has the market for high-quality masks, headgears, and sealing options ever been better and more important to saving lives and improving the quality of life for people with obstructive sleep apnea. We satisfied the market for masks in pulmonary function testing for the past 25 years, and in the last 8 years or so, we have worked diligently at making better CPAP and bi-level PAP masks in both nasal and oro-nasal (full face) versions. The full face mask business has been very good for us, and it is growing literally every week as the word spreads about our good fitting, comfortable full face masks. The nasal mask market is larger but our niche in the full face arena has funded our research and development of a better nasal mask and we will be coming out soon with a custom nasal mask, which will lead to a custom full face mask also. Hans Rudolph is in the sleep industry for the long haul and looking forward to many years of growth in this huge and growing market."—Kelly Rudolph, marketing manager, Hans Rudolph Inc, Kansas City, Mo.
---

"Maxtec has lots of joy to jump for. We are at a very exciting stage in our company's growth. We take on simple ideas to make gas analysis and gas delivery efficient and develop improved, state-of-the-art products for the health care industry. Maxtec is the name you think of when considering oxygen analysis equipment. Our Minolta line is used for checking oxygen saturation of the patient with either the spot check or sleep study equipment. We also offer disposable and reusable generic SpO2 probes that are the best in the industry for hygiene and durability."—Mary Brierley, owner, Maxtec Inc, Salt Lake City.
---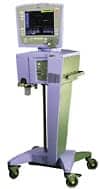 "SLP is focused on the sleep disorders market. We see the traditional sleep laboratories as being squeezed between mounting economic pressure on one hand, and advances in ambulatory sensor and analysis technology on the other. We believe this trend will lead to a major shift in the way sleep apnea is diagnosed and managed in the near future. SLP is gearing up to become a significant force in this emerging market segment. We will draw on our 15 years' experience of developing innovative products specifically tailored for lab and ambulatory systems."—Noam Hadas, CEO, SLP, St Charles, Ill.
---

"The benefit VIASYS offers is our expertise with the lung. More than 90% of the patients who come into the sleep laboratory have OSA, which is a pulmonary problem. VIASYS companies have been involved in pulmonary medicine, sleep diagnostics, and mechanical ventilation for more than 50 years. We have an extensive field service, technical support, and a clinical education infrastructure to deploy in support of clinicians who rely on our products daily. VIASYS will continue to offer advanced tools to the sleep laboratory to help clinicians diagnose and treat their patients more effectively as well as increase productivity. Our customers can expect solutions targeted to improved workflow, connectivity, patient comfort, and greater clinical efficacy."—Edward Pulwer, executive vice president and group president, respiratory care, VIASYS Healthcare Inc, Conshohocken, Pa.
---

"We see continued growth in the respiratory industry. Many factors play into this outlook, not the least of which is our aging population and the environmental hazards in the air we breathe. However, it will not be business as usual in the industry. Competition will be fiercer, the marketplace more demanding, and manufacturers will need to be smarter and more efficient. Newport Medical Instruments is poised for significant growth. Our domestic revenues are increasing nicely, and we continue to expand our US sales force. Internationally, we continue to be a major player. Newport invests heavily in research and development. With several new products in the pipeline, we feel very confident about our industry position."—Jay Nash, executive vice president, Newport Medical Instruments, Costa Mesa, Calif.
---

"Historically, the sleep therapy industry has faced challenges in providing adequate sleep-disordered breathing (SDB) treatment solutions for central sleep apnea (CSA) and periodic breathing patterns such as Cheyne-Stokes respiration (CSR), often seen in heart failure patients. However, currently available SDB treatment solutions are largely ineffective for these patients. ResMed is happy to announce great progress in our efforts to surmount these challenges with the first positive airway pressure device to gain US Food and Drug Administration clearance specifically for the treatment of CSA and periodic breathing. The new VPAP Adapt SV™ exemplifies ResMed's commitment to innovation and fulfills the need for optimal therapy for CSA/CSR patients."—Peter C. Farrell, PhD, chairman and CEO, ResMed, Poway, Calif.
---

"The Sleep & Home Respiratory Group includes three business units: Sleep Disorder Breathing, Sleep Well Ventures, and Home Respiratory Care. Sleep Disorder Breathing focuses on diagnostic and clinically proven therapy solutions like our C-Flex™ technology and broad line of masks for comfort and compliance during OSA therapy. Sleep Well Ventures focuses on the broader sleep market seeking innovations to help treat people whose sleep disruptions impact the quality of their lives. Home Respiratory Care focuses on supporting respiratory impaired patients in the home and subacute care settings."—Don Spence, president, Sleep & Home Respiratory Group, Respironics Inc, Murrysville, Pa.
---

"Dale Medical Products is a leading developer and manufacturer of innovative post-surgical care products for the acute, sub-acute, and long-term care markets. Made of specially woven, latex-free materials, Dale products are designed to improve and facilitate post-surgical care while saving nursing time and increasing patient comfort. Dale products are marketed worldwide from its headquarters in Plainville, Mass." —John Brezack, president, Dale Medical Products Inc, Plainville, Mass.
---

"The convergence of technologies is changing the respiratory care segment of health care. The trend to deliver medications through nebulization is one of those major changes. We see point-of-care communications as another technology that will have great impact. With the loss of our founder, Steve Briggs, this has been a very trying period for our company. We want to thank all who have stood by Steve's widow, Susan. We have reorganized our company to facilitate those changes—I have joined B&B Medical to assist in that change."—Edward J. Doyle, operations manager, B&B Medical Technologies Inc, Loomis, Calif.
---

"Today's respiratory therapist is faced with cost and time constraints, fewer resources, smaller budgets, and sicker patients. Our commitment to clinician feedback allows us to respond by developing products that not only realize a technology future, but also help RTs with the challenge of delivering better patient care. Our noninvasive Heliox therapy, advanced critical care ventilation, and monitoring integration solutions are designed to help deliver safe and effective respiratory care. And, with the oximetry market continuing to demand more durable, more compatible, high-performing oximeters and sensors, GE responds with our proven legacy of Ohmeda oximetry products. We're also pleased to offer our customers oximetry sensors compatible with Nellcor® R-Cal technology."—Hannu Syrjala, general manager, life support solutions, GE Healthcare, Waukesha, Wis.
---

"San Joaquin Valley College has introduced a new program available through SJVC Online that offers working certified respiratory therapists the opportunity to pursue an advanced credential without interrupting their career. With all required course work offered in a flexible online model, graduates of the program earn an AS degree in respiratory therapy and are eligible to sit for the RRT credentialing exams. Respiratory care professionals interested in taking the next step in their medical career are encouraged to contact the SJVC Online admissions advisor for the RRT bridge program."—Barry Westling, director of respiratory therapy education, San Joaquin Valley College, Visalia, Calif.
---

"Smiths Group's acquisition of Medex enables us to provide system solutions and value-added services to our customers, as well as building a culture of innovation by increasing our investment in product research and development. Smiths maintains a strong presence in the areas of airway management (including tracheostomy), general anesthesia, and respiratory care. Portex® and Bivona® are among the leading Smiths brands, and the Medex acquisition extends the Smiths portfolio to include sterile prefilled water and other humidification products. Ongoing product development efforts target leading-edge technologies that will further expand our offering. Smiths Medical is positioned as a full-service supplier to meet all the needs of the respiratory department. We believe the most important part of this transaction is that it focuses on customer needs by improving patient outcome in critical care and anesthesia. When it comes to providing products and services to our customers, we now have a broader portfolio that we can offer. Smiths Medical and Medex are dedicated to providing customers with a superior portfolio of products, backed by world-class customer service." —Gary Meyers, group director, global marketing, respiratory, Smiths Medical, Carlsbad, Calif. Smiths Medical is part of Smiths Group plc, a global company based in Great Britain.