The life of a newborn baby in severe respiratory distress was saved when a neonatologist 300 miles away was able to diagnose her condition as a severe pneumonia—one among many examples of the enormous potential of telemedicine as a supplement to patient care.
The essence of critical care medicine has evolved tremendously over the past half century. Since its beginning in the 1950s, when mechanical assist devices were used by anesthesiologists to care for polio victims,1 to the use of microprocessor-controlled ventilators managed by respiratory therapists, critical care has taken on many new and exciting challenges. In the midst of developments that have redefined the standards of critical care, there is increasing concern about the lack of well-qualified health care professionals. We are currently faced with severe shortages of intensive care specialists (intensivists); nurses, particularly those specializing in critical care; respiratory therapists; and pharmacists. These national shortages are creating a major threat to the quality of care available for critically ill patients in our critical care units.2
According to a study by the Committee on Manpower for Pulmonary and Critical Care Societies (COMPACCS), current delivery systems will be unable to meet demands for future critical care services. As our population continues to age, and with the anticipated increase in intensive care unit (ICU) patient volumes and workforce trends, it is expected that these personnel shortages will only worsen.3 Dealing with increased pressures on hospitals will become a tremendous challenge in the years ahead.
Intensivist as Team Leader
Organizational characteristics that are associated with improved clinical as well as financial outcomes have been identified by a variety of published studies. One of the most important findings is the reduction in mortality by more than 25% when intensivist-led care teams are utilized.4-5 Although the evidence clearly suggests that this type of delivery system has improved outcomes, most of the ICUs in the United States fail to follow this model. Individuals who work in the typical intensive care setting are well aware that, particularly during "off-hours," the care can be classified as putting out fires or crisis intervention.
Moving to a more centralized critical care system may be able to address many of the challenges previously described. The ideal system may be one where there is an on-site intensivist 24 hours a day, 7 days a week, along with a full complement of critical care nurses, respiratory therapists, and pharmacists. In order to provide this type of around-the-clock coverage, it is estimated that approximately 30,000 full-time intensivists would be required. A recent study has identified the current intensivist population of those providing ICU care at 5,500.6 Even in the face of the best-staffed ICUs, the model will not be without problems if the caregivers fail to work closely with each other. Teamwork by all caregivers results in improved patient care, resulting in positive clinical and financial outcomes.7
Telemedicine, an Alternative?
Defined as "the use of medical information exchanged from one site to another via electronic communication for health and education of the patient or health care provider and for the purpose of improving health care,"8 telemedicine may offer an alternative to providing continuous intensivist coverage in face of the national shortage currently being experienced. In one study involving intermittent consultative advice using telephones and two-way video systems, morbidity and mortality rates were reduced for patients whose caregivers implemented the recommendations of the intensivists.9 These "teleconsultative models" have been used with some success in pediatric and neonatal ICU's.10,11
An open-model study was performed in 2000 using a 10-bed surgical and trauma unit in a community teaching hospital. An intensivist was on-duty at a remote site 24 hours each day, 7 days each week, for the duration of a 16-week trial. Each patient's attending physician maintained ultimate responsibility for the care of his or her patients. The remote intensivists and staff had access to bedside monitoring information, as well as videoconferencing equipment and supplies, which provided the ability to visualize patients and caregivers. They also had the ability to communicate with those on-site health professionals. Flowsheets and chest radiographs were digitally transmitted to the remote location. Laboratory data were also readily available via direct link with the hospital laboratory computer. The results of this study showed both clinical and financial benefits.12
Multidisciplinary Care System
• Intensivist
• Other Physicians
• Acute Care Nurse Practitioner
• Acute Care Physician Assistant
• Critical Care Nurse
• Critical Pharmacist
• Respiratory Therapist
• Health Care Administrator
• Information Technologist

Values
• 24/7 Intensivist-Led Care
• Patients Rights
– Safety
– Privacy
– Confidentiality
• Family Care
• Prevention
• Collaboration
• Evidence-Based Clinical
Decision-Making
• Standardization of Care
• Performance Improvement
• Scientific Inquiry
• Innovation

Technology
• Telecommunications
• Teleconferencing
• Clinical Information System
• Order Entry System
• Radiography Scanning
• Smart Alarms
• Computerized Decision Support
• Hot Phones
• Hospital Information System

Figure 1. Core components of intensive care unit telemedicine model of care delivery. (Shown, with permission, from Brian Rosenfeld, MD, FCCM, FCCP, Executive Vice President & CMO, VISICU Inc)13
Sample Care Delivery Model
In response to the shortfall of intensivist-led care teams, an electronic ICU model has been suggested as a means to support the care process. The hallmarks of this system are its ability to provide timely interventions, thus preventing or minimizing the development of complications, and its ability to implement best practices and provide standardized care.13 (See figure 1.) This model enables continuous coverage for ICU patients from multiple hospital sites via an intensivist-led, multidisciplinary team located at a remote location. By utilizing this approach, a limited supply of clinicians can be spread among multiple hospitals, thus supplying more patients with the type of care that has already been shown to improve outcomes.7An on-site component complements the program to promote high-quality care and ensure a protective care environment that is patient-focused. Figure 2 shows an example of such a protective model of ICU telemedicine.13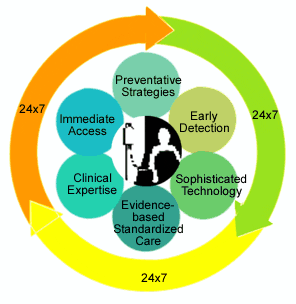 Figure 2. Protective model of intensive care unit telemedicine care. (Shown, with permission, from Brian Rosenfeld, MD, FCCM, FCCP, executive vice president & CMO, VISICU Inc)13
With this type of model, the ICU nurses station at the hospital is provided with teleconferencing capabilities for communication with off-site physicians, nurses, and respiratory therapists. Consultations can take place with family members as well. Cameras are mounted in the patient rooms that can provide multiple views of the patient and the room environment. These cameras are set up to provide zooming capabilities. Those at the remote setting can view infusion pumps, bedside monitors, and ventilator screens.
Specialty Applications
Telemedicine has been used for conducting preoperative anesthesia consultations.14 This has been shown to be effective from an anesthesiologist as well as patient satisfaction standpoint. The study did cite several limitations including privacy concerns, lack of physical contact, and the inability of the patient and anesthesiologist to speak at the same time. For patients living in remote areas, this system can provide a reasonable alternative to long-distance travel. In a 2004 abstract, telemedicine was shown to be successful for the evaluation of burn patients and provided the potential to assist with decisions regarding patient transfer, helped to reduce errors in initial care, and helped to reduce costs.15
Videoconferencing has been shown to provide a quality of information comparable to that of a traditional consultation for follow-up burn care.16 Patient and family satisfaction was also positive. In evaluating a group of lung cancer patients, the use of telemedicine for multidisciplinary team meetings reduced waiting times and saved an estimate of "three working weeks of thoracic surgical time" over the course of 1 year.17
Home asthma monitoring using an Internet-based telemonitoring system has shown to provide valid data compared to the routine monitoring of FVC and FEV1 under the direct supervision of trained medical professionals. The majority of patients had little or no computer background, and most were very positive about home asthma telemonitoring.18
The life of a Texas newborn baby in severe respiratory distress was saved when a neonatologist, some 300 miles away, viewed the baby on a television monitor and was able to diagnose her condition as a severe pneumonia. In Georgia, an urban physician was able to provide supervision and guidance for an EMT a long distance away and helped him to suture a laceration.19 These are just two examples of exciting applications of technology to improve health care.
Discussion
Although telemedicine is an exciting development in the field of health care, there are barriers that have prevented more widespread usage. Physicians have been the most reluctant to embrace the growth of telemedicine. The most likely reason for this physician resistance is the perception of a negative financial impact on their practice's bottom line. There are certainly licensing and reimbursement issues that need to be further refined. The Joint Commission on Accreditation of Healthcare Organizations (JCAHO) has recently published standards related to the delivery of telemedicine.20
As technology continues to improve, and as we all become better-educated consumers and professionals, the potential of telemedicine and its role in health care will be tremendous. As stated in the article by Celi et al, "Technology will not replace patient care; it is merely a tool to make us more efficient."13
Paul Nuccio, RRT, FAARC, is director of respiratory care at Brigham & Women's Hospital, Boston.
References
1. Pontoppidan H, Geffin B, Lowenstein E. Acute respiratory failure in the adult. N Engl J Med. 1972;287:690-698.
2. Ewart GW, Marcus L, Gaba MM, et al. The critical care medicine crisis: a call for federal action. Chest. 2004;125:1518-1521.
3. Angus DC, Kelley MA, Schmitz RJ, et al. Caring for the critically ill patient. Current and projected workforce requirements for care of the critically ill and patients with pulmonary disease: can we meet the requirements of an aging population? JAMA. 2000;284:2762-2770.
4. Vincent JL. Need for intensivists in intensive care units. Lancet. 2000;356:695-696.
5. Blunt MC, Burchett KR. Out-of-hours consultant cover and case-mix-adjusted mortality in intensive care. Lancet. 2000;356:735-736.
6. Pronovost PJ, Waters H, Dorman T. Impact of critical care physician workforce for intensive care unit physician staffing. Curr Opin Crit Care. 2001;7:456-459.
7. Clemmer T, Spuhler VJ, Oniki TA, et al. Results of a collaborative quality improvement program on outcomes and costs in a tertiary critical care unit. Crit Care Med. 1999;27:1768-1774.
8. American Telemedicine Association Web site. Available at: http://www.atmeda.org. Accessed August 12, 2004.
9. Grundy BL, Jones PK, Lovitt A. Telemedicine in critical care: problems in design, implementation, and assessment. Crit Care Med. 1982;10:471-475.
10. Dimand RJ, Marcin JP, Kallas HJ, et al. The use of telemedicine to provide pediatric critical care inpatient consultations to underserved rural northern California [abstract]. Crit Care Med. 2000;28:180.
11. Rendina MC. The effect of telemedicine on neonatal intensive care unit length of stay in very low birthweight infants. Proceedings of the AMIA '98 Fall Symposium. Philadelphia: Hanley & Belfus; 1998:111-115.
12. Rosenfeld BA, Dorman T, Breslow MJ, et al. Alternate paradigm for providing continuous intensivist care. Crit Care Med. 2000;28:1-7.
13. Celi LA, Hassan E, Marquardt C, et al. The eICU: it's not just telemedicine. Crit Care Med. 2001;29(suppl):183-189.
14.Wong DT, Kamming D, Salenieks ME, et al. Preadmission anesthesia consultation using telemedicine technology: a pilot study [abstract]. Anesthesiology. 2004;100:1605-1607.
15. Saffle JR, Edelman L, Morris SE. Regional air transport of burn patients: a case for telemedicine? J Trauma. 2004;57 (1):57-64.
16. Smith AC, Kimble R, Mill J. Diagnostic accuracy of and patient satisfaction with telemedicine for the follow-up of paediatric burns patients. J Telemed Telecare. 2004;10(4):193-198.
17. Davison AG, Eraut CD, Haque AS, et al. Telemedicine for multidisciplinary lung cancer meetings. J Telemed Telecare. 2004;10(3):140-143.
18. Finkelstein J, Cabrera MR, Hripcsak G. Internet-based home asthma telemonitoring: can patients handle the technology? Chest. 2000;117:148-155.
19. Nordberg M. Remote control: telemedicine revolutionizes EMS in rural America. Emergency Medical Services. 1996;25(8):39, 41, 43-45.
20. Joint Commission on Accreditation of Healthcare Organizations Web site. Available at: http://www.jcaho.org. Accessed August 5, 2004.